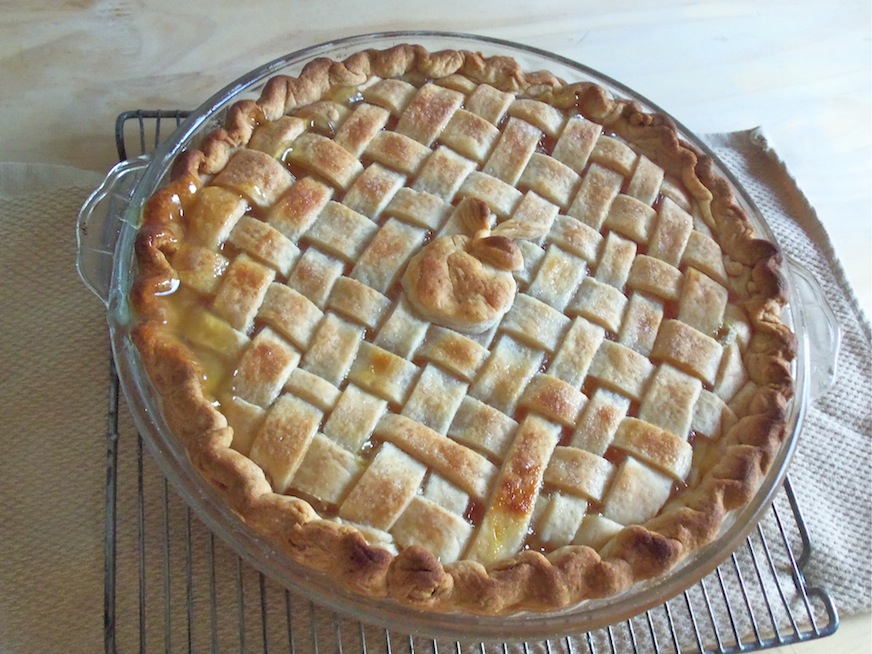 There are just four basic ingredients in pie crust; flour, fat, water, salt. Below is my pie crust recipe for sweet items, so I've added some sugar. If you want to make a savory crust, just omit the sugar. It's so easy to change the taste and texture of pie crust. I love to create variations!
You can substitute the flour with nut flours such as almond or hazelnut. Or use half whole wheat flour and half all-purpose flour. Instead of just water how about some liqueur, cold brewed coffee, or fruit juices, such as lemon? Adding herbs or spices is fun. Some suggestions are fresh ground black pepper, cinnamon, granulated garlic, thyme, oregano, rosemary…
You can also put some cheese into the crust for a nice savory vegetable tart. A little parmesan, or swap out some of the butter for cream cheese.
This recipe makes enough for two single-crust pies, or one double-crust pie.
INGREDIENTS
2 1/2 cups all-purpose Flour
1 tsp Salt
1 tsp Sugar
2 sticks of cold unsalted Butter, cut into pieces
1/4 cup Ice Water, or more as needed.
METHOD
Combine flour, salt and sugar in a food processor.
Add the butter.
Pulse until mixture resembles coarse meal.
Sprinkle with 1/4 cup ice water and pulse until dough is crumbly.
If more water is needed, add just a little at a time.
The secret to a flaky crust is to work the pastry as little as possible.
Divide the dough into two disks about 3/4 inch thick.
Wrap in plastic wrap and refrigerate for about half an hour.
Roll out the dough disk on a flour surface. I flour my rolling pin, as well.
Once you have rolled in into a 12-inch circle, roll it around the rolling pin for an easy transfer to the pie pan.
Unroll the dough into an ungreased 9-inch pie pan.
Fold the edges under.
You can either press the edges down with a fork to give it a nice pattern, or use your thumb and forefingers to create a crimped effect.
Trim excess.
NOTE: Dough can be made ahead of time and refrigerated for up to 3 days. You can also freeze the dough for about 2 months, just be sure to wrap it tightly!
Pastry Tricks & Techniques
Whether you prefer flaky crusts or crispy ones, pie-making is all about technique.
All ingredients should be very cold before mixing.
When you "cut in" the fat, you want pea-sized pieces. You don't want them all blended into the dough, as these flakes of butter will expand during the baking process which produced layers of flaky crust.
Never overwork the dough or it will become tough. Mix it quickly and handle as little as possible.
By chilling the dough in the refrigerator before rolling it out, the flour absorbs the liquid. It also allows the gluten to relax, making it more elastic and prevents stickiness when rolling out the dough.
Roll the dough out on a lightly floured surface, a pastry cloth.
Roll the dough from the center outward using firm, even strokes. Turning the dough as you work, about an eighth of turn per roll, will help to keep it round.
Use a dry pastry brush or a clean dishtowel to brush off excess flour from the dough.
Once you have the pie dough ready in the pan, place it back in the refrigerator for another 30 minutes before filling to prevent the dough from shrinking during baking.
To create a seal to keep the crust crisp, you can brush the bottom and sides of the unbaked pie crust with lightly beaten egg white.

You can par-bake the pie crust before adding filling to be sure the crust stays crisp. This is only an option for crumb-topped pies.

Keep a careful watch on the pie crust edges. If they are getting too brown cover the edges with tin foil or a pie crust edge protector.

Print entire post