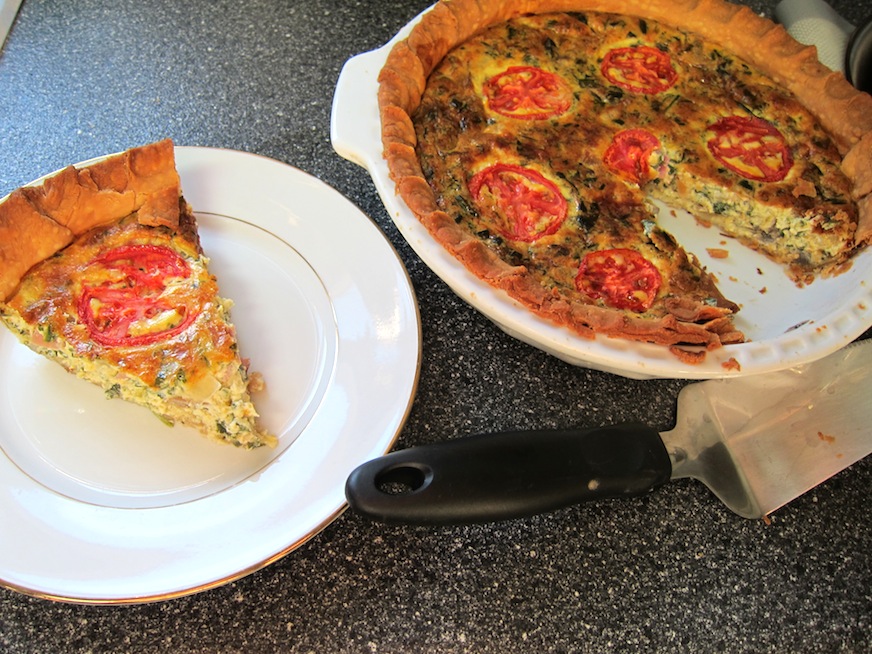 Seriously, Quiche is something that I never make the same way twice. I don't measure ingredients unless I'm baking, and sometimes even then I just eye it. Plus, when I make Quiche I usually just base it on whatever I've got in the fridge. It's extremely versatile and can easily be changed by using different veggies and/or different cheeses. I can't imagine a cheese that wouldn't be good in Quiche. I base the herbs and spices on whatever veggies and cheese I use.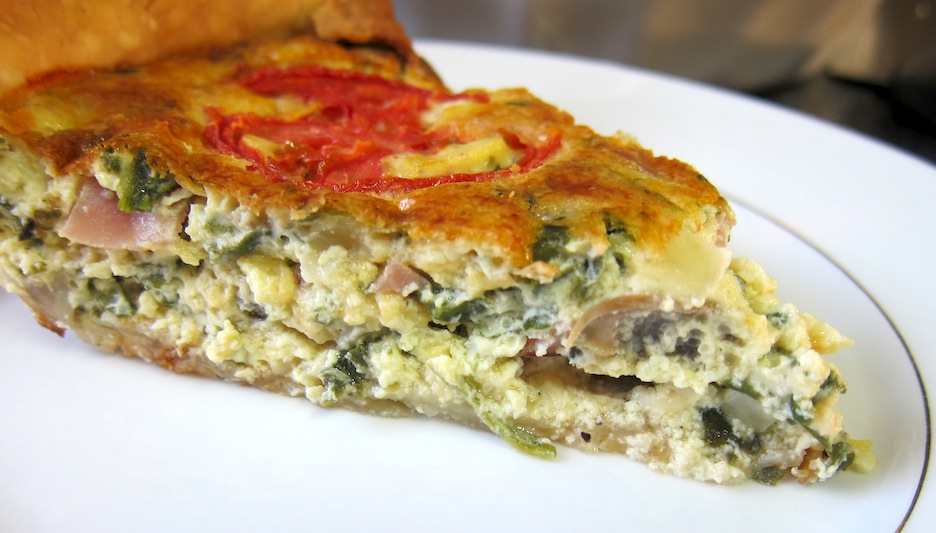 For the crust you can either make a pie crust, use store bought or use puff pastry. It's up to you. And although the crust is definitely important (especially if you're a crust lover like me) more important is what's going to fill the crust. That's where the eggs, cream and cheese come in. For a typical Quiche I use 6 eggs, 1 cup of heavy cream and 1 cup of cheese. However, if you want to lighten the recipe you can just use 6 eggs and 1 cup of milk, low fat milk, evaporated milk, etc. You get the picture. And there's always low fat cheese. However, I don't make Quiche that often and when I do I enjoy the splurge. It's not like I'm gonna eat the whole Quiche.   😉
Served with a side salad or a cup of soup  ~  it makes the perfect meal.
This recipe serves 6.
INGREDIENTS
1 Pie Crust
6 large Eggs
1 Tbsp Butter or Olive Oil
2 Shallots, diced
1/2 cup Mushrooms, sliced
1 cup Heavy Cream
3/4 cup Spinach, cooked (if using frozen be sure to squeeze out the excess water)
2 pieces of Prosciutto, diced (or you can substitute crumbled cooked bacon, or diced ham)
1 cup Gruyere Cheese, shredded
1/4 tsp Granulated Garlic
1/2 tsp Salt
Ground Black Pepper, to taste
1 Tomato, sliced thin
METHOD
Preheat oven to 400 degrees.
In a medium frying pan saute the shallots and mushrooms in 1 tablespoon of butter or olive oil, just until tender.
Set aside to cool.
In a large bowl beat together 6 eggs and 1 cup of cream.
Stir in the spinach, prosciutto, shallots, mushrooms, garlic, salt and pepper to incorporate.
Stir in the cheese and carefully pour into the pie crust, being sure to distribute the filling evenly.
Top with a thinly sliced tomato.
Bake for approximately 40 minutes, or until top is firm and feels set when you gently touch it.
Remove from oven and allow to cool.
Serve warm and enjoy!

Print entire post