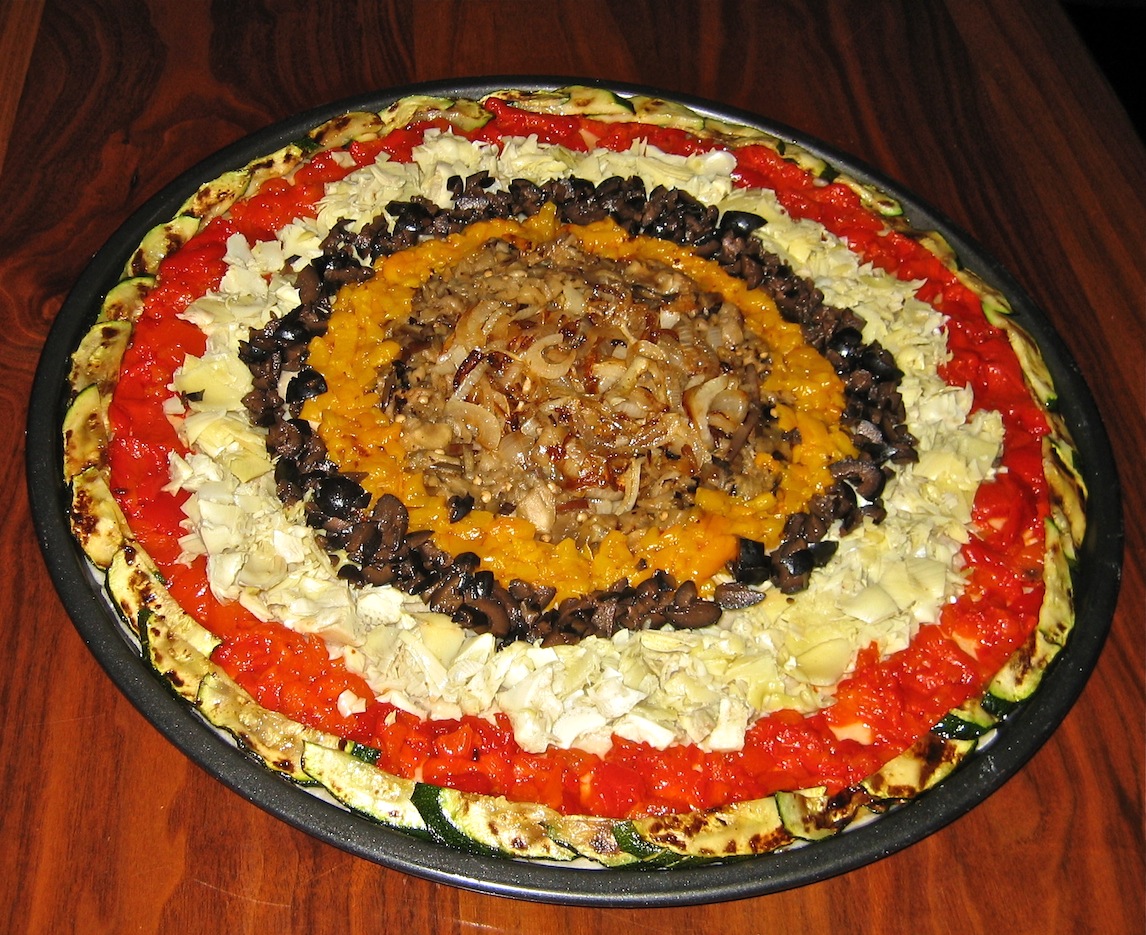 I really enjoyed making this veggie tart, and everyone sure seemed to enjoy eating it! You can use any vegetables that you like. I roasted the peppers used for this tart, but you can buy some really delicious roasted peppers in the grocery store. So if you want to save yourself some time and hassle, you can throw this tart together in a snap. Looking at the picture I think this tart would have been really delicious with some feta cheese sprinkled on it. Maybe next time!

INGREDIENTS
1 pie crust (store bought works fine)
1 Tablespoon olive oil
2 onions, sliced thin
2 yellow peppers
1 can black olives, chopped rough
2 cups artichoke hearts, chopped rough
3 red peppers
3 zucchini, sliced
salt and pepper, to taste
METHOD
Preheat oven to 350 degrees.
Place pie crust on a round baking sheet/pizza pan. Pierce crust with fork in several places and bake for about 10 to 12 minutes. I used pie weights to be sure the crust stayed flat, so go ahead and use them if you've got them.
While the crust is baking get your veggies ready.
Place olive oil in a medium frying pan. Add onions and sauté over medium heat until onions are soft and golden. Remove from heat and set aside.
If you are roasting the peppers and not using store bought then here's how I roast mine. Place the whole pepper over the flame of your stove (hopefully you have a gas stove). Once the pepper gets charred I place it on a baking sheet and do the next pepper. Then I place them all in the oven for about 30 minutes until they are soft. Once out of the oven and cooled, remove the skin. Rough chop into bite size pieces.
The zucchini was grilled using a little olive oil, salt and pepper.
Once you have all your vegetables prepared, begin assembling your tart. I started with the edges and worked my way to the center. Guess it doesn't really matter which order you do it. What does matter is that you arrange the vegetables so that the colors are visual pleasing.
Season with salt and pepper. A little thyme would be nice, as well.
I then put the whole tart into the oven to warm it up. Serve cut in "pizza-like" slices.
Delicious!

Print entire post