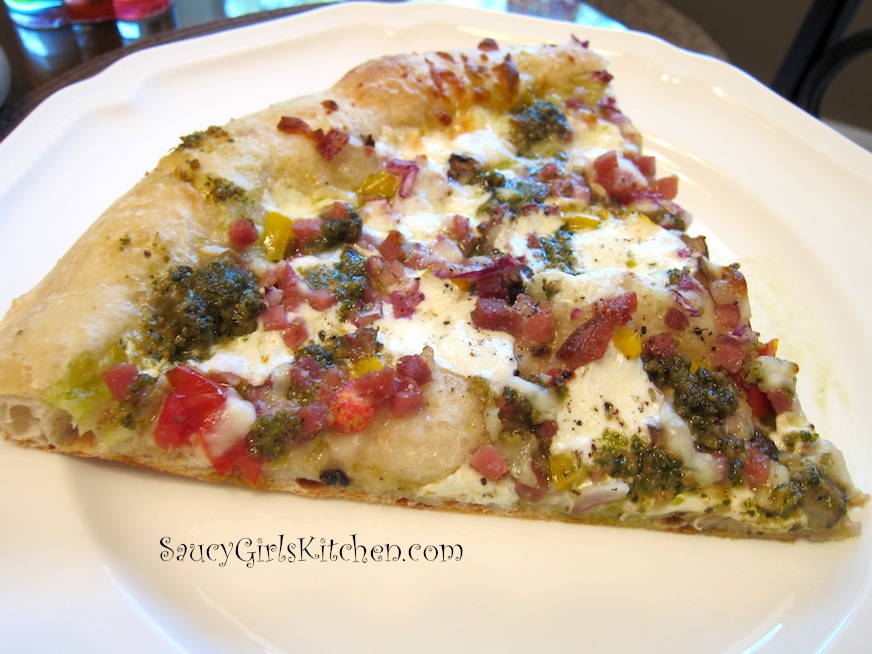 I LOVE Pizza! I'm half Italian, so that could be part of the reason… but I think pizza is just perfection. Who can resist a soft sweet crispy crust topped with cheese and basically whatever you like?
I have a few other pizza recipes on my site, and I have to say that this is at the top. Well, it might be right behind Philly Cheesesteak Pizza (which was so frickin' good)… oh, and then there's the BBQ Chicken Pizza. Hmmmm. Not sure what my favorite is, probably just a good old classic Marguerita Pizza with fresh tomato, basil, garlic and mozzarella.
It's fun to make pizza at home and experiment with different flavors, topping it with whatever you'd like or whatever you have on hand at the time. That's basically how this pizza came to be. I didn't want to make a red sauce, but I had a small tomato on hand. Also, had pesto on hand, so that made it's way to the pizza, too. Within a few minutes, I had an incredible pizza that was ready to pop into the oven.
INGREDIENTS
Pizza Dough, or storebought
Drizzle of Olive Oil
1 small Tomato, diced
6 large Mushrooms, diced
1/4 Red Onion, diced
1/4 Yellow Bell Pepper, diced
1/4 cup Prosciutto, diced (you can buy it pre-diced)
1/2 cup Fresh Mozzarella, cubed
1/2 cup Mozzarella, shredded
1/3 cup Pesto
1/2 tsp Salt
a few grinds of Fresh Ground Black Pepper or Crushed Red Pepper
METHOD
Preheat oven to 400 degrees.
Shape the pizza dough and place on pizza round or baking sheet.
Drizzle with a little olive oil.
Sprinkle tomato, mushrooms, red onion, bell pepper, prosciutto and mozzarella evenly over the crust.
Drop pesto evenly on the crust by the half teaspoonful.
Salt and pepper.
Bake for about 12 to 15 minutes, or until cheese is melted and bubbly.
Enjoy!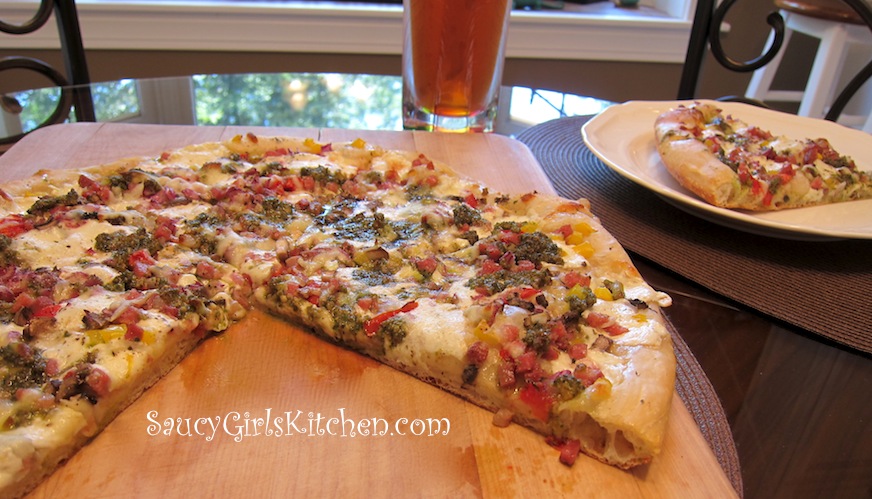 Print entire post