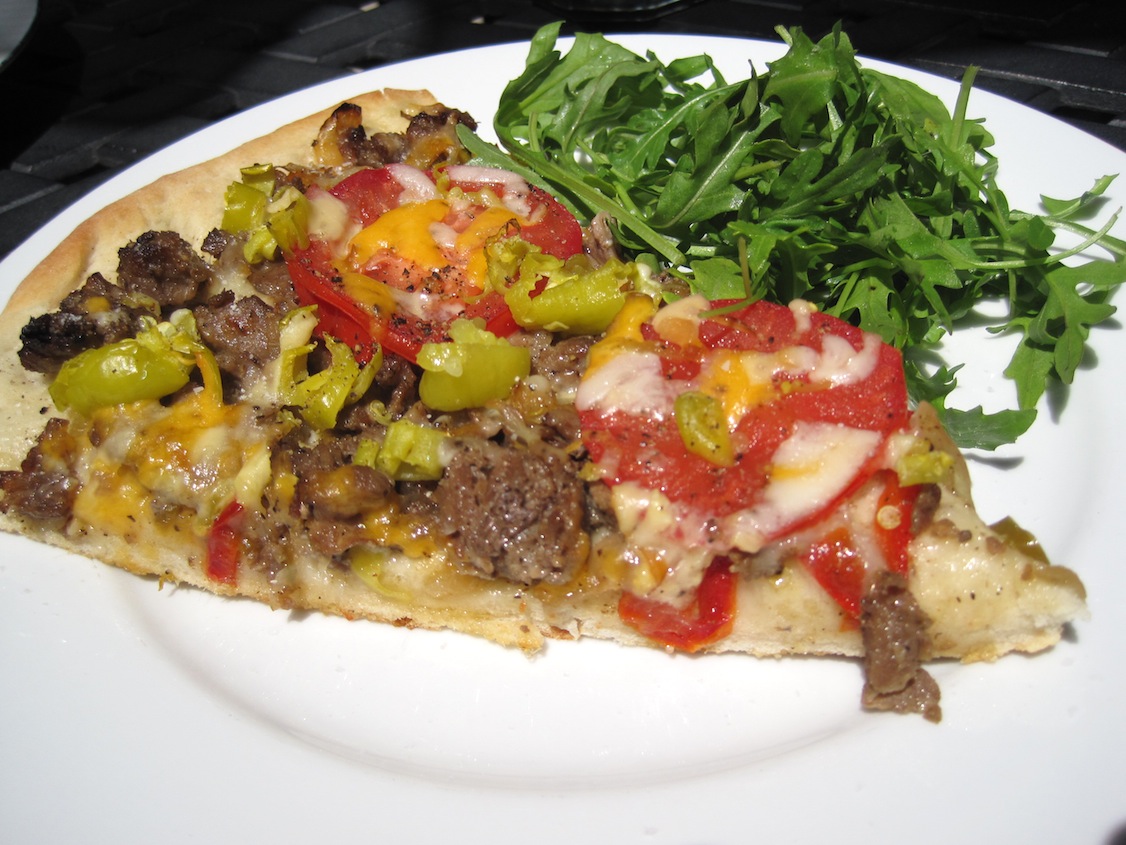 If you like Philly Cheese Steak subs (and I don't know anyone who doesn't)… you will love this Philly Cheese Steak Pizza. I came up with this idea for lunch because I was craving a hamburger and we didn't have any ground meat. I always have Philly Cheese Steaks in the freezer, so I decided that would satisfy my craving. Then I realized we didn't have any hamburger buns or bread that I wanted to use for our sandwiches. That's when the wheels started turning and I decided to make a pizza. I made my pizza dough in 30 minutes and within 45 minutes we had our Philly Cheese Steak Pizza. It was super delicious! I used a smoky shredded cheese blend that I buy at Trader Joes. Yum.
We had 2 pieces left over and I put them in the freezer. I know they will make the perfect snack or quick lunch by just popping them into the toaster oven. 😉
Makes one 12-inch pizza
INGREDIENTS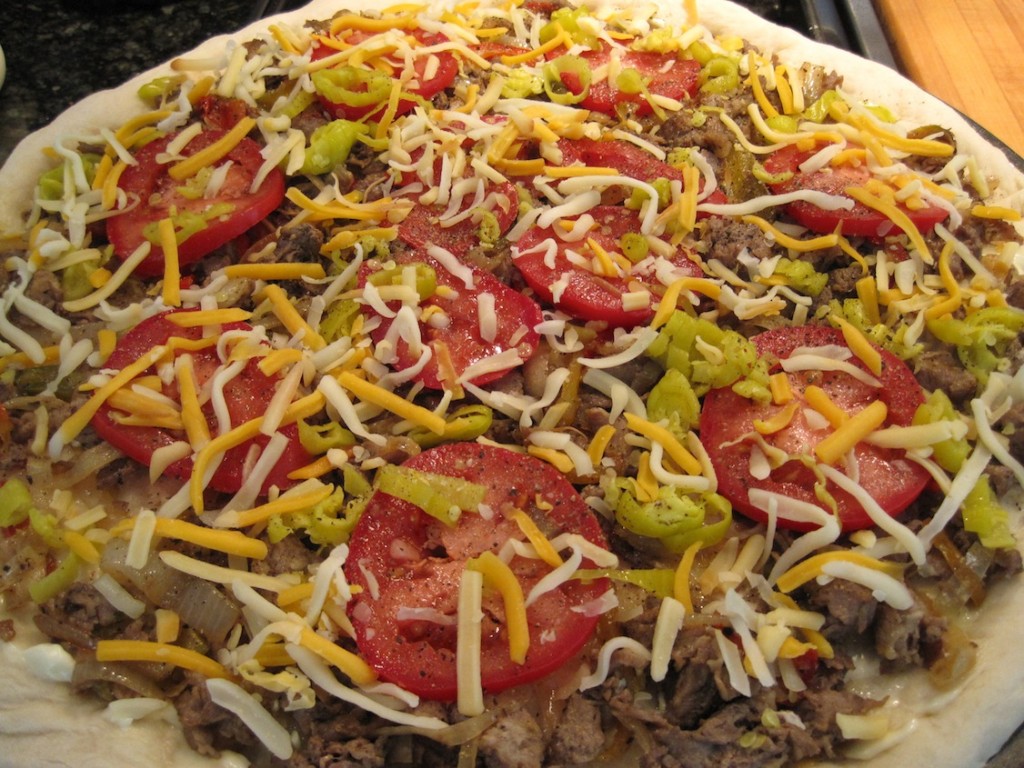 Pizza Dough (see recipe)
1 Tablespoon olive oil
1 thinly sliced white onion
1/2 thinly sliced green bell pepper
1/2 thinly sliced red bell pepper
3 Philly Cheese Steak portions (by Philly Food)
Mayonnaise
2 thinly sliced tomatoes
½ cup (or more if desired) shredded cheese
7 or 8 chopped Pepperoncini
Salt and pepper, to taste
METHOD
Preheat oven to 400 degrees. Get your pizza pan ready with just a quick spray of olive oil and set aside.
Once the dough has risen, punch down and knead for a minute or two. Shape into a 12-inch circle (or whatever shape you want your pizza). Bake in the oven for about 10 minutes, or until crust is light golden in color. Remove from oven.
In a large frying pan place olive oil, onion, and peppers over medium heat. Cook until translucent. Move vegetables to the side of pan and add your Philly Cheese Steak. It will only take a few minutes to cook the meat. Once cooked, mix the meat, onions and peppers together. Set aside.
Place a thin smear of mayonnaise on the pizza crust. Top with the meat, onions and peppers. Place sliced tomatoes evenly around pizza. Sprinkle cheese evenly over the top. Add Pepperoncini, salt and pepper.
Place in the preheated oven for about 10 minutes, or until cheese it melted and pizza is heated through.
Enjoy!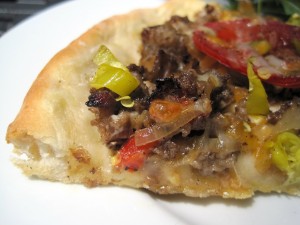 Print entire post