This is the best pizza dough. It comes out perfect each and every time. It also makes a delicious flatbread, just roll it super thin.
Pizza Dough
INGREDIENTS
1 cup warm water
2 ½ teaspoons dry active yeast
1 Tablespoon honey
2 ½ to 3 cups all-purpose flour
1/2 teaspoon salt
2 Tablespoons olive oil
METHOD
Mix the honey and warm water together in a small bowl. Add the yeast to the water and let it sit for 15 minutes until a nice foam forms from the yeast growing.
Place flour and salt in a mixing bowl with the dough hook attachment and slowly add the yeast mixture.  Mix on medium-high for about 5 minutes, until the dough becomes elastic and firm.
Remove dough from bowl and rub lightly with olive oil. Place in a bowl and cover with a clean dry towel. Let sit in a warm place to rise for 20 minutes. It should double in size.
Preheat oven to 400 degrees.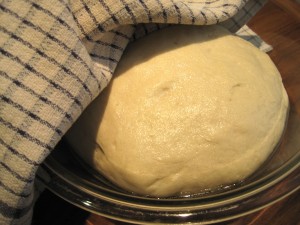 Place dough on a floured surface. If you want to make smaller individual pizzas cut dough into portions, or use for one large pizza. Roll out to desired thickness and size.
Spoon whatever sauce you desire on pizza. Add the cheese and toppings.  Place on a pizza stone and bake for 10 minutes or so, depending on the thickness of the dough.
Remove, cut into slices and serve.
For a crispier crust:  I usually cook my pizza crust for about 7 minutes before I top it with anything. That's always an option.
Pizza Ideas:
Sauces – Marinara Sauce, Pesto Sauce, Chimichurri Sauce, Barbecue Sauce,  Cilantro Sauce, Sweet & Sour Sauce, Alfredo Sauce, Hummus
Toppings – Sautéed Mushrooms, Spinach, Pepperoni, Sausage, Mini Meatballs, Steak, Chicken, Bacon, Basil, Peppers, Garlic, Onions, Olives, Capers, Eggplant
Cheeses – So many delicious cheeses to try, depending upon your sauce and toppings!

Print entire post