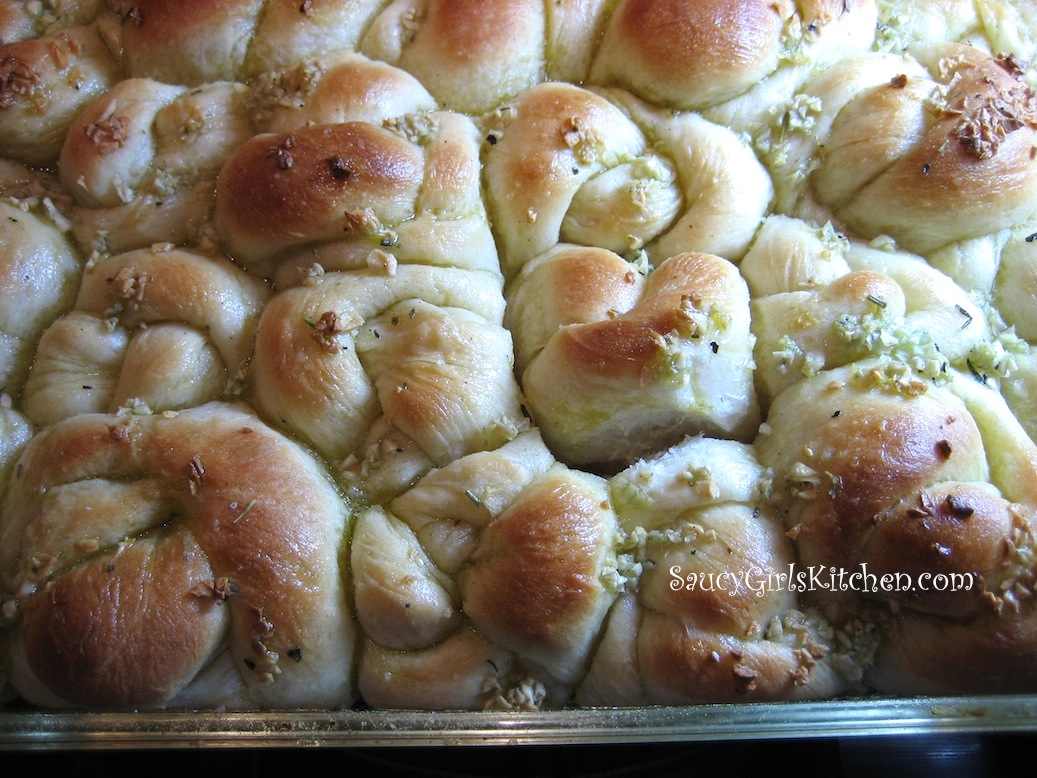 I'm addicted to bread. I like any and all types of bread. Most of the time when I am craving something it is usually bread. So, with all that being said, I made some garlic knots. They turned out perfect.
I used my basic pizza dough recipe, which is great for flatbreads, as well! I didn't need anything for dinner besides these garlic knots and some beef ragu to dip them in. A little bit of heaven on my plate!
INGREDIENTS
Pizza Dough
1/3 cup Olive Oil
5 Tablespoons Garlic, minced
1 tsp Italian Seasoning (herbs)
1 tsp Coarse Sea Salt
METHOD
Prepare pizza dough (link is above). Lightly oil the dough and place in a bowl. Cover with a clean dish towel and set aside to rise.
Combine olive oil, garlic and Italian seasoning in a small bowl. Set aside.
Lightly oil a 9″ x 13″ baking pan and set aside.
Once the dough has risen, punch down and knead. Make knots by taking a small amount of dough, roll it into a cigar shape and tie it. Place into the prepared baking dish, tucking the ends under. Repeat the process until all rolls are knotted and baking dish is full.
Cover with the towel again and allow to rise for about 15 minutes.
Preheat oven to 350 degrees.
Once the knots have risen, pour the olive oil mixture evenly over them. Sprinkle with sea salt.
Bake for about 15 to 20 minutes, or until golden brown.
Enjoy!

Print entire post