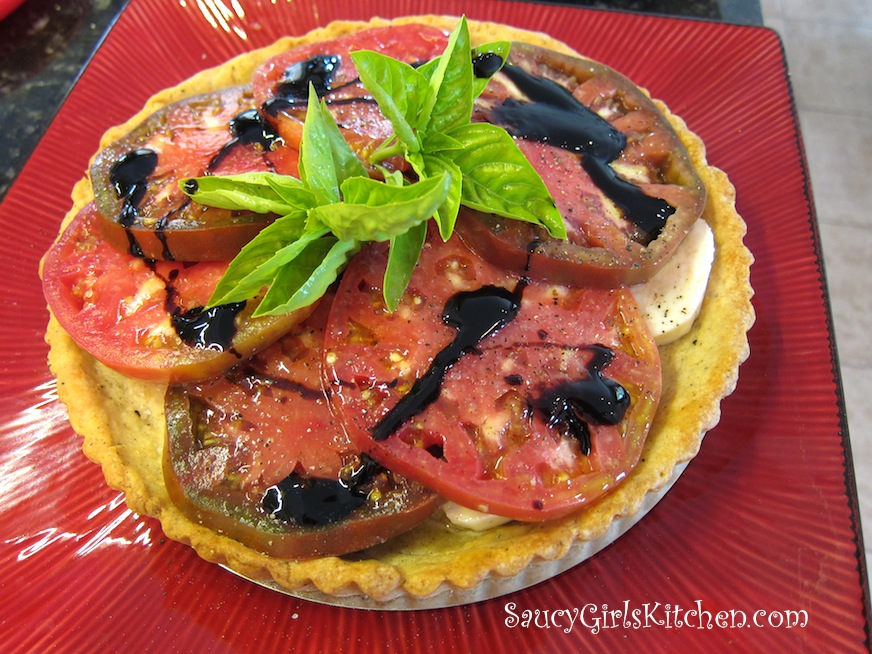 Tomatoes are in season! If you're not growing your own tomatoes, you can find so many varieties now in the grocery store or at your local farmer's market. Such a versatile fruit, yes it's a fruit! There are so many wonderful ways to use fresh tomatoes such as Homemade Tomato Soup, Marinara Sauce, Pasta Alla Checca, or an all time favorite, the Bacon, Lettuce & Tomato Sandwich.
I wanted to try something different to really showcase these gorgeous Heirloom Tomatoes, keeping them intact and the star of the show! This tart was absolutely delicious! The Pepper Parmesan crust is divine, and I plan on making it for other veggie tarts in the future.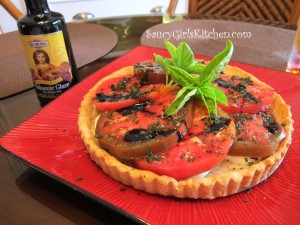 After a layer of fresh mozzarella, I placed the heirloom tomatoes on top, a little salt and pepper, and for the finale I drizzled some Gia Russo Balsamic Glaze on top of the tart. It's available in your grocery store near the vinegars. If you haven't tried it, please put it on your shopping list. I promise, you won't be disappointed. Nope, I'm not getting paid by this company. It's just that I absolutely love this glaze! It's delectable and brought all the flavors to life.
I sure hope you'll give this simple and delicious tart a try!
INGREDIENTS
For black pepper parmesan pastry:
1 1/4 cups Flour
1 stick cold unsalted Butter, cut into 1/2-inch cubes
2 Tbsp Freshly Grated Parmesan
1/2 tsp Black Pepper
1/4 tsp Salt
2 to 4 Tbsp Ice Water
For filling:
3/4 lb fresh Mozzarella (not unsalted), thinly sliced
2 Heirloom Tomatoes, sliced 1/2 inch thick
Balsamic Glaze (I use Gia Russo brand)
Salt and Pepper, to taste
Fresh Basil, for garnish (optional)
Special equipment: pie weights or raw rice
METHOD
Preheat oven to 375°F.
For the crust:
Blend together flour, butter, shortening, parmesan, pepper, and salt in a bowl with your fingertips or a pastry blender (or pulse in a food processor) until mixture resembles coarse meal with some roughly pea-size lumps.
Drizzle 2 tablespoons ice water over and gently stir with a fork (or pulse in food processor) until incorporated.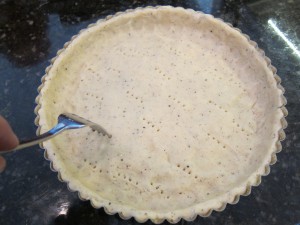 Gently squeeze a small handful: It should hold together without falling apart. If not, add more water, 1 tablespoon at a time, stirring (or pulsing) after each addition until incorporated, continuing to test. (Do not overwork dough, or it will become tough.)
Place dough on a floured work surface and roll out into a 12-inch round.
Fit into a 9-inch round tart pan (the type with a removable rim).
Roll rolling pin over top of pan to trim dough flush with rim.
Lightly prick tart shell all over with a fork.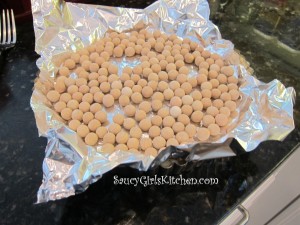 Line shell with foil and fill with pie weights or rice.
Bake for 20 minutes.
Carefully remove foil and weights and continue to bake until golden, about 15 more minutes.
Cool in pan on a rack.
To Assemble Tart:
Remove side of pan and slide shell onto a serving platter.
Arrange the mozzarella slices in the bottom of tart shell.
Place the tomato slices overlapping, on top of the cheese.
Season with salt and pepper.
Drizzle with Gia Russo Balsamic Glaze.
Garnish with a fresh sprig of basil or two.
Enjoy!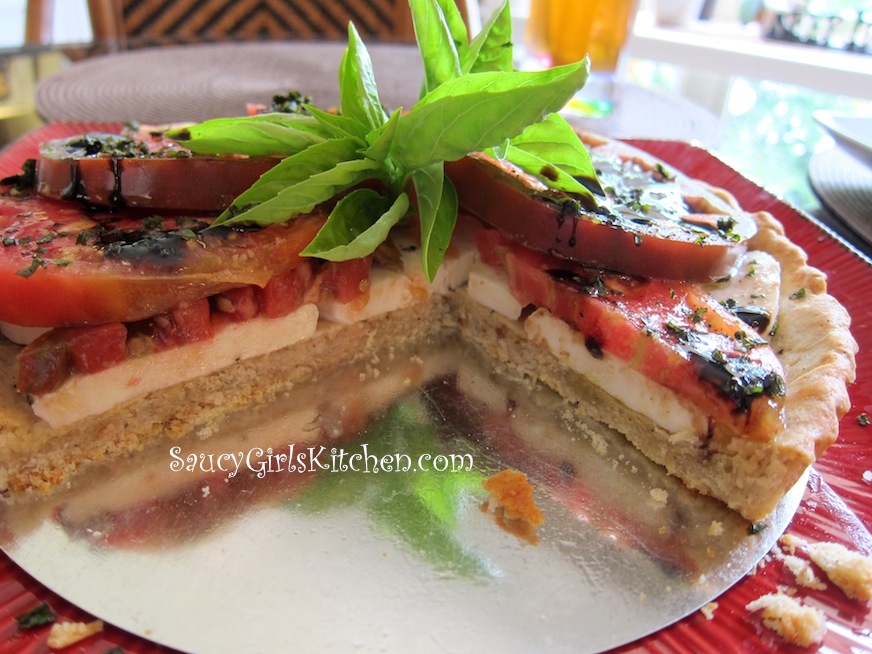 Print entire post