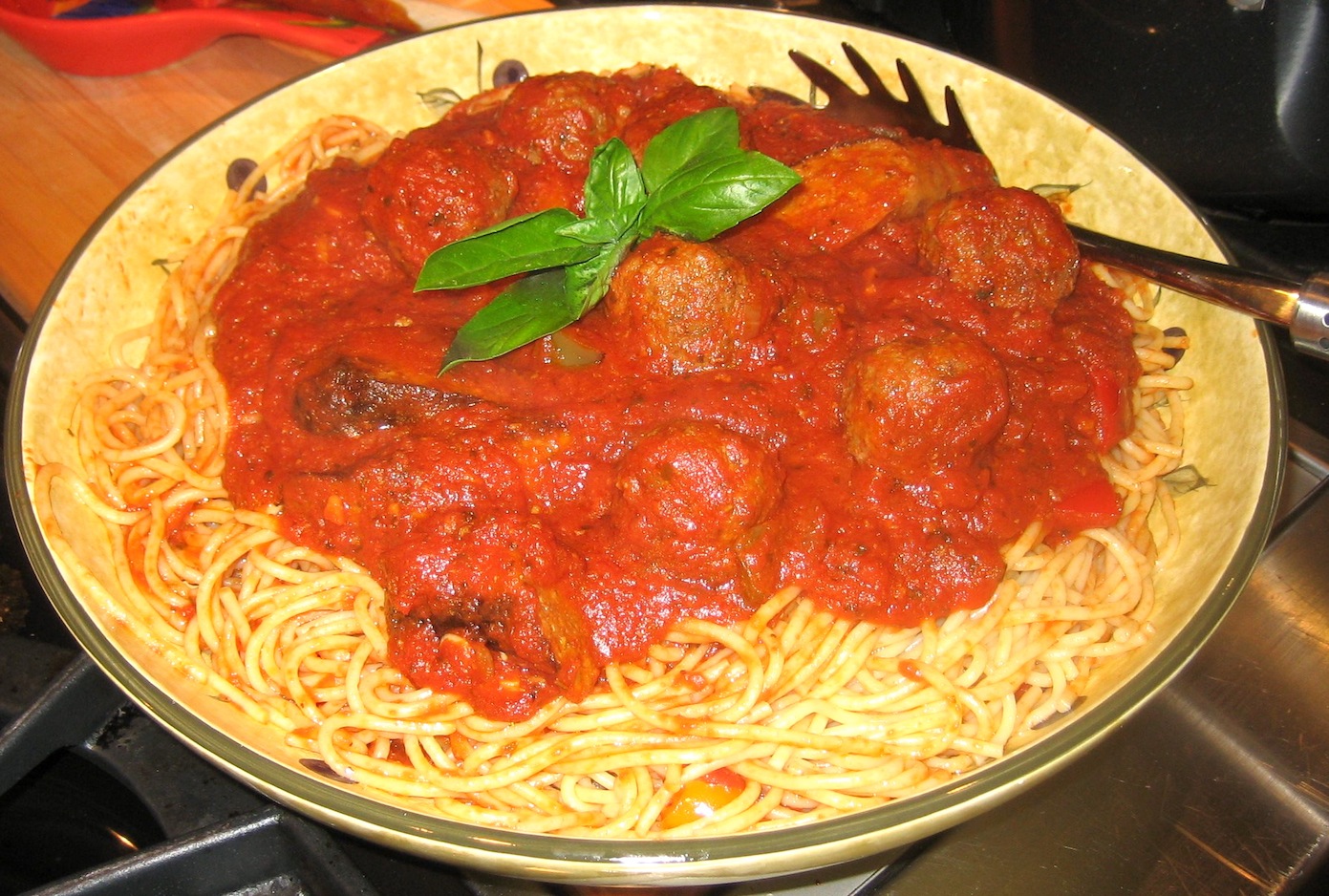 Having a pot of tomato sauce on the stove reminds me so much of weekends at my grandparents' house. The aroma fills the air and takes me back to those days of my youth, when I would watch my grandfather cook in the kitchen. For my spaghetti and meatballs I'm using ground turkey today. I don't always. Sometimes it's beef, sometimes pork, sometimes a combo. Since I don't use recipes they never turn out exactly the same… but they are always delicious!!

So, here's my recipe. You can adapt it by adding other ingredients to the sauce, such as mushrooms, olives, capers, eggplant, etc. You may notice in my picture that I also added in some Italian sausages. They were actually left over from the day before and were a perfect addition. 😉
INGREDIENTS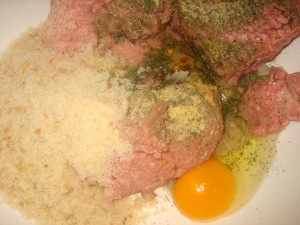 For meatballs:
1 lb. ground Turkey
1 Egg
1 Tbsp Italian Herbs (oregano, basil, rosemary, thyme)
1/4 cup Parmesan Cheese
1/3 cup Bread Crumbs
2 tsp Salt
Black Pepper, to taste
1/3 cup Water
For Sauce:
20 or so Roma Tomatoes
3 Tbsp Olive Oil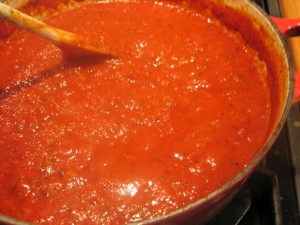 1 Onion, chopped
1 Bell Pepper, chopped (I like to use green, red and yellow)
12 oz. Tomato Paste
2 cups of Water (more or less)
3 cloves Garlic, minced
3 Tbsp Italian Herbs (oregano, basil, rosemary, thyme)
1 tsp Sugar
Parmesan Cheese
Salt and Pepper, to taste
Crushed Red Pepper, to taste
1/4 cup Red Wine, optional
1 lb. Spaghetti, cooked according to package directions
METHOD
For the meatballs:
Preheat oven to 350 degrees.
Add all the ingredients, except the water, into a large bowl.
Mix gently with hands a few times and add the water.
Incorporate everything together, but don't overwork the meat.
Shape into balls in whatever size meatballs you desire.
Sometimes I make them super large, and other times I like mini meatballs… like in baked ziti. Yum!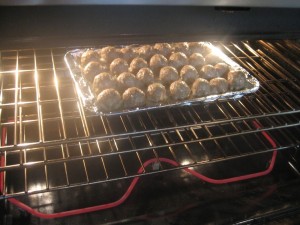 Place on baking sheet and bake for about 35 minutes.
These meatballs will be added directly into the pot of sauce.
So, set them aside if your sauce isn't done yet… or add them if it is!
For sauce:
Preheat oven to 350 degrees.
Wash tomatoes and place in shallow baking dish.
Add about 1 tablespoon of the olive oil and coat tomatoes.
Lightly salt.
Bake for about 25 minutes, or until tomatoes are soft and skins have split.
Remove from oven and set aside to cool.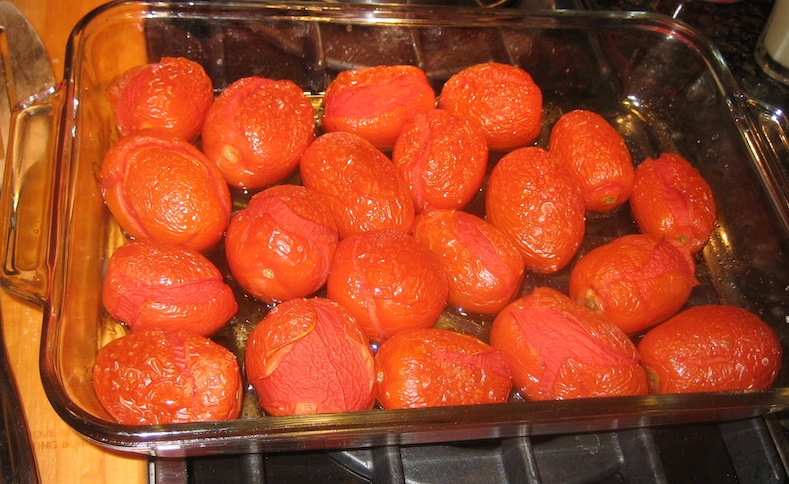 In a large saucepan add about 2 tablespoons of olive oil, the onion and bell peppers.
Cook for about 5 to 7 minutes on medium low until vegetables are soft.
Add the tomato paste with 2 cups of water and combine completely.
Add the minced garlic, herbs, and sugar.
Allow to simmer on medium-low while you get back to the roasted tomatoes.
Carefully peel the skins off the roasted Roma tomatoes and discard skins.
Place tomatoes in the food processor and pulse.
I prefer my sauce chunky so I don't blend mine smooth. However, that's your choice.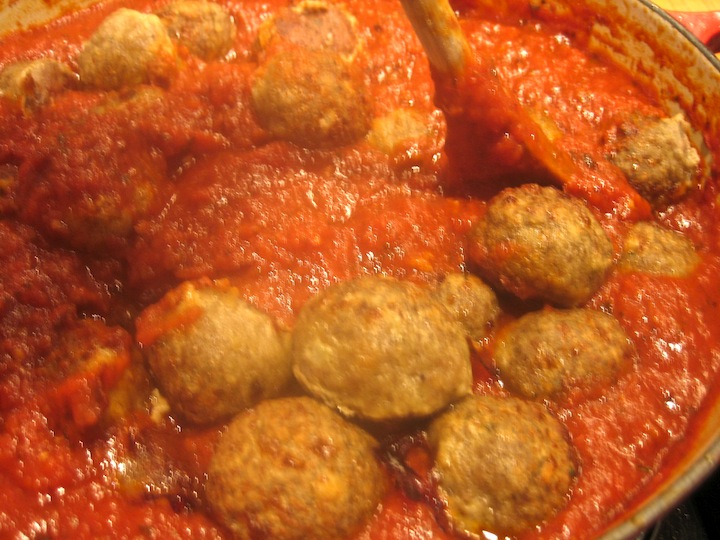 Add the pureed tomatoes to the sauce pot and mix well.
Add the meatballs.
Stir in about ¼ cup of Parmesan cheese.
Taste the sauce and add salt and pepper to taste.
If you like it spicy add in some crushed red pepper.
If your sauce seems too thick, just add a little more water.
I put 1/4 cup of red wine on the list of ingredients.
I usually just add that in last, when I've already seasoned the sauce and I'm happy with it.
Then I let it simmer for about 20 minutes while I make the salad, garlic bread, and pasta.
Enjoy!

Print entire post