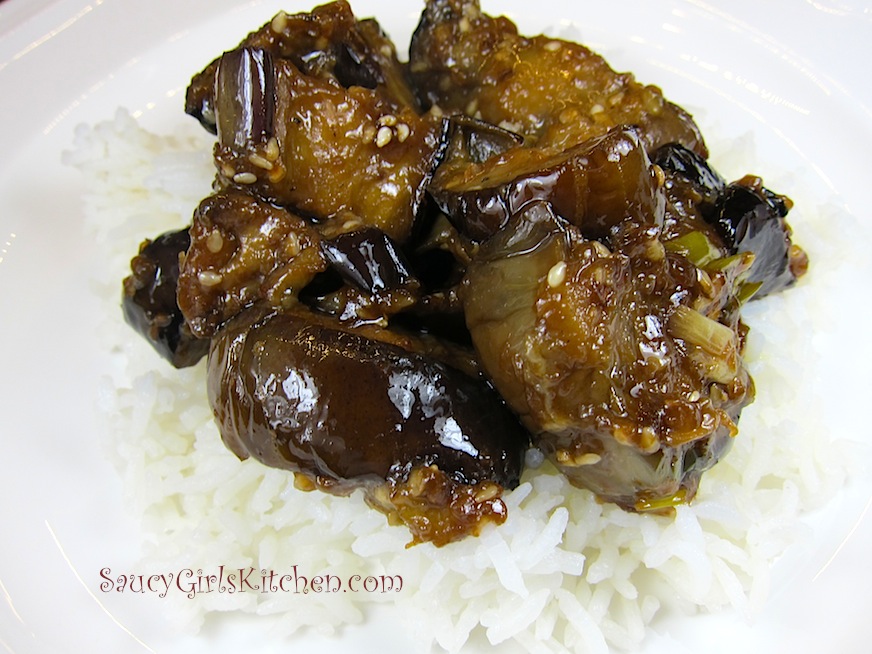 I love eggplant. I was craving an Asian eggplant dish I would sometimes get for lunch in Los Angeles. I was determined to duplicate it… and here it is. It tasted even better than I remembered! ☺
If you're on the fence about eggplant, I hope you'll try this dish or some of my others, like Baba Ganoush, Caponata, Meatless Moussaka or Eggplant Parmesan. It may just bring you to the "eggplant lovers" side!
Stir-Fried Asian Eggplant
INGREDIENTS
5 or 6 Asian Eggplants
2 Tbsp Vegetable Oil
2 Tbsp Sesame Oil
2 Green Onions, sliced on the diagonal
3 cloves of Garlic, minced
2 Tbsp fresh Ginger, grated
½ cup Vegetable or Chicken Broth
2 Tbsp Soy Sauce
1 Tbsp Rice Wine Vinegar
1 Tbsp Brown Sugar
2 tsp Cornstarch
1 Tbsp Sesame Seeds
Optional: Thai Basil and/or Cilantro
METHOD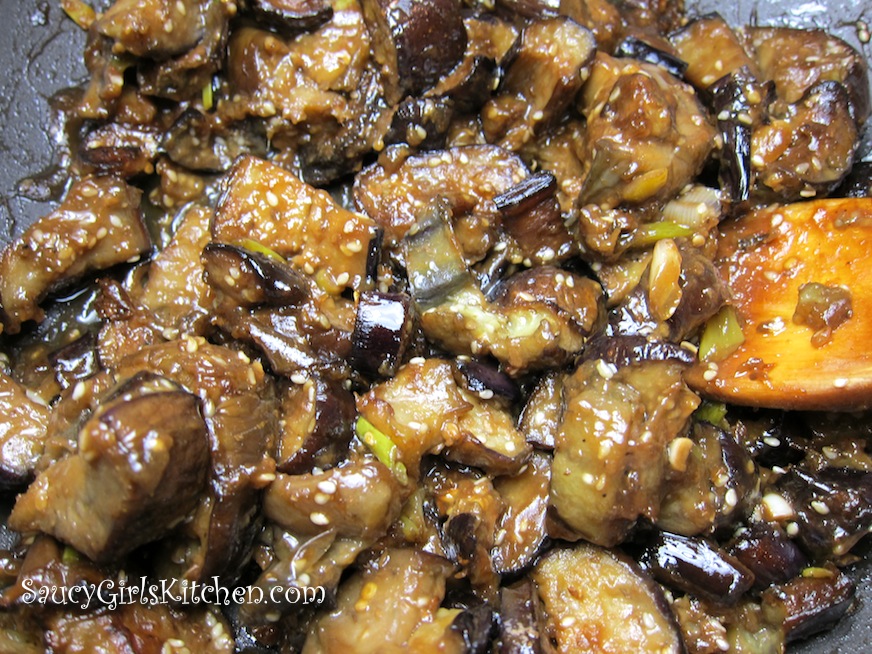 In a large sauté pan or your Wok place the vegetable oil and sesame oil.
Heat on medium.
Cut the eggplants in half lengthwise and then cut into 1-inch pieces.
Carefully put the eggplant into the hot oil and stir-fry for about 5 to 10 minutes, until the eggplant begins to soften.
Add in the green onions, garlic and ginger.
Continue to stir-fry for another minute or two.
Then add in the broth.
In a small bowl whisk together the soy sauce, rice wine vinegar, brown sugar and cornstarch until smooth.
Add mixture into eggplant and stir until thickened, another minute or so.
Stir in half of the sesame seeds, and save the other half for garnish.
Also garnish with basil and/or cilantro, if desired.
Serve over Jasmine Rice.
Enjoy!

Print entire post