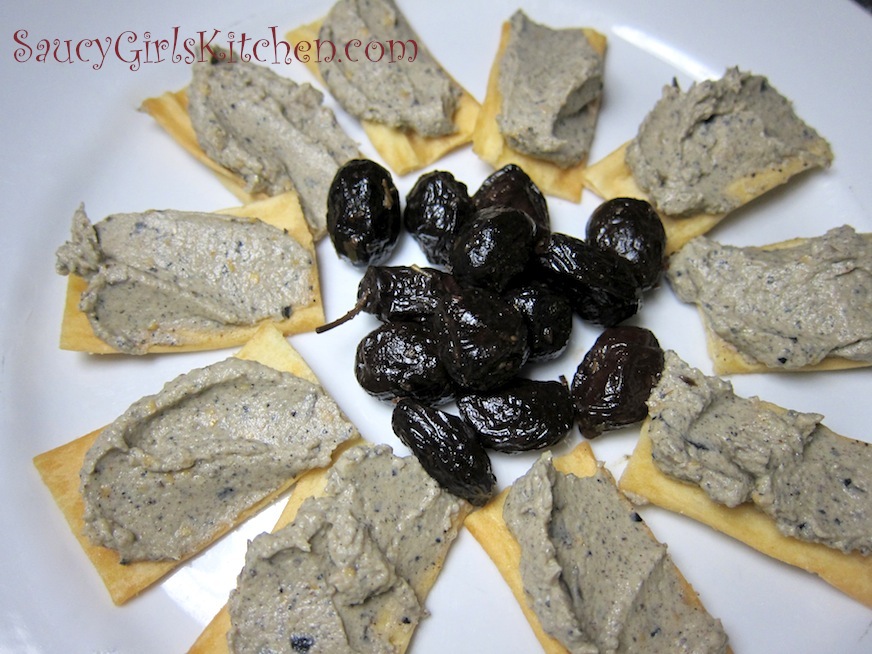 I love Mediterranean foods of all types. One of my favorites is Baba Ganoush. Eggplant or Aubergine (as it is called) is one of my favorite vegetables! Well, it's actually a fruit, although most people think of it as a veggie.
People and different cultures put their own spin on Baba Ganoush by adding cayenne pepper, cumin, onions, tomatoes, etc. Most of the time the eggplant is mashed, rather than put in the food processor. This is just my way of doing it and I've never had any complaints… besides, it's the best I've ever had.
I like to serve it drizzled with olive oil, served with pita bread and olives. In the picture above you see it on pita chips.
INGREDIENTS
2 medium-sized Eggplants
1/3 cup Tahini (sesame paste)
3 to 4 Tbsp lemon juice (fresh)
3 cloves Garlic, peeled
1 to 2 Tbsp Olive Oil
1 tsp Sea Salt
Fresh Parsley, as garnish
METHOD
Preheat the oven to 350 degrees.
Wash and dry eggplant.
Place eggplant on the flame of a gas burner and char the skin, turning until the eggplants are evenly charred on the outside.
I like my Baba Ganoush with a very smoky flavor, and the way to get it is to char the eggplants for about 10 minutes.
Place charred eggplants in a baking dish and bake for about 25 to 30 minutes, until very soft.
Remove from oven and allow to cool.
Most people remove the skins, but I NEVER do.
If you'd like to remove the skins, just cut the eggplant down the center and scoop out the soft pulpy inside.
Place the eggplant, Tahini, lemon juice, garlic, olive oil and salt into the food processor and blend until smooth.
Taste and season with additional lemon and salt, as desired.
Garnish with fresh parsley.
Serve with crackers, pita chips, crostini or a sliced baguette.
Enjoy!
Baba Ganoush is best served after it has been refrigerated for an hour or two.
Baba Ganoush will keep in the refrigerator for 5 to 7 days.

Print entire post