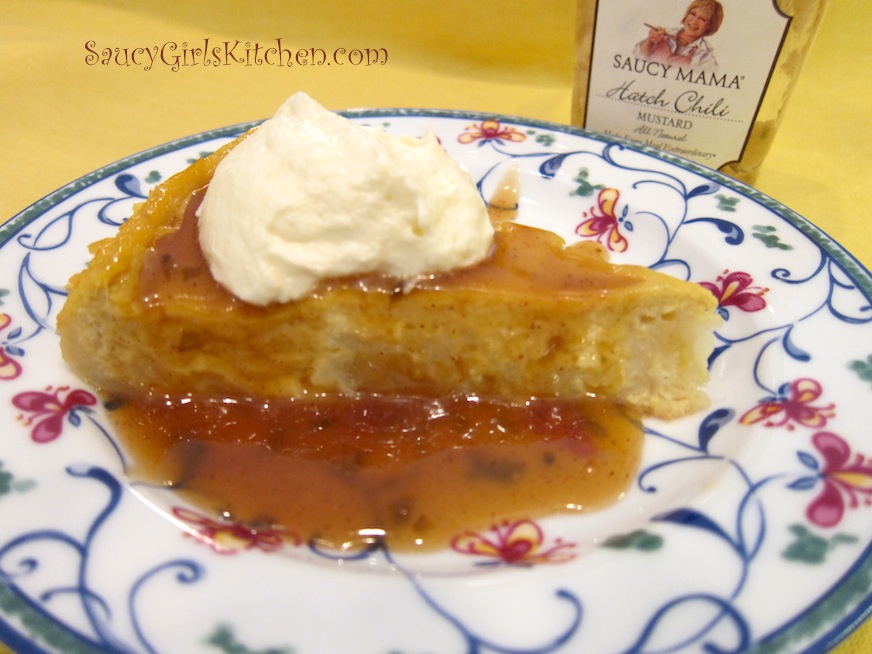 I was elated to hear that I had made it into the final round of the Saucy Mama Sliced Recipe Contest! It's been fun experimenting with mustard in cooking. What I've discovered, even though I've always loved mustard on hot dogs, is that there's a whole food world just waiting to be mustardized. Not sure if that's a word, as my spell check has it underlined in red, but it should be!
Throughout this contest I've thought about the dessert round, hoping I'd make it and wondering what in the world I'd prepare? Dessert and Mustard are two words that I've never heard together before. Happily, I made it to the finale and here we are. My goal for the dessert was not to mask the flavor of the mustard, but for the mustard to be essential. The dish I'm sharing with you not only contains mustard in the cake and the caramel sauce, it's better because of it!
And let's not forget about the last minute secret ingredient – booze! I loved seeing that as the secret ingredient. It was certainly a challenge to create a dessert starting with mustard and booze, but with lots of taste testing and playing with flavor profiles, I love the final result. It's a delicious and unique taste that keeps me coming back for more. I chose Saucy Mama Hatch Chili Mustard because it seemed to have the best dessert potential, and bourbon because its rich rounded flavor seemed complimentary to the mustard.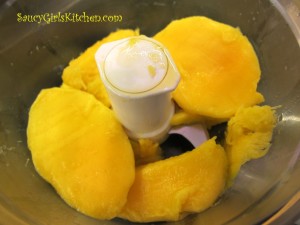 In my first attempt at the cake, I used fresh grilled pineapple and it was really good. But I hadn't blended up the pineapple, and I hadn't added any mustard into the cake. That's when I thought about Mango!! I love the flavor of mango and thought it would compliment the flavor of the mustard. I also liked the sound of "mango mustard," and "custard" sounded perfect with it – plus it rhymed! So this time I blended the fruit and added the Saucy Mama Hatch Chili Mustard and the flavor just took off. It brought out the sweetness in the mango and the cake has a custard/cheesecake texture that I love. I was way beyond satisfied with the cake, now it needed a sauce.
I decided to make a caramel sauce. It came together easily and I tasted it before I added in the mustard. It was good. It was a nice caramel sauce. But when I added the mustard it was like WOW – a whole new flavor profile had been created. It was incredible, but I felt it could be better. That's when I decided that the flavor of brown butter would really make it all come together. I set about making another caramel sauce, this time using butter that I had browned. All I can say is, Oh My!! Seriously, what a transformation. I could not keep out of it. Every other second I was back at the stove, going for yet another taste of this deliciousness.
Ok, we've got the cake. We've got the sauce. Now we need whipped cream. Dessert isn't complete unless there's whipped cream! Yep, that's my philosophy. But not just any whipped cream – Bourbon Whipped Cream!
So, after much experimentation I've created a dessert that I think is spectacular. It's creamy, kind of a cross between pumpkin pie and cheesecake, yet it has the texture of the phyllo dough. I love it! My husband (my taste-tester) really loved it, too. He had a piece before dinner, and then another piece after dinner. That's a good sign!
Even though this dessert has 3 components, it comes together easily. So, I hope you'll give this recipe a try for something truly unique and delicious!!
Mango Mustard Custard Phyllo Cake
topped with Brown Butter Caramel Bourbon Sauce
& Bourbon Whipped Cream
INGREDIENTS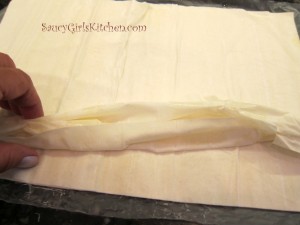 2 Mangos, peeled
3 Tbsp Saucy Mama Chili Hatch Mustard
4 Eggs
2 cups Cream (or milk of your choice)
¼ cup Sugar
½ lb. Phyllo Dough (note: this is only half the box)
4 Tbsp Butter, melted
METHOD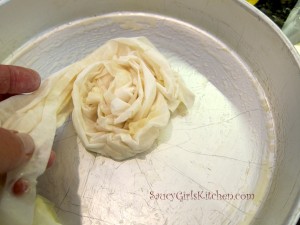 Preheat oven to 350 degrees.
Process peeled and seeded mango in the food processor for a minute, or until it's smooth.
Add in 3 tablespoons of Saucy Mama Chili Hatch Mustard and pulse for a second or two to incorporate it into the mango.
Set aside.
In a medium bowl beat the eggs until frothy.
Whisk in the cream and sugar.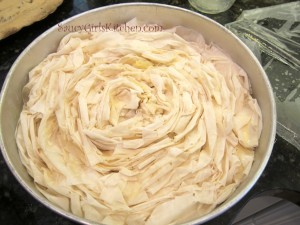 Add in the mango and mustard.
Set aside.
Butter a 10-inch round cake pan.
Open your phyllo and dab a little butter onto the first sheet of phyllo with a brush.
Scrunch the phyllo like an accordion and place it in the center of the pan, circling around.
What you want to create is one large spiral of phyllo.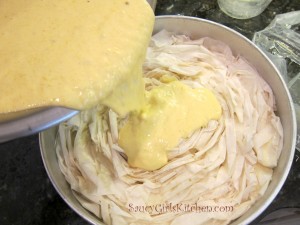 Continue doing that with each phyllo sheet until they've all been used, it should fill out the pan perfectly.
Now pour the mango mixture over the phyllo, allowing it to seep in between the phyllo sheets.
Place in the oven and bake for about 45 to 55 minutes, or until custard is set and lightly golden.
Remove from oven and allow to cool.
Serve with Brown Butter Bourbon Caramel Sauce and Bourbon Whipped Cream (recipes follow).
Brown Butter Caramel Bourbon Sauce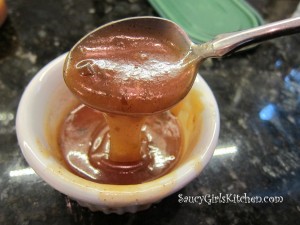 INGREDIENTS
1 stick Butter, browned
1 cup Sugar
1/2 cup Heavy Cream
1 Tbsp Saucy Mama's Hatch Chili Mustard
1  Tbsp Bourbon
METHOD
Place the butter in a medium saucepan over medium heat.
Allow butter to melt and brown, while stirring with a small whisk.
Once the butter is light brown in color, add in the sugar, whisking as it melts into the butter.
Once sugar has completely dissolved, turn off heat and whisk in the heavy cream (it will bubble up a lot when you add it in, so be careful).
Add Saucy Mama Mustard, and bourbon.
Enjoy warm, spooned over Mango Mustard Custard Phyllo Cake.
Bourbon Whipped Cream
INGREDIENTS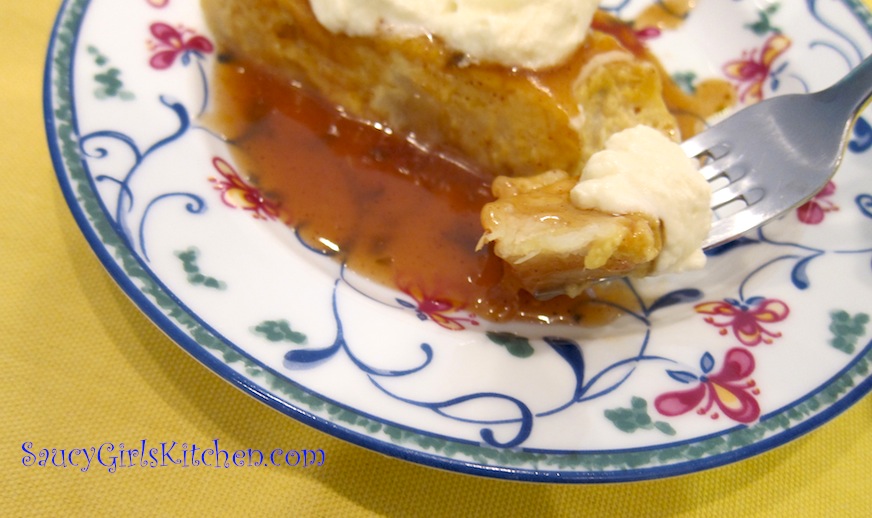 1 cup Heavy Whipping Cream
3 Tbsp Sugar
2 Tbsp Bourbon
METHOD
In the bowl of your electric mixer whip the whipping cream and sugar until light and fluffy.
Gently add in the Bourbon, a little at a time, keeping the whipped cream fluffy.
Add a dollop to the top of this dessert.
Enjoy!
*   *   *   *   *   *   *
Thank you to Saucy Mama and Barhyte Specialty Foods!
This has been such a fun experience participating in the Saucy Mama Sliced Recipe Contest. If you haven't tried Saucy Mama's Mustards, I hope you'll give them a try. They're delicious and check out all the varieties you can order here.
How would you like to win 3 Saucy Mama Mustards? Well, there's still time!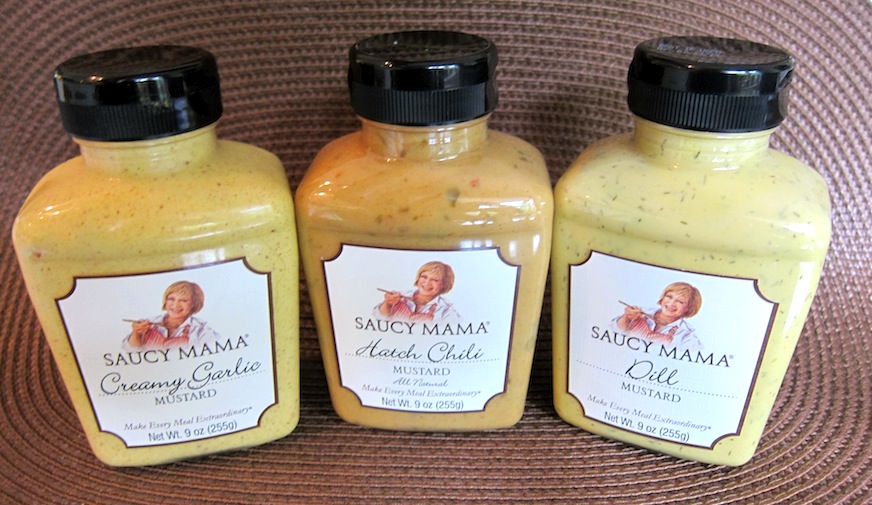 The Giveaway ends on Wednesday, July 10th at 5:00 pm central time. Even though it's "Pin It To Win It", you can enter the Giveaway even if you don't have Pinterest by sharing this link via Facebook or Twitter and be sure to let me know you did by leaving me a comment. Click here for details and to leave a comment on the original Giveaway post.

Print entire post