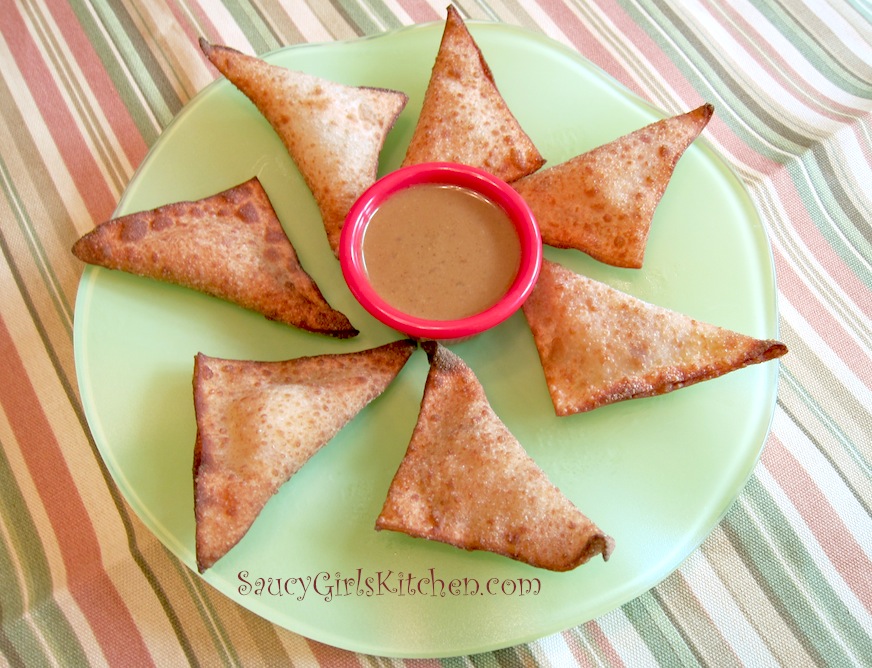 I'm happy to say that I was one of the 25 bloggers chosen to compete in the Saucy Mama's Sliced Recipe Contest! I love the way that they have structured the contest. It's kind of like the show "Chopped" where each round has a secret ingredient. The first round of the competition is the Appetizer… and the secret ingredient is Bacon.
When I received my Saucy Mama Mustards; Saucy Mama Dill Mustard, Saucy Mama Hatch Chili Mustard, and Saucy Mama Creamy Garlic Mustard, I immediately opened each one and tasted them. Oh my, they're all so delicious! I couldn't wait to get started.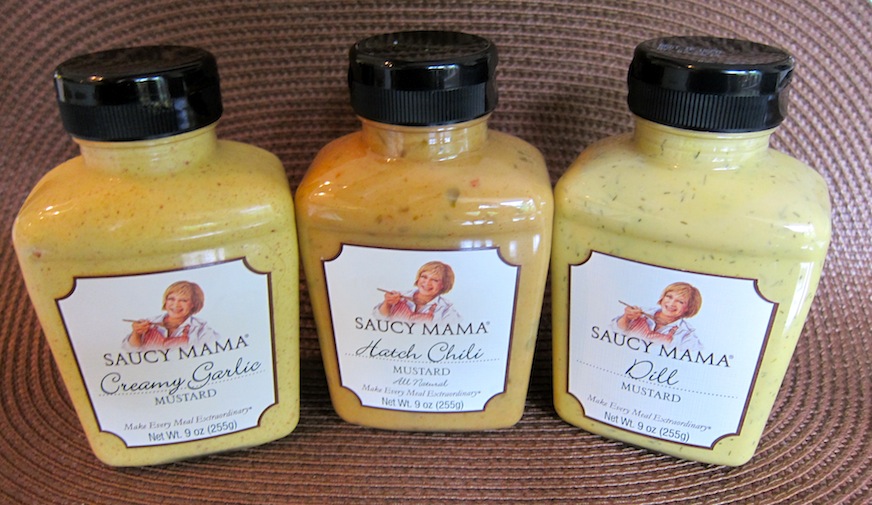 I decided to use the Creamy Garlic Mustard for the appetizer round. After experimenting around with several different appetizers, my family unanimously voted on the Potato Bacon Wontons. So, here's my Round One appetizer recipe using Saucy Mama's Creamy Garlic Mustard.
Potato Bacon Wontons with Saucy Mama Mustard Dipping Sauce
INGREDIENTS
5 strips of Bacon
1 large Potato
2 Tbsp Sour Cream
1 Tbsp Butter
1 Tbsp Milk
Salt and pepper to taste
Wonton Wrappers
Vegetable Oil, for frying
Saucy Mama Creamy Garlic Mustard Dipping Sauce (recipe below)
METHOD
Preheat oven to 350 degrees.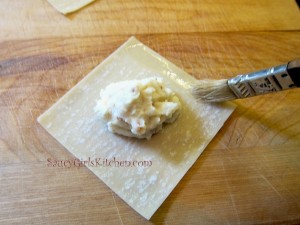 Place the bacon on a foil lined baking sheet.
Bake in the oven until the bacon is fully cooked.
Remove bacon from oven, and drain on paper towels.
Dice the bacon into small pieces and set aside.
Peel and diced the potato.
In a small pot, add the potato and cover with water.
Boil until potato is fork tender.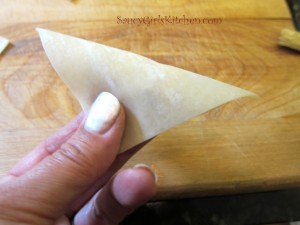 Drain water.
Add sour cream and butter into the potato pot.
Mash together until well blended and the consistency is smooth.
Add in the diced bacon.
Taste and season with salt and pepper, as desired.
In a medium saucepan add about 3 inches of vegetable oil, and turn onto medium heat.
While the oil is heating up, you can make your wontons.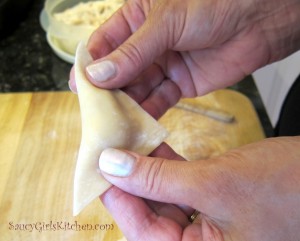 Place wonton on a clean work surface, with a corner pointing toward you.
Place 1 to 1 ½ teaspoons of the potato mixture in the center of wonton.
With a small brush put a little water all around the edges of the wonton (or you can use your finger).
Put the two opposite points together, and seal the wonton all around, creating a triangle shape.
Continue with as many wontons as you want to make at this time.
Gently drop the wontons into the hot oil, 2 at a time.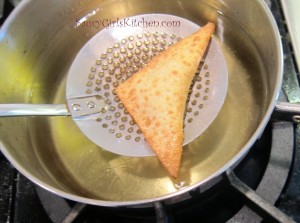 They cook very fast, less than a minute!
As soon as the wonton is light golden in color, remove from oil and place on paper towels to drain.
Continue until all the wontons are cooked.
Serve with Saucy Mama Creamy Garlic Mustard Dipping Sauce (recipe below).
Saucy Mama Creamy Garlic Mustard Dipping Sauce
INGREDIENTS
2 ½ Tbsp Saucy Mama Creamy Garlic Mustard
2 Tbsp Water
1 Tbsp Soy Sauce
1 Tbsp Apricot Jam
METHOD
Mix all the ingredients together using a small whisk or fork.
Serve with the warm Potato Bacon Wontons.
Enjoy!!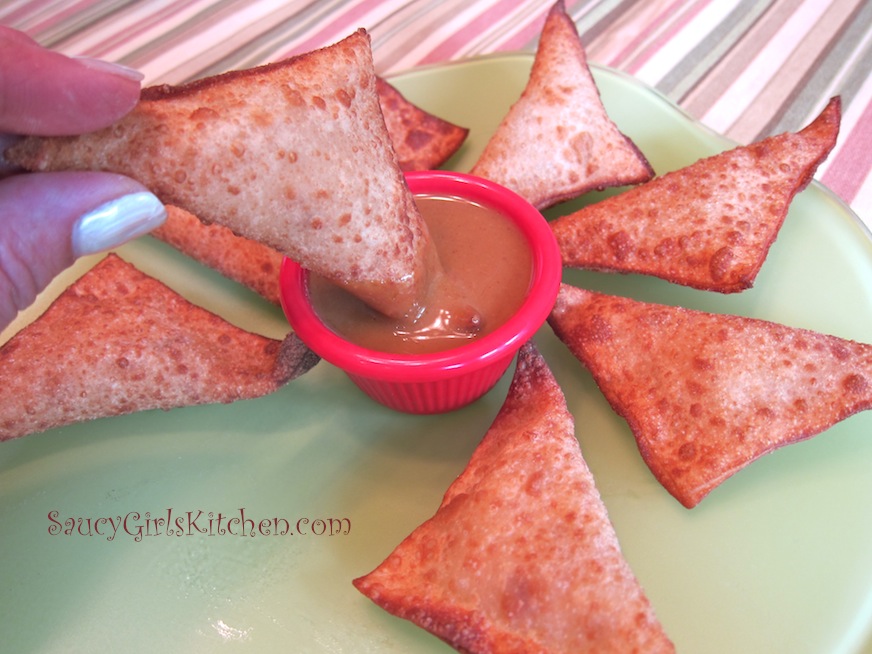 Notes: This is a great way to use your leftover mashed potatoes. If you don't eat bacon you can just leave it out.  I think a little cheddar cheese in these wontons would also be fantastic! Don't have apricot jam… substitute strawberry.
Giveaway – "PIN IT TO WIN IT" it's over!
Barhyte Specialty Foods has generously offered one reader the chance to win the 3 Saucy Mama Mustards that are being featured in the contest – Dill, Creamy Garlic and Hatch Chili Mustard! It's super easy to win… just pin the top picture of this blog post on your Pinterest page. Leave me a comment below to let me know that you've pinned it and you will be entered. Don't use Pinterest or want additional chances to win? Just share this post on Facebook or Twitter. Please be sure to let me know in additional comments below. Contest ends at 5:00 pm Central Time on July 10th. I will notify the lucky winner on July 10th, 2013 via email.
Special Offer
If you can't wait to win – Saucy Mama is also generously offering 25% off all their mustards through the Saucy Mama's Online Store. Just use code HEL25 at checkout. Shipping is free for orders over $50.00.
You're gonna love Saucy Mama Mustards – they're delicious!!

Print entire post