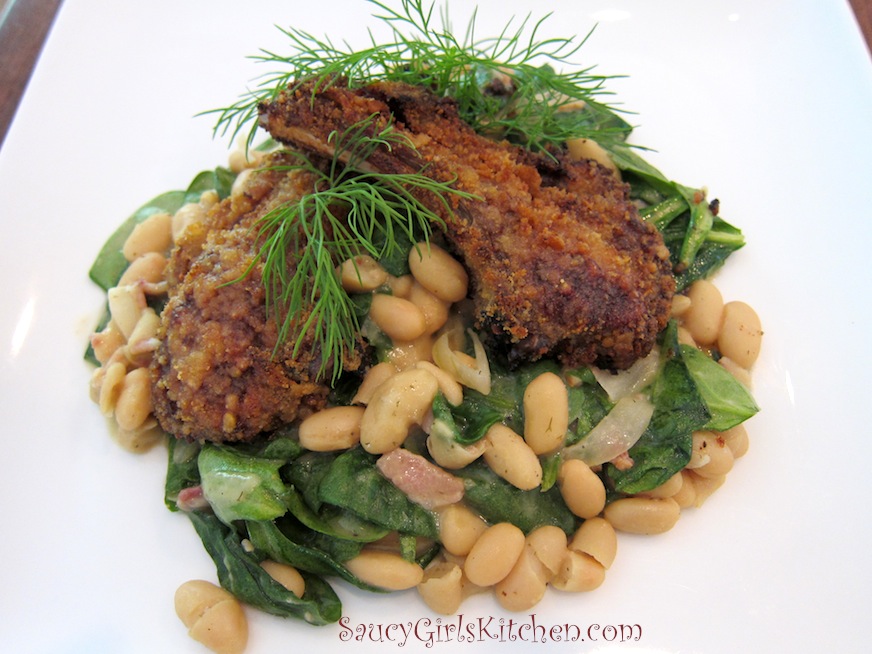 Yay!! I'm happy to say that Saucy Girl's Kitchen made it into Round 2 of the Saucy Mama Mustard Sliced Recipe Contest with my Potato Bacon Wontons with Saucy Mama Mustard Dipping Sauce. Now onto the entree round!
The secret ingredient to be used in the entree round is Beans. My mind immediately went to one of my favorite dishes ~ Spinach & Cannellini Beans with garlic and shallots. At least that was how I always made it before this contest. Now I will never make it again without including mustard, Saucy Mama Mustard, to be exact! Once I added a couple tablespoons of Saucy Mama Dill Mustard the flavors were incredible. It's as if the mustard totally took the dish to another level. Now I was faced with the dilemma of what to serve with it?
My first instinct was a piece of fish. I bought some Tilapia, crusted it, fried it in a little olive oil and served it atop the spinach & cannellini beans. It was beyond delicious. My daughter suggested lamb chops, so that was my next step. I think the lamb chops were incredible and I am using them as my submission in round 2 of the Saucy Mama Sliced Recipe Contest. The mustard pretzel crust would be a great application for salmon, chicken or pork, as well. I can't wait to try it as a nice crust for crab cakes!!  My favorite was the fish, so I'm picturing it here, too (see below). However, my husband and daughter both ruled in favor of the lamb chops, so I'm going with the majority for the sake of the contest and hoping to make it into the dessert round. I'm already thinking of ideas using mustard in dessert… just have no clue as to what the secret ingredient will be in that final round?
Thanks for following along with me on my journey through the contest. I hope you've entered the Giveaway. If not, please click here to check it out!
Saucy Mama Dill Mustard & Pretzel Crusted Lamb Chops
with Spinach & Cannellini Beans
Serves 2
INGREDIENTS
4 Lamb Chops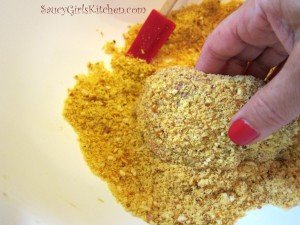 4 Tbsp Saucy Mama Dill Mustard
For Crust:
1 cup Pretzels
1/4 cup Parmesan Cheese
2 Tbsp Saucy Mama Dill Mustard
Fresh Ground Black Pepper, to taste
For Beans & Spinach: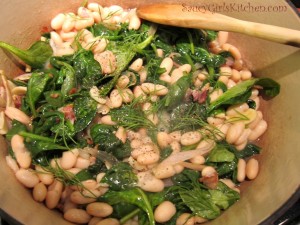 2 strips of Bacon, diced
4 Garlic Cloves, slivered
1 Shallot, sliced thin
1 Tbsp Water
2 to 3 Tbsp of Saucy Mama Dill Mustard
a few sprigs of fresh Dill, chopped (and some for garnish, if desired)
1 can Cannellini Beans, drained
5 oz. fresh Spinach, washed, long stems removed
Salt and Ground Black Pepper, to taste
METHOD
Preheat oven to 350 degrees.
Place pretzels, parmesan cheese and mustard in the food processor.
Pulse until pretzels are reduced to crumbs.
Place crumbs on a plate.
Slather mustard on each lamb chop and dip into the pretzel crumbs, being sure to coat the entire chop.
Place on a lightly greased baking dish.
I also gave them a quick spray of olive oil on top.
Bake for 20-25 minutes.
While the chops are baking you can prepare the spinach/bean mixture.
In a heavy saucepan saute the bacon, over medium heat.
When bacon is cooked through add in the garlic and shallot.
Continue to cook for a few minutes on medium-low heat, until shallot is tender.
Add the water and Saucy Mama Dill Mustard, mixing to combine.
Gently stir in the Cannellini beans and heat through.
Add the spinach and cook just until the spinach wilts.
To Plate:
Divide the spinach and cannellini bean mixture onto 2 plates.
Top each plate with 2 lamb chops.
Garnish with fresh dill, if desired.
Enjoy!
Don't forget to enter the Giveaway for your chance to win these delicious Saucy Mama Mustards, pictured below!!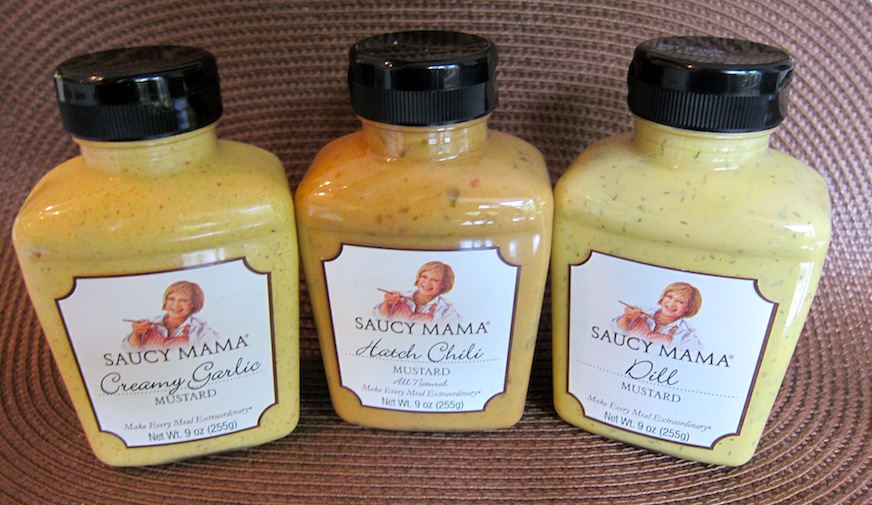 Print entire post