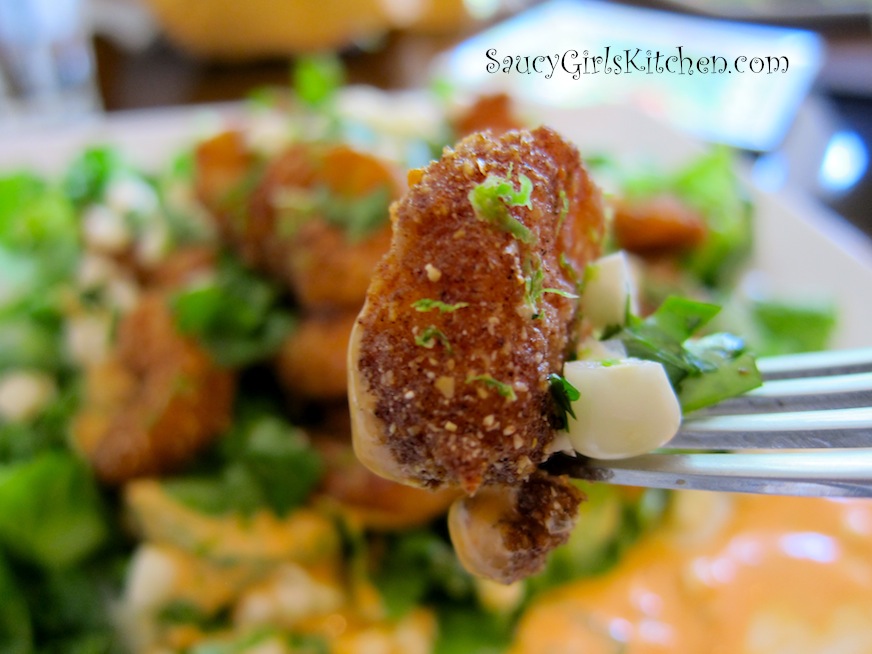 We go to Bonefish for dinner every few weeks, and it's really difficult to resist the Bang Bang Shrimp. I might not be quite as tempted if everyone else in our party didn't want them, too!! Oh, who am I kidding? I want them and I don't resist them. Ever. There.
So, the other day when I was getting a craving for Bang Bang Shrimp I decided to give it a try at home. I know that what makes the Bang Bang Shrimp taste so good to me is the crispy crunch factor on the shrimp and the delectable sauce. My recipe below is super easy and it totally satisfied my craving. I actually liked it better because I knew it was healthy and good for you… plus, I kicked the delectable sauce right into incredible land with some extra Sriracha Hot Chili Sauce. I love that stuff!
I didn't have any green onions, so they are missing from the picture. However, I included them in the recipe because next time I make this I will be sure to have some on hand.
I hope you give this recipe a try.  Seriously, these shrimp are so good!! My new favorite and hopefully yours, too!
INGREDIENTS
1 lb. raw medium Shrimp, peeled and deveined
1/2 cup Cornmeal
1 Tbsp Paprika
2 Tbsp Olive Oil or Coconut Oil
1 large head of Romaine lettuce, cleaned and chopped
Dash of Salt
1/2 tsp Crushed Red Pepper
2 tsp Agave or Honey
Zest of 1 Lime
Juice of 1 Lime
½ cup fresh Corn off the cob
1/4 cup Cilantro, chopped
2 Green Onions, sliced thin

METHOD
After you have peeled and deveined your shrimp, rinse and set aside.
In a large bowl mix together the cornmeal and paprika.
Heat the oil in a large non-stick pan over medium-high heat.
While the oil heats up, toss the shrimp in the cornmeal until they are evenly coated.
Add the shrimp to the pan and cook for 2 to 3 minutes per side, or until golden brown.
While the shrimp is cooking you can get your plates or platter ready by putting down a layer of clean, chopped Romaine lettuce and 2 tablespoonfuls of the Bang Bang Shrimp Sauce per plate (recipe below).
When the shrimp are done, turn off the heat and add a little salt, red pepper flakes, agave, and the zest & juice of the lime.
Lightly toss together and divide the shrimp equally among the 2 plates, topping the lettuce.
Top the shrimp with the corn off the cob, cilantro and green onions.
Serve with extra Bang Bang Shrimp Sauce on the side.
Bang Bang Shrimp Sauce
INGREDIENTS
2 Tbsp Mayonnaise
1 Tbsp Sour Cream
1 to 2 Tbsp Sriracha
1 tsp Lime Juice
Dash of Salt & Pepper
A little water, to thin to desired consistency, if needed
METHOD
Add all the ingredients into a small bowl and whisk together until smooth and combined.
Add a little water, if needed.
Taste and season with more Sriracha, salt and/or pepper, as desired.
Serve on the side of the shrimp, or top the lettuce with a little sauce before placing the shrimp on top.
Enjoy!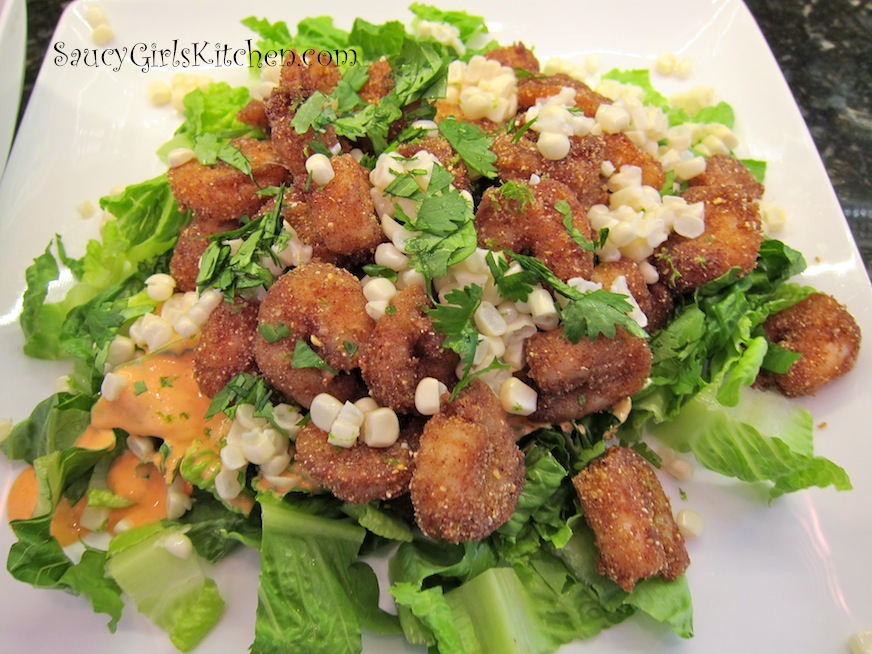 If you haven't entered the contest to win 3 delicious Saucy Mama Mustards… what are you waiting for? Only 10 people have entered so far, so your odds are great! You can check it out on my website here and it's super easy to enter. Also, stay tuned for my dessert entry in the Final Round of the Saucy Mama Sliced Recipe Contest. I'm making a dessert using mustard & booze. Sound interesting? Well, I tried my dessert idea the other night and I COULD NOT stop eating it. Now if only the judges feel the same way!!  😉

Print entire post