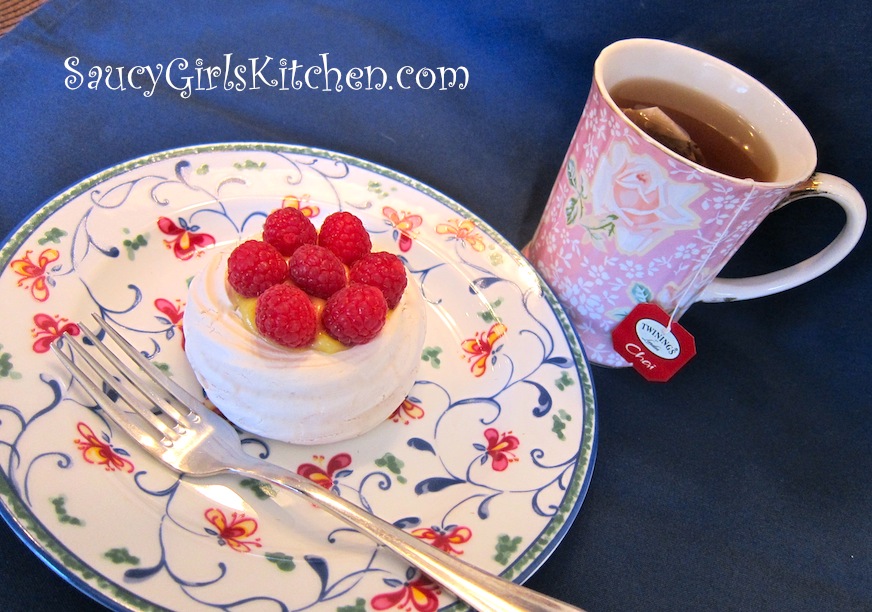 Not sure why I have been craving Pavlovas… which is just like a meringue, but I like the name better. Not only did I make the Pavlova pictured above, but 2 days later, I made a bunch of mini Rose flavored Pavlovas. They're super simple to make, and I think they're really fun to make, as well! Whipping up the egg whites & sugar until they become super stiff and then baking them to sweet perfection. They are wonderful on their own, but I wanted to add a little pastry cream. When I made the mini Rose Pavlovas, I left some rounded (as pictured below) and others I made with a small indent (made with a spoon) to accomodate the rose pastry cream.
To make different flavors of Pavlovas, just change up the extract. To make the rose pavlovas and rose pastry cream I used Rose Water. They were delicious, with a delicate rose flavor that I absolutely love. I also use Rose Water when making Baklava. It imparts an incredible flavor.
Pavlovas are perfect for Easter. I like to make little bird nests with them, filled with pastry cream and pastel candied Jordan Almonds. They look so cute. Or you could just bake the pavlova shells and then put a little shredded coconut in the center, topped with some colorful jelly beans.
INGREDIENTS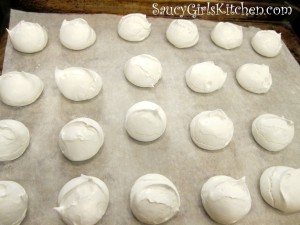 For Pavlovas:
4 Egg Whites, room temperature
1 tsp Pure Vanilla Extract
½ tsp Cream of Tartar
1 ¼ cup Superfine Sugar*
Drop of Food Coloring of choice (if desired)
For Pastry Cream Filling:
4 large Egg Yolks
1/4 cup Cornstarch
1/2 cup Sugar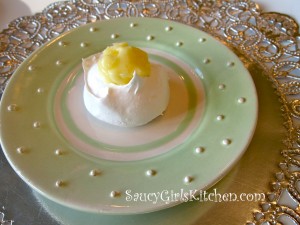 2 cups Milk
2 Tbsp Pure Vanilla Extract
Pinch of Salt
2 Tbsp Butter, unsalted
Raspberries, for garnish
(or other fruit of choice)
METHOD
For Pavlovas:
Preheat oven to 150 degrees, or the lowest possible temperature.
Line two baking sheets with parchment paper.
Add the egg whites, vanilla extract and cream of tartar into the bowl of your electric mixer.
Mix on medium speed with the whisk attachment for about 1 minute, or until the egg whites until soft peaks form.
Add in the sugar, a little at a time, while continuing to beat the egg whites.
Turn mixer on high and beat until stiff peaks form.
Add the food coloring and beat until combined.
Using a pastry bag, pipe a 3-inch circle, starting from the center and working your way outwards, followed by a double outer ring (to make a nest shape).
Continue until you have piped all the meringue, spacing them 2 inches apart.
Bake in the oven until crisp, but not brown, about an hour.
Turn off oven and leave nests inside until oven has cooled, then remove nests from oven.
They should easily lift from the parchment.
For Vanilla Pastry Cream Filling:
In a medium saucepan add the egg yolks.
Whisk in the cornstarch and sugar, with just a little bit of the milk.
Whisk until there are no lumps.
Gradually whisk in the rest of the milk and turn the heat on medium.
Continue whisking until the mixture comes to a boil.
Turn heat to low and continue to whisk, as mixture starts to thicken.
Once it gets very thick, remove from heat.
Whisk in the vanilla extract, salt and butter.
Continue mixing until the butter has completely melted.
Place in a bowl and allow to come to room temperature.
Cover with plastic wrap, pressing it against the top, and refrigerate for at least 2 hours before using.
Assembly:
Spoon the pastry cream into the well of each Pavlova.
Top with raspberries, or the fruit of your choice.
Enjoy right away!
Notes:
*The "superfine" sugar is known as castor sugar. It's simply granulated sugar that is really fine and dissolves easily into the egg whites. No need to go buy it, you can use regular sugar and process it in your food processor until it is super fine.
Rather than using the pastry bag to pipe the Pavlova shape, you can use a spoon and make a round shape with an indent in the center.
The pastry cream will keep in the refrigerator for 4 days. So, if you're not going to eat the Pavlovas right away, it's best to store them unfilled, and fill them right before serving.
Experiment around with other flavors. My favorite, so far… is Rose Pavlovas with Rose Cream Filling.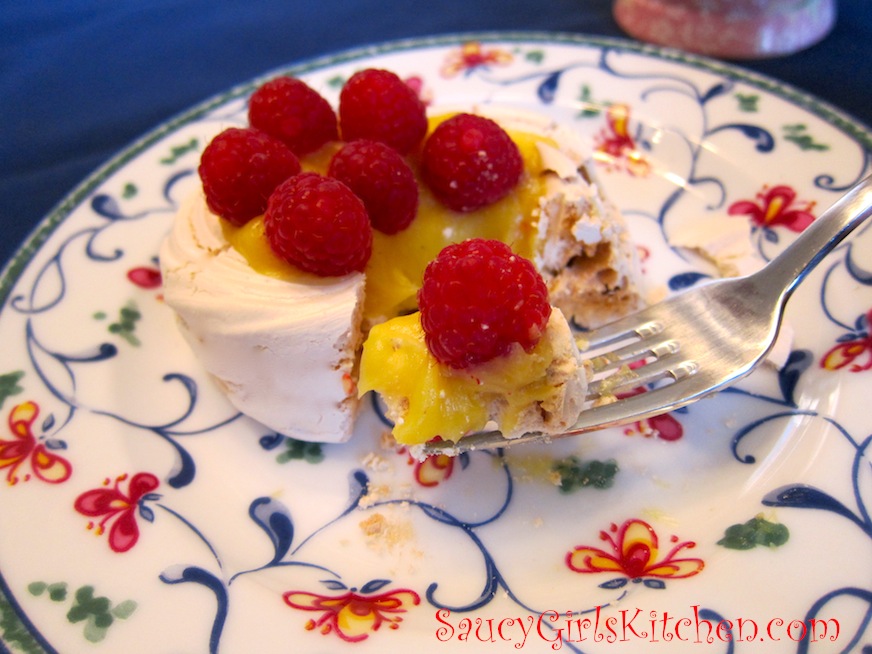 Print entire post