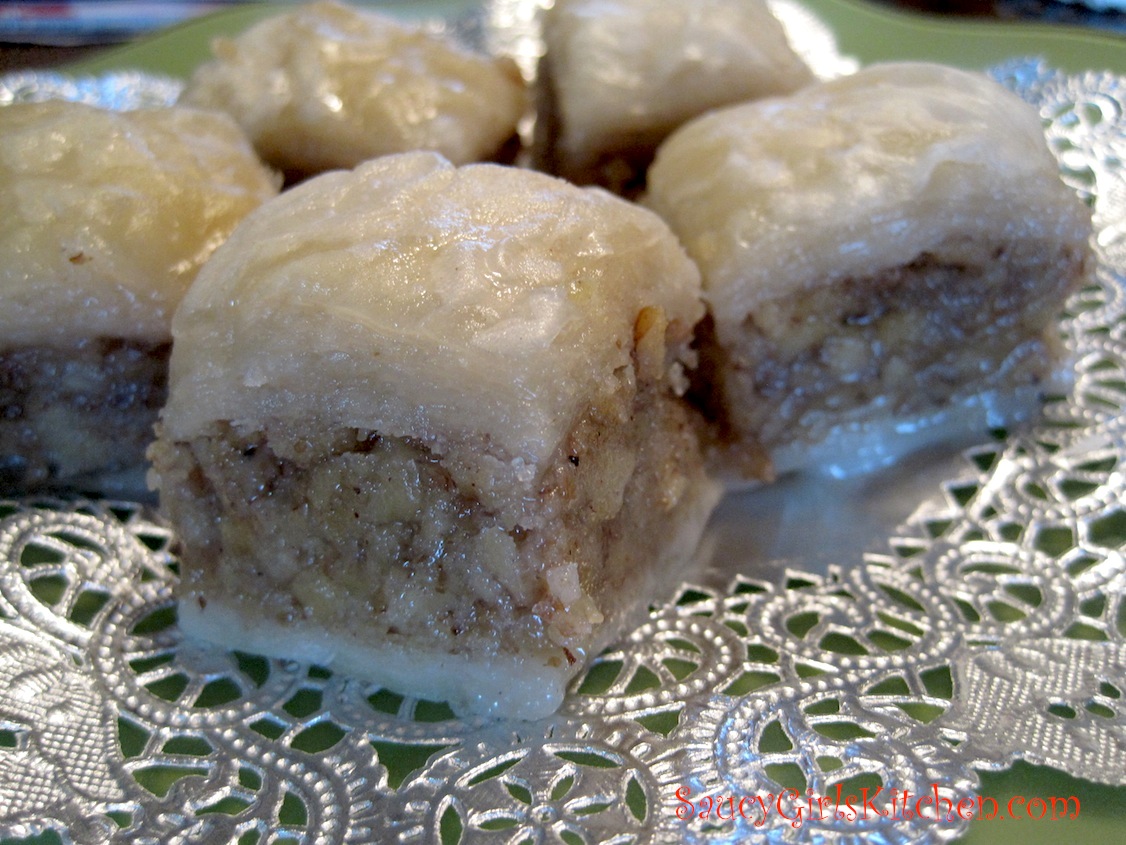 This is (in my opinion) the BEST Baklava ever!! Once you try this recipe you will never want any other Baklava again! I love the slight flavor of the rose water. They are addicting… for sure!
This recipe makes enough for 20+ people.
INGREDIENTS
1 lb. Phyllo Sheets
1 lb. walnuts
1/2 cup sugar
1/2 tsp Rose Water
1/2 tsp cinnamon
1 lb. unsalted butter
For Syrup:
1 cup water
2 cups sugar
2 to 3 drops of Lemon juice
1/2 tsp Rose Water
METHOD
Remove the Phyllo Sheets from the freezer and allow to come to room temperature in the package.
Preheat oven to 300 degrees.
Place the walnuts, 1/2 cup of sugar, Rose Water and cinnamon in the food processor.
Pulse until coarsely ground.
Melt the butter in a small saucepan.
Brush some melted butter in a 13″ x 9″ x 2″ pan.
Place 2 sheets of Phyllo in the buttered pan and brush some melted butter evenly on top of the Phyllo sheets.
Repeat this with every 2 sheets of Phyllo until you have used 1/2 lb. of the Phyllo.
Do not skip brushing the Phyllo sheets with butter.
Spread all the walnut mixture evenly over the Phyllo.
Sprinkle a few drops of butter and continue to layer the Phyllo sheets on top, brushing every 2 sheets with butter, until you have used all the Phyllo.
Moisten the top and edges with butter and push so that you have a smooth edge all around.
Using a very sharp knife cut the Baklava into diamond shaped pieces.
Pour the rest of the butter on top (there should be hardly any left).
Place pan in the oven 3 racks from the bottom.
Shut oven and turn temperature to 200 degrees and allow to cook for 2 hours.
To Prepare Syrup:
While the Baklava is cooking there is plenty of time to make the syrup.
In a medium saucepan bring the 1 cup of water and 2 cups of sugar to a boil.
Add a few drops of lemon juice.
Turn heat down and allow to simmer for a few minutes, until syrup has thickened.
Remove from heat and stir in the Rose Water.
Set aside to cool.
Once the Baklava has baked, allow it to cool in the baking pan.
When it is completely cool pour the syrup over it, allowing it seep in.
Enjoy!!
Baklava keeps for several weeks in the refrigerator. However, at our house it never seems to be around for very long. 😉

Print entire post