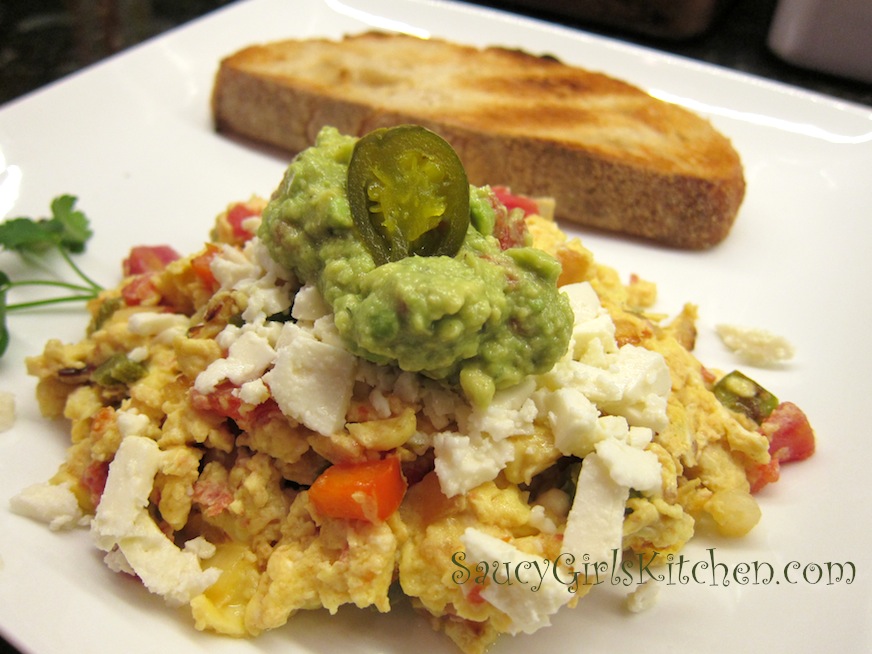 During the week I eat a light breakfast, usually a bran muffin and fruit, or yogurt. But on the weekends I like to make a heartier breakfast. One of my husband's favorites, and often requested, is Mexican Eggs. This is my version of what we call Mexican Eggs.
They're super easy, and super delicious. Below is my recipe, but you can easily modify this by using different veggies, add some olives, cilantro, use a different cheese, top with salsa… the possibilities are vast.
Serves 2
INGREDIENTS
4 Eggs, beaten
1/4 of a Red Bell Pepper, diced
1/4 of a Green Bell Pepper, diced
1/4 White Onion, diced
1 Jalapeno, deseeded and diced
1 small Tomato, diced
Salt and Pepper, as desired
Queso Fresco Cheese, as garnish
Guacamole, as garnish
METHOD
Saute the peppers, onions and jalapeno in a little olive oil until soft.
Stir in the tomatoes.
Add a little salt and pepper into the eggs, beat, and add into the hot pan.
Turn off the heat, and stir the eggs until just set.
Serve topped with cheese and guacamole.
Enjoy!

Print entire post