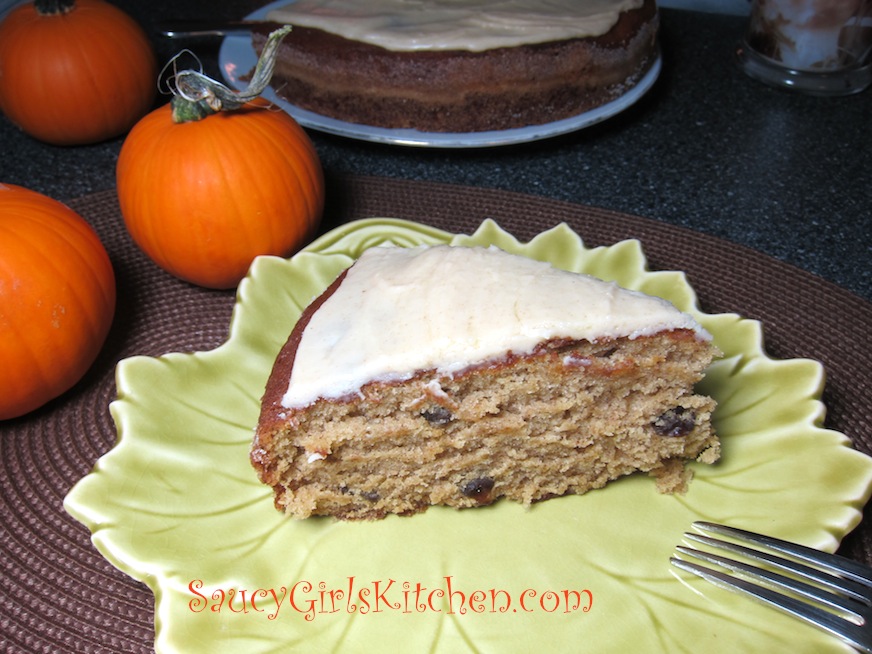 It's October 1st. Fall is definitely here and I'm happy about that. The summer here in Tennessee was brutal for a California girl like me. Especially since we don't have our swimming pool in yet. Between the humidity, high temperatures and mosquitos, I spent the major portion of summertime in the house.
Anyway, yay for Fall ~ I woke hearing the rain outside my window. It had actually been pouring down all night long. Something about rainy weather puts me in a baking mood. I baked a fresh pumpkin and it yielded a lot of pumpkin puree. First I made a Curried Pumpkin Soup (which is a favorite in this household) and then decided to make a pumpkin cake. This is the recipe I came up with and now I can't wait to make it for my entire family when they come for Thanksgiving!
The cake is so moist and has a nice Autumn spice flavor. Instead of flouring the baking pan after greasing it, I sugared it. I do this for lots of cakes that I bake and the result is a sweet crunch to the bottom of the cake… which in this case becomes the top of the cake.
The Browned Butter Icing on top is a nice change from the usual cream cheese frosting.
INGREDIENTS
2 Tbsp of softened butter, to coat the baking pan
2 Tbsp of sugar, to coat the baking pan
1 stick (8 Tbsp) unsalted Butter, softened
1 1/2 cups Sugar
2 Eggs
1 cup Pumpkin Puree (I used fresh, but canned will work)
1/2 cup Cream or Half & Half
1 2/3 cups Flour
¼ cup Raisins
1/2 tsp salt
1/2 tsp Baking Soda
1/2 tsp Baking Powder
1 tsp ground Cinnamon
1/4 tsp ground Nutmeg
1/4 tsp ground Allspice
METHOD
Preheat oven to 350 degrees.
Butter a 9" x 2" round pan.
Instead of using flour to coat the pan, use sugar.
Set aside.
In a large mixing bowl cream together the butter and sugar.
Add the eggs and continue to mix until light and fluffy.
Add in the pumpkin and cream, mixing to combine.
Stop mixer and add in the remaining ingredients.
Turn mixer on medium low and mix just until all the ingredients are combined.
Pour mix into prepared baking pan and bake for about 45 to 50 minutes.
Allow pan to cool for 20 minutes and then invert the cake onto a round serving plate.
It will have a nice sugar crust, which will now be the top of the cake.
Once cake has cooled top with the Browned Butter Icing.
Browned Butter Icing
INGREDIENTS
4 Tbsp unsalted Butter
1 cup Powdered Sugar
1 to 2 Tbsp Cream
1 tsp Vanilla Extract
METHOD
In a small sauté pan melt the butter over medium heat.
Whisk the butter and allow to simmer until it turns a light golden color.
Remove from heat.
In a medium bowl add the butter, sugar, cream and vanilla extract.
Whisk until smooth, and the desired consistency is achieved.
Smooth onto cooled cake top.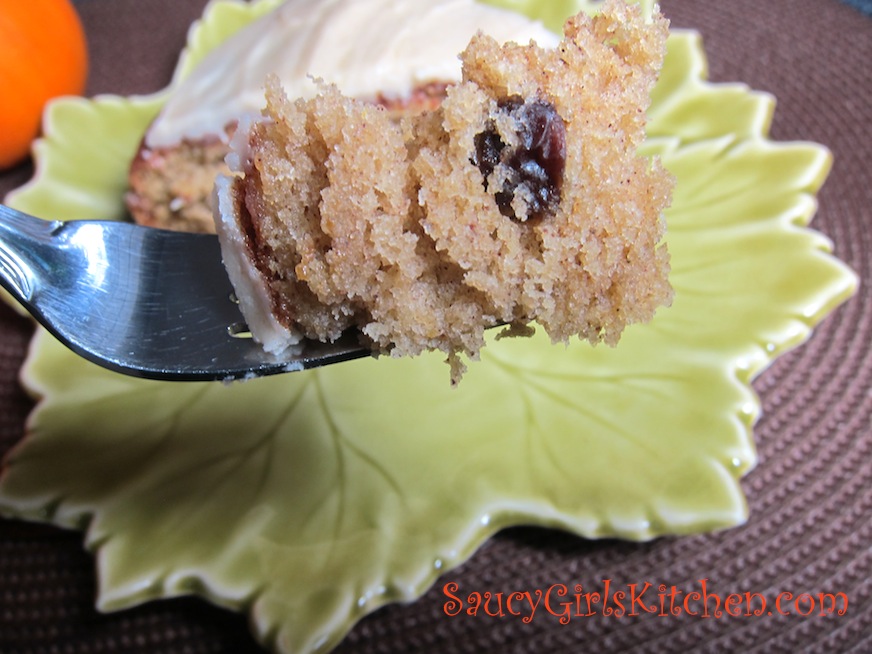 Print entire post