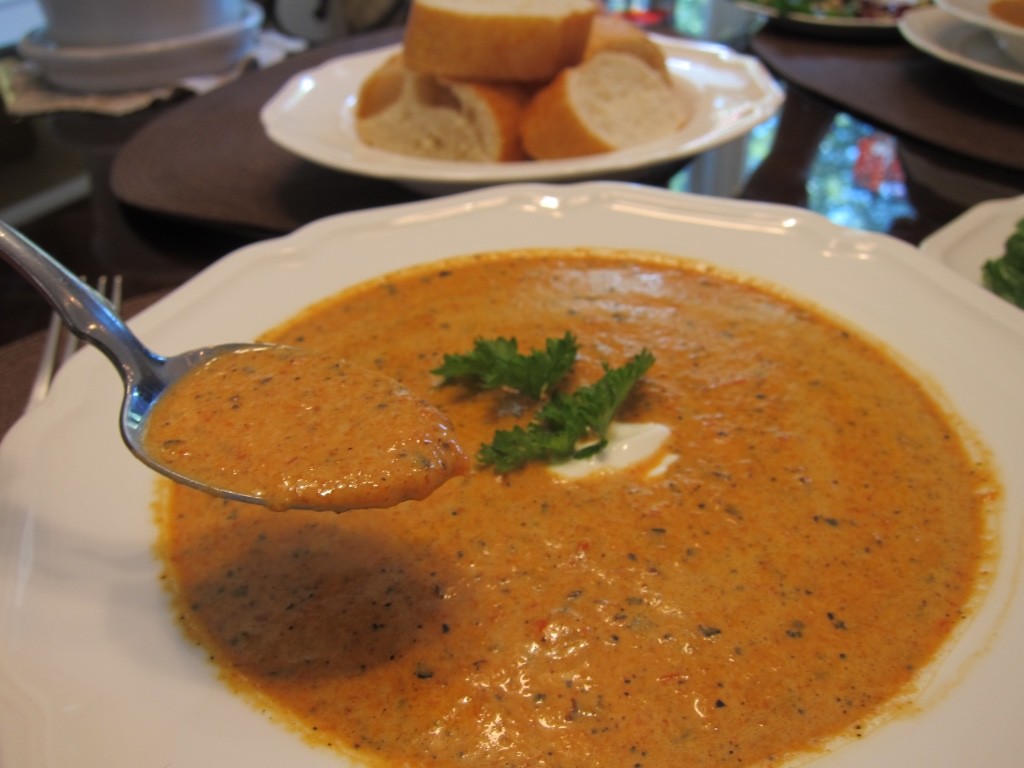 This soup is simply divine. I love everything about it. From the simplicity of making it, to the rich flavor that is achieved through the cooking process. The sweet flavor of the red bell pepper is intensified when they're roasted. I have a gas stovetop and begin the cooking process with the bell pepper directly on the burner with the flame on medium. What you're looking for is a really good char. This can also be achieved on the grill, or under your broiler.
INGREDIENTS
5 Red Peppers, roasted
4 cups Vegetable Broth
½ cup Heavy Cream
3 Tbsp Olive oil
Pinch of Salt
Sour Cream, garnish (optional)
Sprig of Fresh Parsley, garnish (optional)
METHOD
Preheat oven to 400 degrees.
Wash and roast the red peppers over an open flame.
Place in a baking dish and bake in the oven for about 35 minutes, or until soft.
Remove from oven and allow to cool, before handling.
Once the peppers are cool, remove skin, stem and seeds, and discard. (I actually like to leave the skin on mine, but it's up to you.)
Place peppers in the food processor or blender, adding broth if needed for processing.
Process until you get the desired consistency (I like mine with a little texture).
Place peppers in a medium size saucepan, add in the broth and heavy cream.
Heat on medium until hot.
Stir in olive oil.
Add salt to taste.
Enjoy!

Print entire post