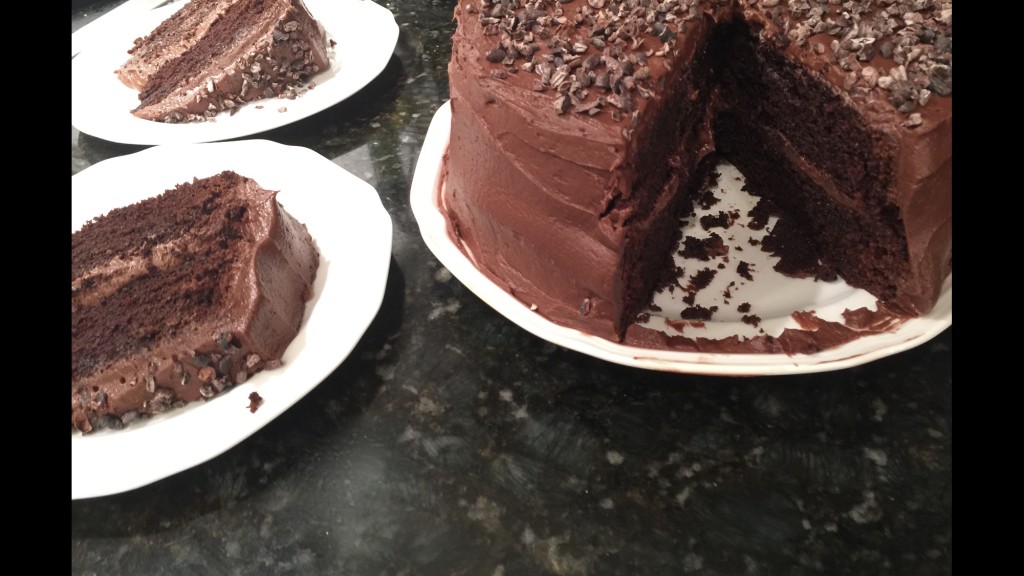 Double chocolate cake. A chocolate lovers dream. This is my sweet craving! Perfect with an ice cold glass of Almond Milk.
One of my secret baking tips to make any cake extra moist… evenly brush about 1/3 cup simple syrup on each layer before frosting, using a pastry brush. Simple syrup is easily made using equal parts sugar and water. Bring to a boil over medium heat, stir until the sugar is dissolved. Remove from heat and allow to cool. It will thicken as it cools.
INGREDIENTS
For Cake:
3/4 cup Butter, softened
1 cup Brown Sugar, packed
1 cup Granulated Sugar
3 Eggs
2 tsp Pure Vanilla Extract
2 cups All Purpose Flour
1 cup Cocoa Powder
1 1/2 tsp Baking Soda
1/4 tsp Salt
1 1/2 cups Whole Milk
For Frosting:
1 stick Butter, softened
1 cup Cocoa Powder
5 cups Confectioners Sugar
1/3 cup Heavy Cream
Cocoa Nibs, optional garnish
METHOD
Preheat to 350 degrees.
Generously butter 2 cake pans, and then coat pans in sugar, shaking off excess – set aside.
In the bowl of your electric mixer, add the butter, brown sugar, granulated sugar and vanilla.
Beat on medium until light and creamy.
Add eggs, one at a time, beating well after each addition.
Stop mixer and add in the flour, cocoa powder, baking soda and salt.
Beat just until blended.
On low, add in the milk and mix until the batter is smooth, scraping the bowl with the rubber spatula, as needed.
Pour batter equally into the 2 prepared cake pans.
Bake for 25 minutes, or until a toothpick inserted in the center of cake comes out clean.
Cool cake in pans for 10 minutes, before turning out onto wire racks to completely cool.
Meanwhile, prepare the frosting.
In a medium bowl cream together the butter, cocoa powder and confectioners sugar.
Add in the heavy cream, a little at a time, while continuing to beat on medium.
Continue to beat the frosting until the desired texture is achieved, as the heavy cream will whip up nice and creamy.
Once the cake is totally cool, spread about 1/2 a cup of frosting on the bottom layer.
Top with the second layer, bottom side up, and spread remaining frosting over sides and top of cake.
Sprinkle top of cake with cocoa nibs, as garnish, if desired.

Print entire post