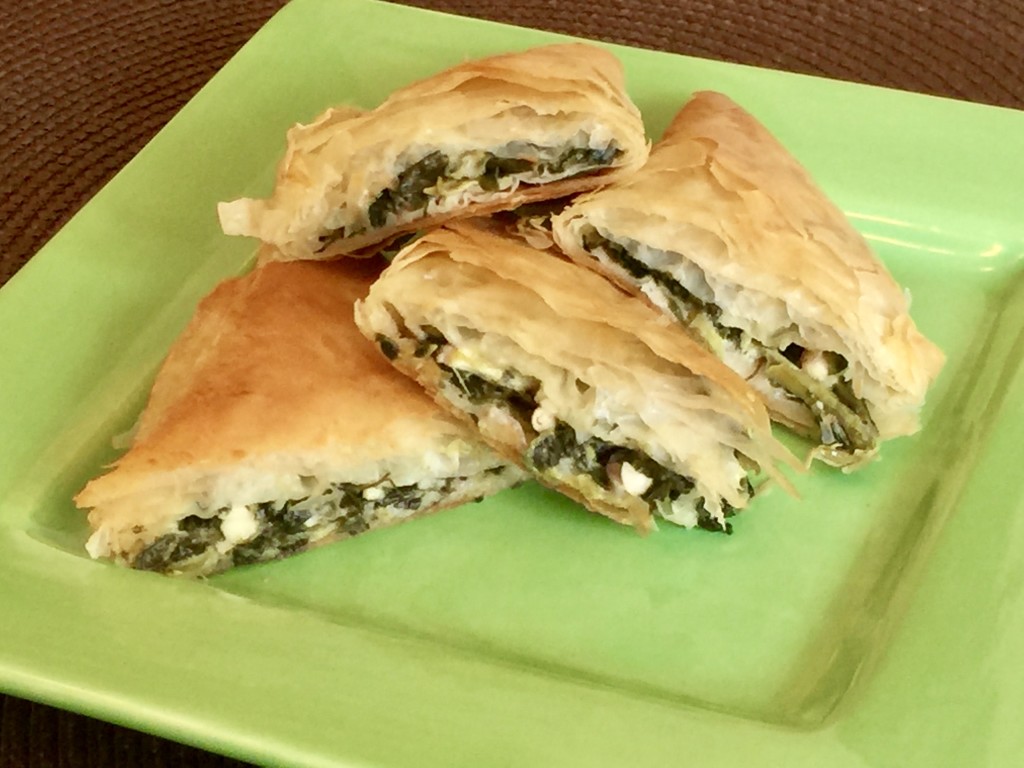 It's fun to bake using Fillo Dough! If you've never tried it, now's your chance. You can find it in the freezer section near puff pastry dough and frozen breads.
Fillo is paper thin pastry sheets, and when layered with butter (or olive oil) and baked, you end up with flaky, crispy deliciousness. The most important part of baking with fillo dough is keeping it moist while preparing your recipe, because it's so thin, it can easily dry out and you end up with flakes. That's why, in the recipe below, we place all the fillo dough into one stack while preparing the Spanakopita. You can even take a clean, lightly damp kitchen towel to place on the fillo sheets to keep them moist.
You can use fillo by filling the fillo with a mixture of apples, cinnamon and sugar! They also sell fillo pastry cups, which is great for party appetizers. Fill them with a little brie cheese, a few dried cranberries and a pecan, pop them in the oven to melt the cheese and you've got a great holiday crowd pleaser… and super easy!
I hope you'll give my Spanakopita recipe a try. We enjoyed it as a main course, paired with a Greek salad, but you can make these half the size for a perfect party appetizer.
This recipe makes about 11 ~
INGREDIENTS
1/2 small Onion, chopped
2 cloves Garlic, minced
1/2 tsp Nutmeg
1 Tbsp fresh Dill, chopped
10 oz frozen chopped Spinach
1/2 cup Ricotta Cheese, room temperature
1 cup Feta Cheese, crumbled
8 oz Fillo dough
6 Tbsp Butter, melted
METHOD
Preheat oven to 350 degrees F.
In a medium bowl mix together the onion, garlic, nutmeg, dill, spinach, ricotta and feta cheese – set aside.
Unroll half the package of a 16 oz box of fillo dough.
Cut the 9" x 14" rectangle in half, lengthwise, so you end up with fillo sheets 4 1/2" x 14".
Place the cut sheets on top of each other making one stack of fillo dough.
Take 2 of the sheets of fill dough and brush lightly with the melted butter.
Lay another 2 sheets of fill dough on top and again brush lightly with butter.
Place about 2 tablespoons of the filling at one end of the fillo dough, and carefully fold the fillo over, into a triangular shape, you will fold a total of about 3 times, and then brush more butter to seal edges.
Place the triangular shaped fillo on a baking sheet (lined with foil or use a silpat).
Continue until you've used all the filling and all of the fillo.
Bake in preheated oven for about 25-30 minutes, or until lightly golden brown.
Enjoy while warm and crispy!
To take a recreational cooking class in Murfreesboro visit www.TheCuriousKitchen.net and also check out their holiday menu… you can order your complete Holiday Meal, all made from scratch, including your appetizers & pie! Call (615) 956-6077 to place your order.

Print entire post