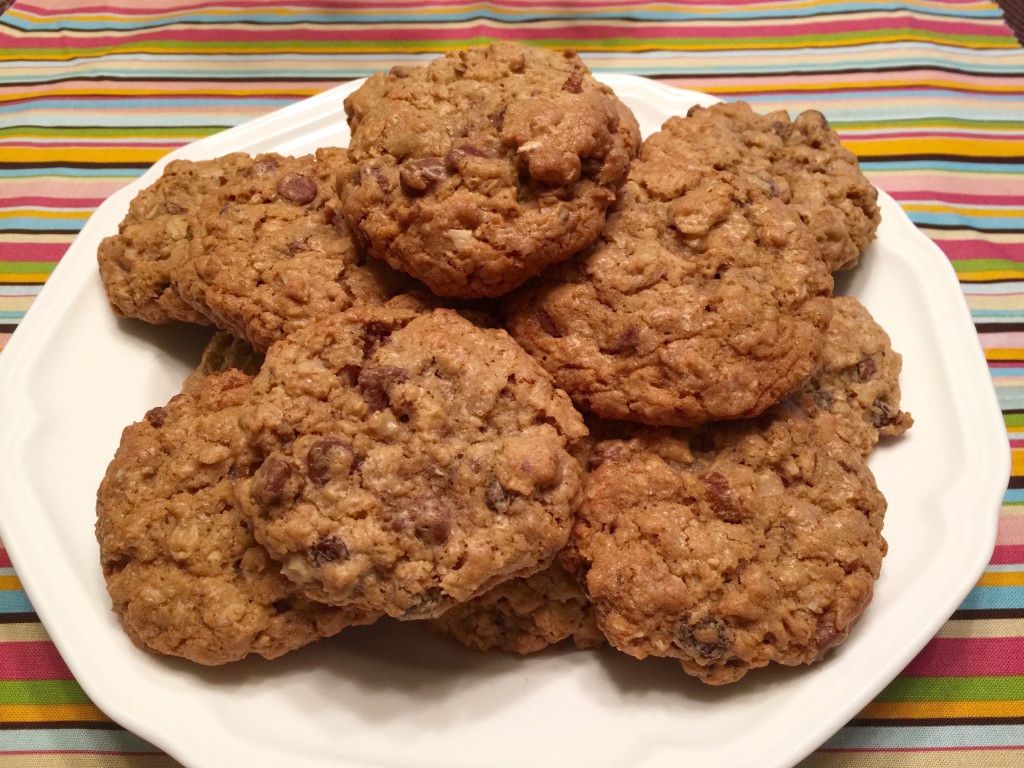 These dense chewy oatmeal cookies are loaded with nuts, raisins and milk chocolate. They are my go-to cookie when I'm craving something sweet. Not only are they delicious, they've got plenty of fiber with 3 cups of oatmeal. They also contain 'good for you' raisins & nuts. So go ahead and make a batch!
INGREDIENTS
3/4 cup Butter, softened
3/4 cup Brown Sugar
1/2 cup White Sugar
2 Eggs, room temperature
1 tsp Pure Vanilla Extract
1 1/2 cups Flour
1 tsp Baking Soda
1/2 tsp Salt
3 cups Oatmeal, uncooked
1 cup Raisins
1 cup Milk Chocolate Chips
1/2 cup Pecans, chopped
1/2 cup Walnuts, chopped
METHOD
Preheat oven to 350 degrees.
In the bowl of your electric mixer cream together the butter and sugars until light and fluffy.
Add the eggs and vanilla, continuing to beat.
Stop the mixer and add in the flour, baking soda and salt.
Mix together until combined, adding in the oatmeal, raisins, chocolate chips, pecans and walnuts.
Using a cookie scooper, place mounds of cookie dough onto an ungreased cookie sheet.
Bake for 8 to 10 minutes.
I usually take my cookies out of the oven when they are a little underdone, and allow them to remain on the hot cookie sheet for another minute or two, before moving to a wire rack.
Enjoy!

Print entire post