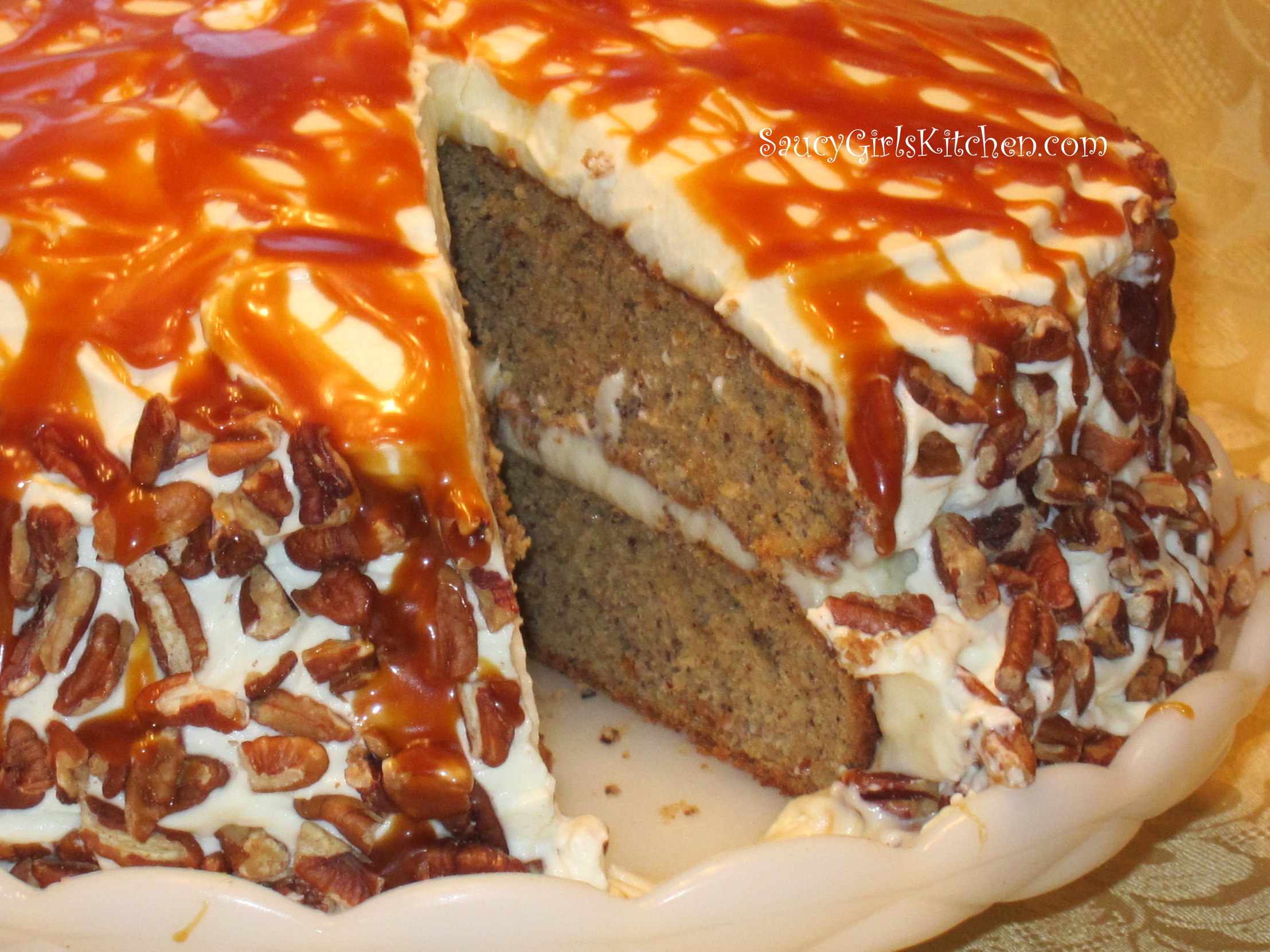 I really enjoy baking. It's so satisfying, especially when you end up with a beautiful and delicious cake like this one! Don't be intimidated by it's looks. It's really not hard to make, because we're going to start with a boxed cake mix. Yep. I just added a few additional touches and made it my own. Check it out!
INGREDIENTS
About 2 Tbsp butter and 1/4 cup sugar, to prepare Cake Pans
For the Cake:
1 Duncan Hines Classic Yellow Cake Mix, prepared according to my directions below
2 Eggs
1 cup of Coffee, cold
1/3 cup Butter, melted
1/4 cup Pecan Meal
For the Frosting:
2 cups Heavy Whipping Cream
1/4 cup Confectioners Sugar
1 tsp LorAnn Gourmet Vanilla Butternut Flavoring or Pure Vanilla Extract
Garnish: 1 1/2 cups Pecan pieces, toasted
Optional, drizzle with Salted Caramel (recipe below).
METHOD
For Cakes:
Preheat oven to 325 degrees.
Prepare cake pans by completely coating with butter and covering with sugar, shaking off any excess.
Set pans aside.
In a large bowl stir together the cake mix, eggs, coffee, melted butter and pecan meal.
Continue to mix for about two minutes, until completely blended.
Pour equally into the two prepared cake pans.
Bake for about 20 to 25 minutes, until toothpick inserted in the center comes out clean.
While the cake is baking you can also toast the pecan pieces that you will use to garnish the sides of the cake.
Usually 12 minutes is all the time needed to toast the nuts, then set them aside to cool.
Once the cake is done, remove from oven and after about 5 minutes, turn cakes out of the pans onto cooling racks.
While cakes continue to cool you can prepare the Whipped Cream Frosting.
For Frosting:
In the bowl of your electric mixer combine the cold heavy whipping cream with confectioners sugar and flavoring.
Beat on high for about 5 minutes, or until light and fluffy.
Cover and place in refrigerator until ready to use.
Once cakes have cooled completely, you can generously cover the cake with the whipped cream.
Cover sides of cake with the toasted pecans – be sure they are TOTALLY cool before you do this!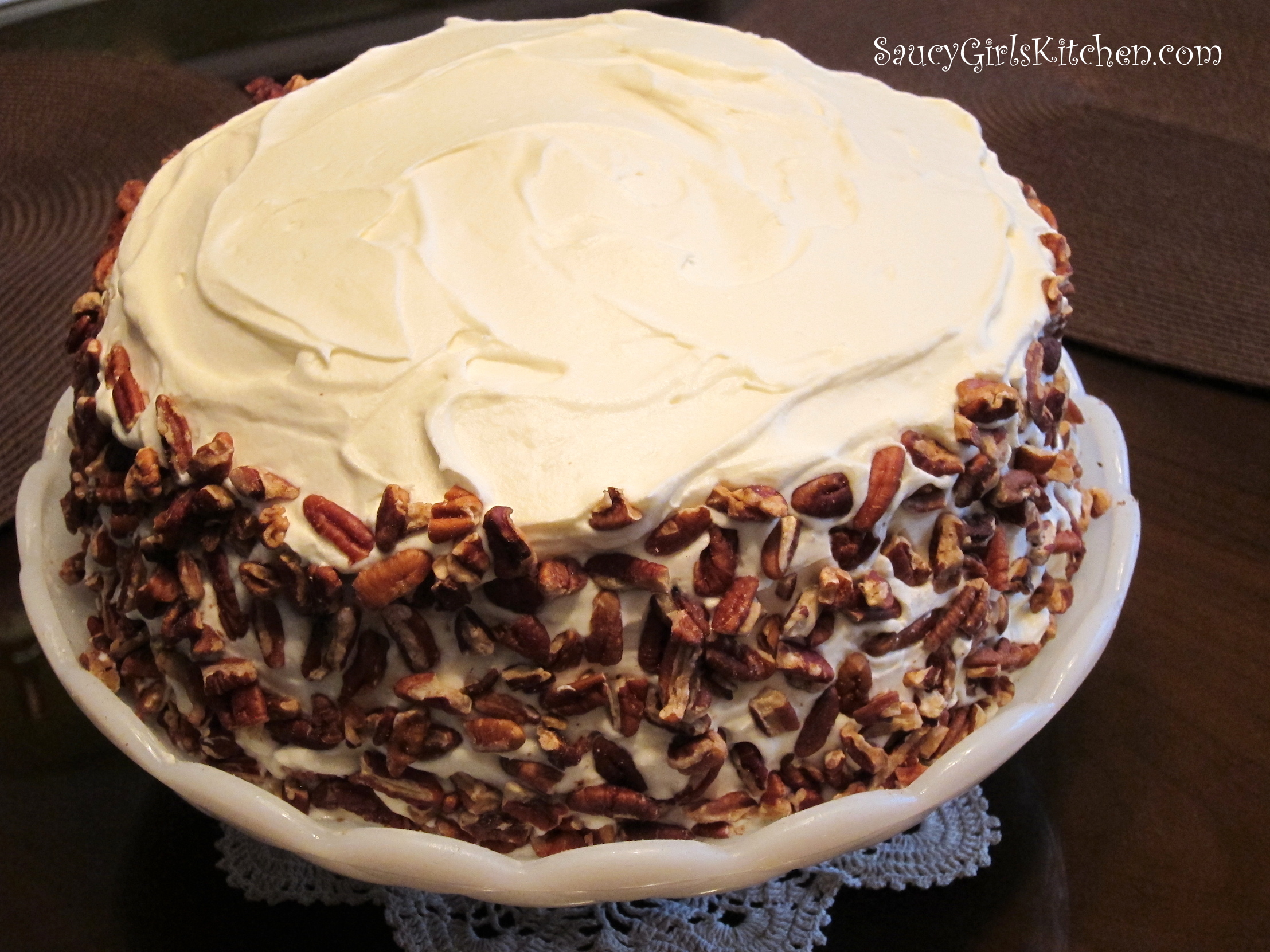 You have the option to drizzle the top of the cake with Salted Caramel.
I did this by putting the cooled caramel in a little baggie, zipped it up, and snipped a small hole in one corner.
My opinion, yes, do it… here's the super easy recipe (plus you'll have lots left over for ice cream).
The Best Salted Caramel
INGREDIENTS
2 cups Sugar
12 Tbsp Butter ( 1 1/2 sticks)
1 cup Heavy Cream
2 tsp Coarse Sea Salt
METHOD
In a heavy medium saucepan, place your sugar over medium heat.
Whisk the sugar until it melts and totally liquifies.
Continue whisking until all the sugar has dissolved and it turns a light amber color.
Turn heat to low.
Add in the butter, continue to whisk until butter is melted and incorporated.
Whisk in the cream, a little at a time.
Once all the cream has been whisked in and is totally blended, remove from heat.
Whisk in the salt and set aside to cool.
Enjoy!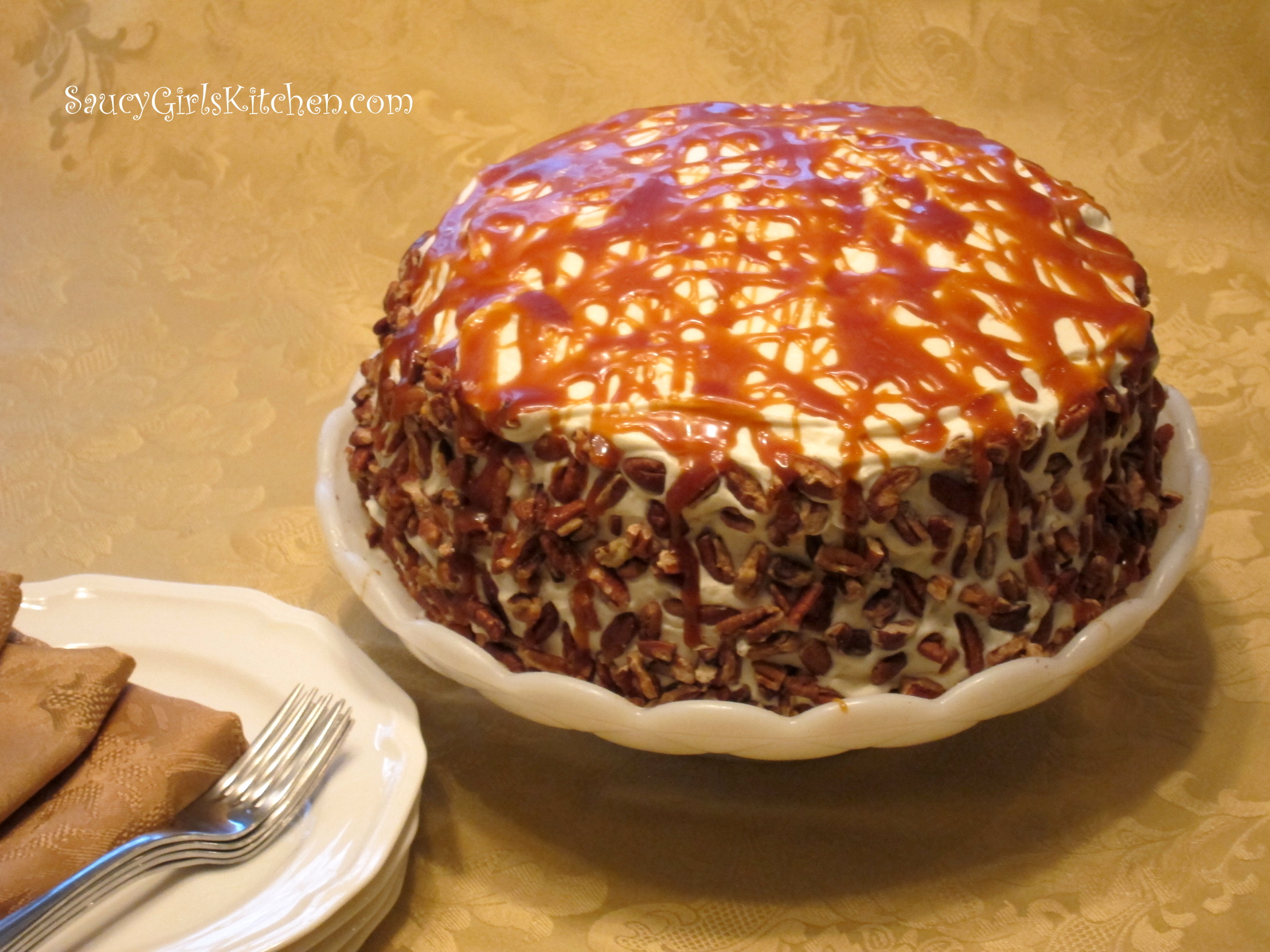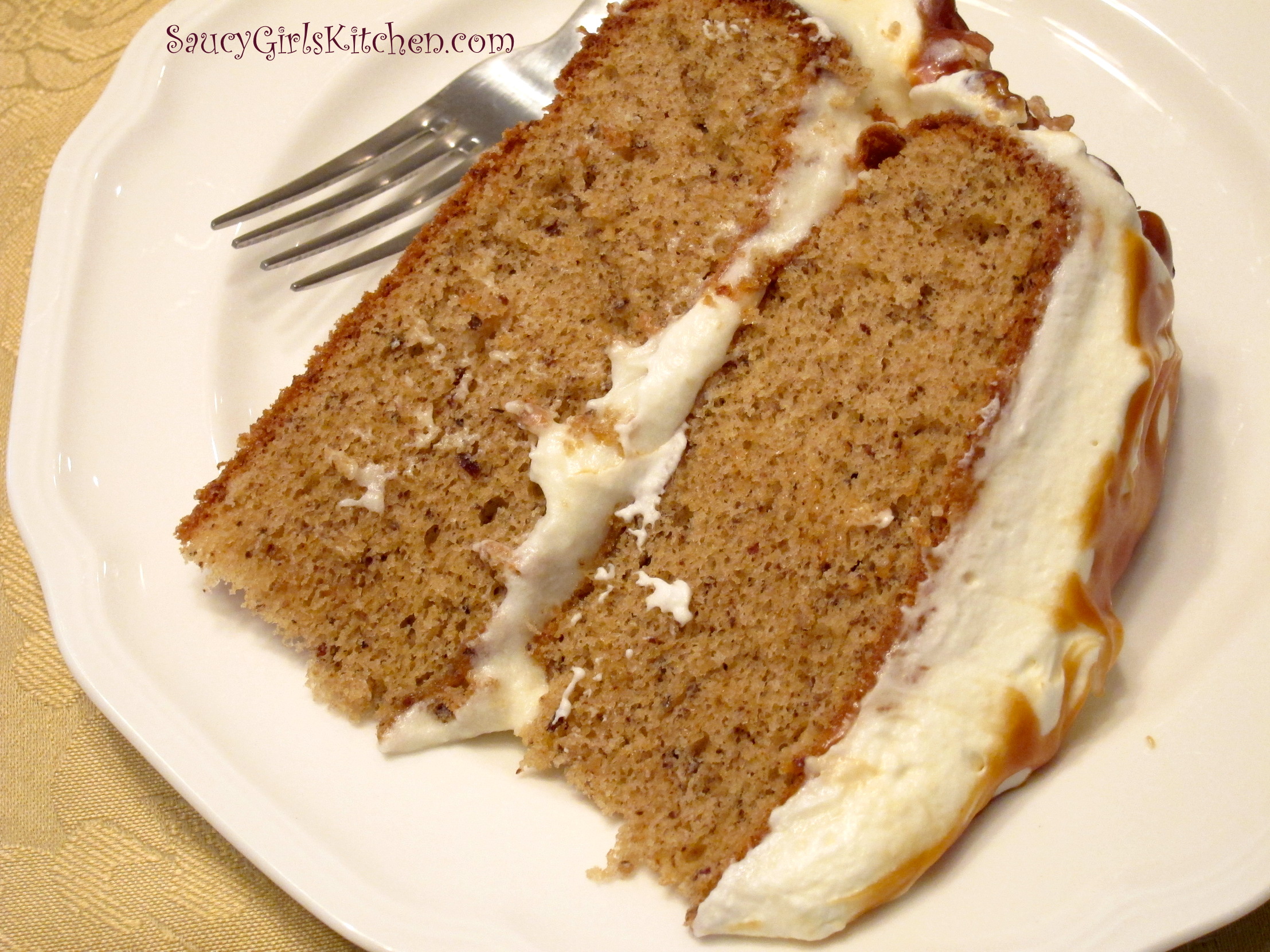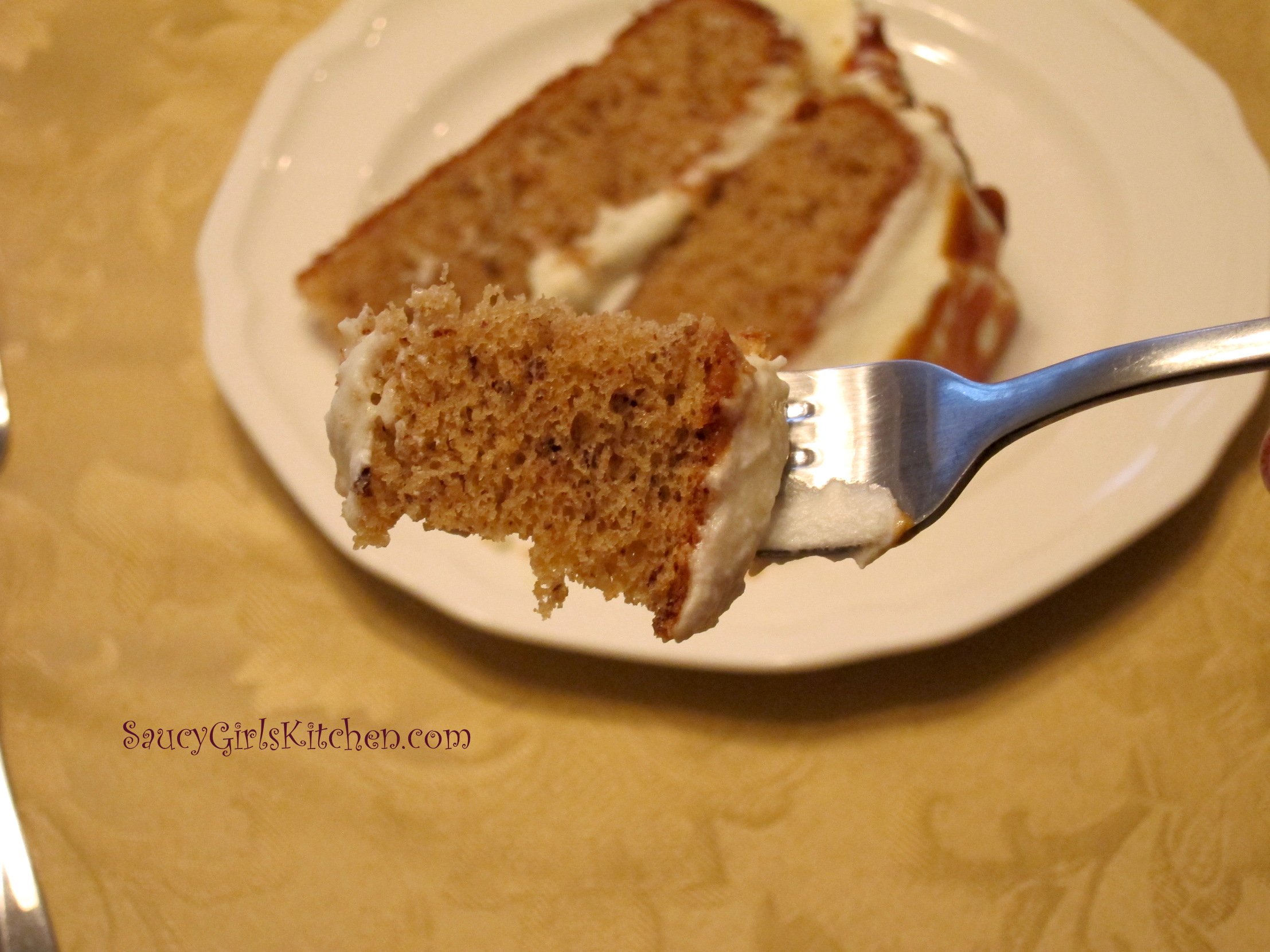 Print entire post