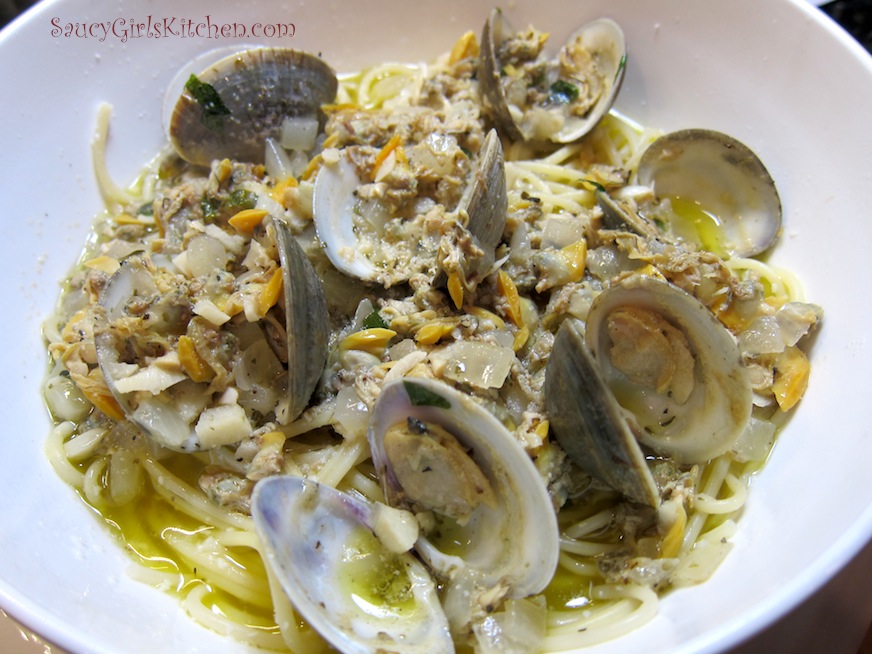 Anyone who's been reading my blog for the past few years knows I'm a seafood lover! This linguine with Clam Sauce is so easy to make. Dinner will be on the table in half an hour… or less!!
This dish must be served with hot crusty bread for dipping! Yes, definitely.  😉
Makes 2 generous servings.
INGREDIENTS
3 Tbsp Olive Oil
2 Tbsp Butter
1 Shallot, diced small
5 cloves of Garlic, minced
1/2 cup White Wine
1/2 tsp Italian Seasoning
2 cans of Chopped Clams, with clam juice
A dozen small Clams, such as Littleneck or Manila, washed and scrubbed under cold water
1 Tbsp Fresh Parsley, minced
1/2 tsp Salt
a few dashes of Fresh Ground Black Pepper
1/2 lb. Linguine or other thin pasta, cooked according to package directions
Garnish with 1/4 cup Parmesan Cheese, fresh grated
METHOD
In a large heavy saucepan, place the olive oil and butter over medium heat.
Add in the shallot, and saute for a few minutes.
Add in the garlic and continue to saute for another minute.
Stir in the white wine and allow to come to a low boil.
Add in the Italian Seasoning, cans of chopped clams with their juice, the dozen clams, parsley, salt and pepper.
Stir together and place lid on saucepan.
Cook for about 5 minutes.
At this point you can cook your pasta and put the bread in the oven (if you're having bread).
Check on the clams, stir,and continue to cook for another 3 to 5 minutes.
All the clams should have opened by now.
Discard any unopened clams.
Stir and taste sauce.
Season with any additional salt and pepper, if desired.
Place 2 single portions of cooked pasta into serving bowls.
Generously top the pasta with clam sauce and place the clams in the shell on top.
Garnish with Parmesan cheese, if desired.
Best served with warm crusty bread and chilled white wine.
Enjoy!

Print entire post