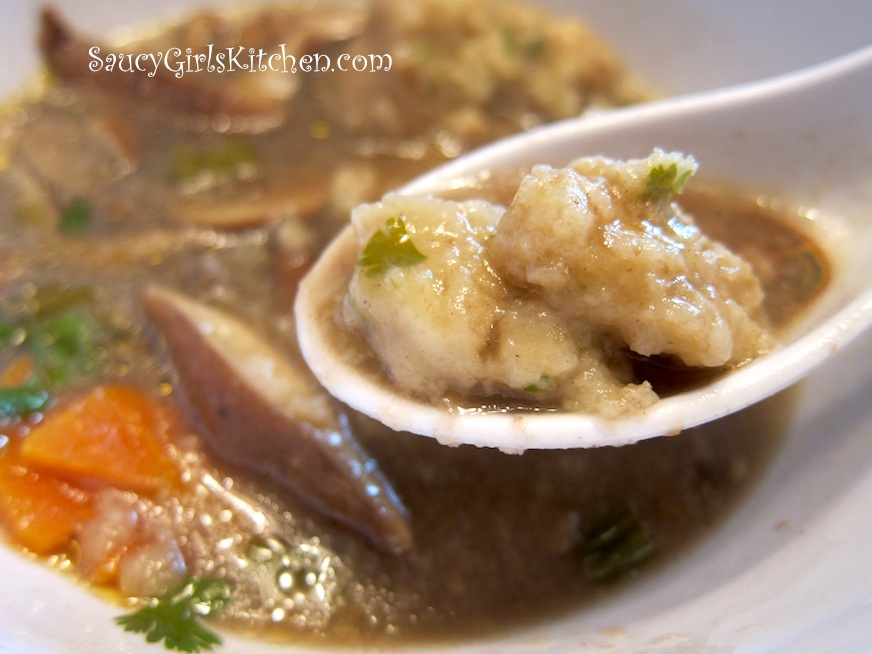 I've always been a fan of Pacific Foods, so I jumped onboard when I found out they were sponsoring a contest using their Soup Starters! I received samples of their Vegetable Pho Soup Starter and their Tortilla Soup Starter… and I got busy.
The first soup I made to enter is this Wild Mushroom Soup with Cilantro Dumplings. We loved it and the Pho Soup Starter made it super easy!!
INGREDIENTS
For Soup:
2 Tbsp Olive Oil
1 clove of Garlic, sliced
8 oz Wild Mushrooms, thinly sliced
1 – 32 oz. Pacific Foods Vegetarian Pho Soup Starter
1 Carrot, peeled and thinly sliced
½ tsp Salt
¼ tsp Chinese Five Spice
1 Scallion, sliced
Fresh Cilantro, for garnish (if desired)
For Dumplings:
½ cup Flour
1 ½ tsp Baking Powder
¼ tsp Salt
Dash of Pepper
2 Tbsp fresh Cilantro, finely chopped
1 Egg (for Vegan Egg: recipe below)
2 tsp Butter, melted (for Vegan recipe, substitute Earth Balance)
1/4 to 1/3 cup Milk (or Vegan milk of your choice)
Note: Not a fan of cilantro, substitute fresh parsley instead!
METHOD
For Soup:
In a large heavy saucepan add the olive oil, garlic and mushrooms.
Saute over medium heat, until the mushrooms are soft.
Add the Pacific Foods Vegetarian Pho Soup Starter.
Add the carrot, salt and Chinese Five Spice.
Allow to come to a boil, then lower heat to medium to allow the carrot to cook for 5 minutes.
Lower heat to simmer while you make the dumplings.
For Dumplings:
In a medium bowl place the flour, baking powder, salt, pepper, and cilantro.
Stir to combine.
Add in the egg, butter and enough of the milk to form a stiff batter.
Turn the soup back to medium heat.
Drop small teaspoonfuls of the dough into the hot soup (dumplings will expand as they cook).
Cover and allow to cook for 20 minutes, without lifting the lid.
After 20 minutes, gently stir the soup and serve.
Sprinkle with a little fresh Cilantro, if desired.
Enjoy!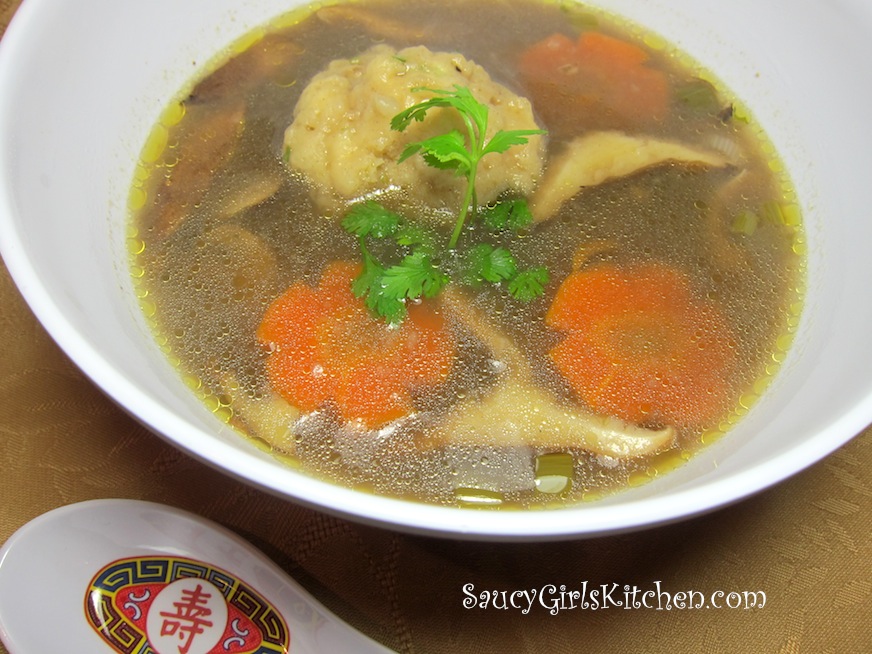 * * * * *
For Vegan Version of this Soup here are the substitutions:
– Substitute Earth Balance for the Butter
– Use Vegan milk of your choice
– Vegan Egg Recipe below:
INGREDIENTS
1 Tbsp Flax Meal (or grind flax seeds, or chia seeds yourself until they're a fine powder)
3 Tbsp Water
METHOD
Place flax meal or chia meal in a small bowl.
Whisk in the water, a little at a time, until it has all been incorporated.
Place bowl, covered, in the refrigerator for a minimum of 15 minutes.
This is a really important step, as it makes the "eggs" become the consistence of egg whites, and this will act as your binder in the recipe.

Print entire post