This is my second entry into the Pacific Foods contest. My first entry was Wild Mushroom Soup with Cilantro Dumplings using their Vegetable Pho Soup Starter. This time I'm using Pacific Foods Tortilla Soup Starter.
INGREDIENTS
2 Tbsp Olive Oil
3 Italian Chicken Sausages, removed from casing
2 cloves Garlic, diced
1 Jalapeno, remove seeds and dice
1 small Onion, chopped
1 Green Bell Pepper, chopped
2 Celery Stalks, chopped
1 – 32 oz. Pacific Foods Tortilla Soup Starter
1 1/2 cups Corn
1 – 16 oz. can of Cannellini Beans
1 – 16 oz. can of Kidney Beans
1/2 tsp Cinnamon
1/2 tsp Salt
1/2 tsp Black Pepper, fresh ground
1/4 cup Cilantro, chopped
Optional:
Serve with a poached egg on top, or a dollop of sour cream.
METHOD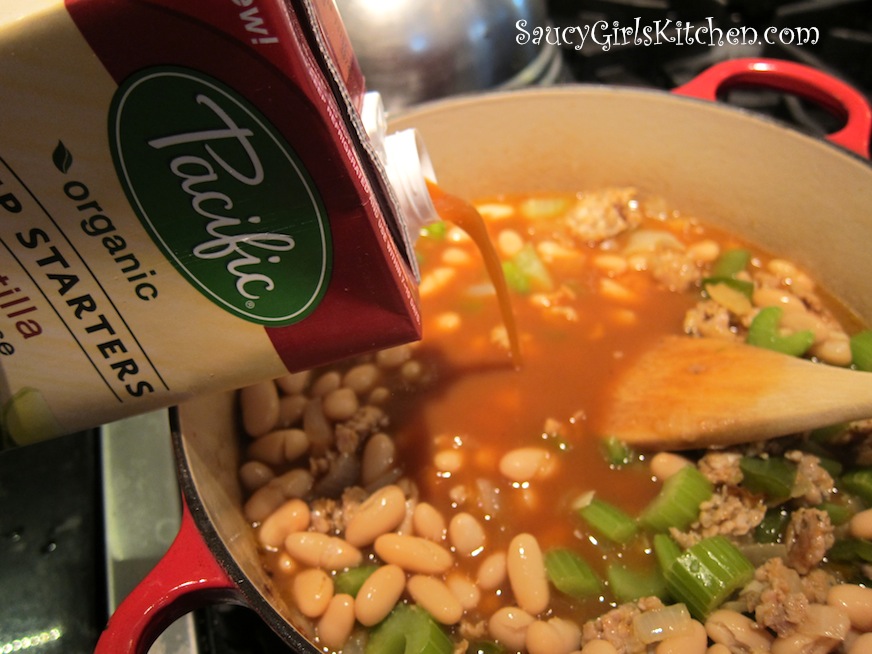 In a large heavy saucepan add the olive oil.
Over medium heat add in the sausage.
Break up the sausage as it cooks with a wooden spoon, or a handheld potato masher (I used the masher).
When the sausage is broken up, and partially cooked, add in the garlic, jalapeno, onion, bell pepper, and celery.
Continue to cook over medium heat until the sausage is fully cooked and the veggies are beginning to soften, about 8 to 10 minutes.
Add the Pacific Foods Tortilla Soup Starter, corn, cannellini beans, kidney beans, cinnamon, salt, pepper and cilantro.
Simmer soup for 20 minutes, covered.
Taste and adjust salt and pepper, if needed.
Enjoy!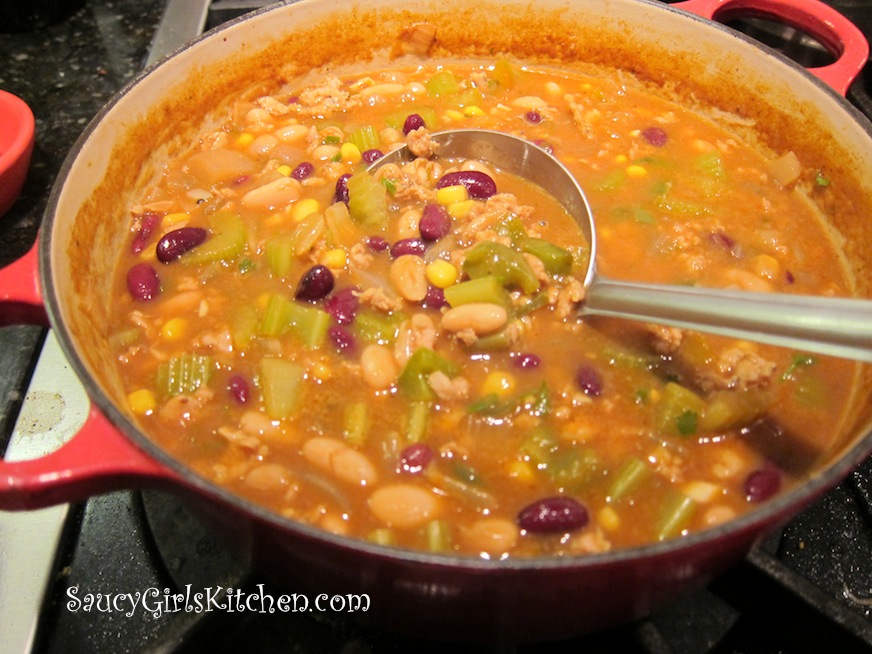 Print entire post