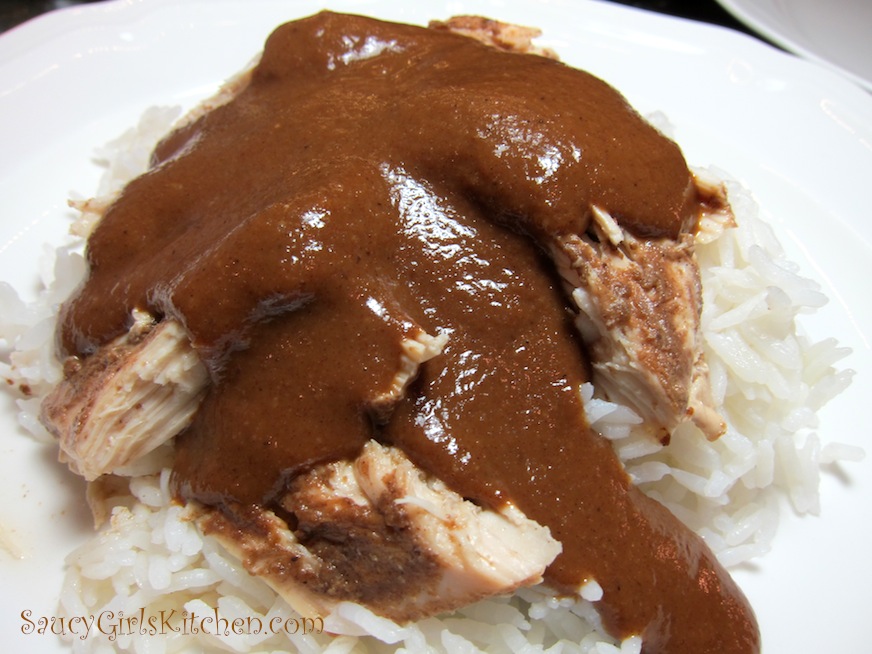 This is my final entry in the Pacific Foods challenge and I have to say… I saved the BEST for last! This was our dinner and it's so delicious!! Definitely one of my new favorites.
This mole sauce came together really quickly using the organic Tortilla Soup Starter from Pacific Foods!  

Makes about 4 cups of Mole Sauce.
INGREDIENTS
2 Tbsp Olive Oil
1 large Pasillo Chile Peppers, seeds removed
1 Green Bell Pepper, seeds removed
2 Jalapeno Peppers, seeds removed
8 Garlic Cloves, peeled and halved
1 Quart Pacific Foods Organic Tortilla Soup Starter
1 cup Raisins
1 cup Dates
1 cup Almonds
1 tsp Cinnamon
½ tsp Cloves
½ tsp Salt
¼ tsp Chinese Five Spice
¼ tsp McCormick Cocoa Chile Blend
¼ tsp Black Pepper
12 oz. Dark Chocolate, broken into pieces
METHOD
In a heavy saucepan add the olive oil.
Over medium heat add the peppers, and brown, stirring as needed.
Keep an eye on the peppers, you don't want to burn them!
After about 8 minutes, add in the garlic cloves.
Cook an additional 2 minutes and stir in the Tortilla Soup Starter.
Add the raisins, dates, almond, cinnamon, cloves, salt, Chinese Five Spice, McCormick Cocoa Chile Blend and black pepper.
Turn heat to low, cover pot, and allow to simmer for about 30 minutes.
Remove from heat and carefully put contents into the food processor and process until as smooth as you can get it.
You may need to do this in 2 steps, adding up to a cup of water, as needed.
Put the processed ingredients through a strainer and discard what remains in the strainer.
Place the smooth mole sauce into a separate saucepan and add the chocolate.
Stir until the chocolate is melted, on low heat.
Taste and adjust seasoning, if desired.
Serve over baked chicken with rice.
Enjoy!

Print entire post