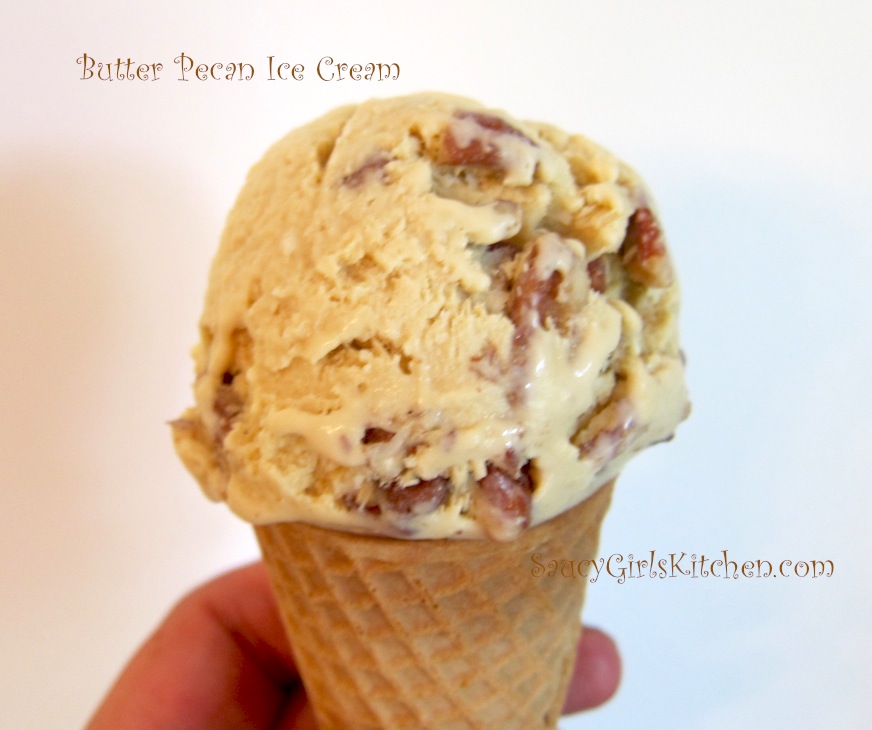 Ok, I'm just going to admit it now… I'm an Ice Cream Addict.
I actually have an entire freezer drawer (see below – it's actually overflowing into the bottom drawer right now) dedicated to ice cream and other frozen treats ~ frozen yogurt, Gelato, and Sorbet. If it's cold and delicious, I wanna eat it!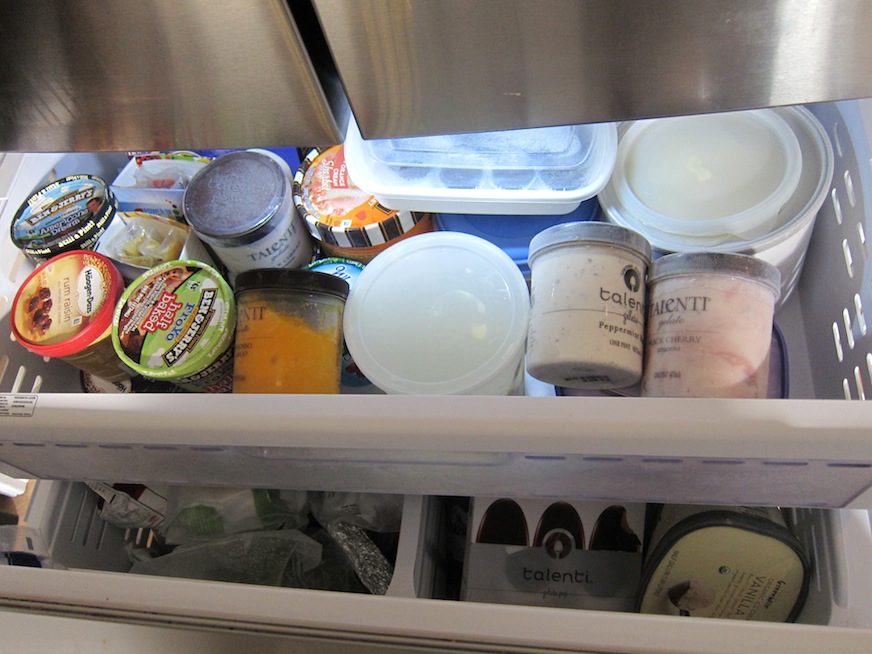 I have a soft serve ice cream maker that makes it super easy to have homemade ice cream in 20 minutes. I always keep the canister in the freezer (between ice cream makings). So, it's always cold and ready. So, in my own defense, the ice cream canister is in the freezer (upper right, taking up space). Plus, I've recently made a couple homemade ice creams. One of them being this rich and creamy Butter Pecan Ice Cream. I can't believe how delicious it turned out. I especially love flavor of the pecans. So good! I sure hope you'll give my recipe a try.
INGREDIENTS
1 cups Pecans, chopped
3 Tbsp unsalted Butter, softened
1/4 tsp Salt
1 1/2 cups Brown Sugar, packed
2 tsp Cornstarch
5 Egg Yolks
2 cups whole Milk
2 cups Heavy Cream
3/4 tsp Vanilla
Special equipment: an ice cream maker
METHOD
Preheat oven to 350°F.
Toast pecans in a baking pan for about 8 minutes.
Remove from oven and add the butter and salt to hot pecans.
Mix together until all the pecans are covered.
Set aside to cool, and as they do they will absorb all the butter.
In a medium bowl whisk together the brown sugar and cornstarch.
Add the egg yolks and whisk to combine.
Set aside.
In a heavy saucepan bring milk and cream just to a boil over medium high heat.
Add a little of the hot milk and cream into the egg mixture, whisking constantly, to temper the eggs.
Then pour the egg mixture into the saucepan, whisking constantly until it's all incorporated.
Cook custard over low heat, stirring constantly with a wooden spoon, until thick enough to coat back of spoon and registers 170°F on a candy thermometer.
This should take about 5 minutes, but do not let it boil.
Once temperature has been reached, pour the custard through a fine sieve into a bowl.
Stir in the vanilla.
Allow custard to cool, stirring occasionally.
Then chill custard, covered, in the refrigerator for 3 or more hours.
Freeze custard in ice cream maker until almost firm.
Add pecans.
Place ice cream in the freezer to firm up, or enjoy it soft serve!

Print entire post