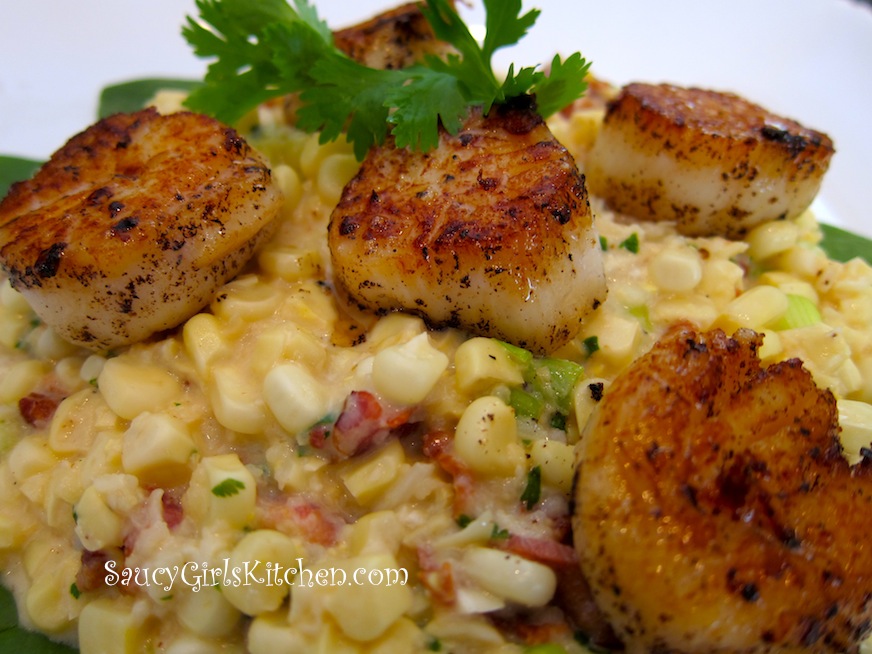 I love summertime for lots of reasons, one of them being fresh corn on the cob. Just with butter and salt it's incredible. Sweet and crisp. I also like to eat it raw, picking one kernel off at a time. Weird, eh?
When you can buy 6 ears of fresh corn for $1.00 at the farmer's market, why not. Especially when you can use it in dishes like this. Plus, I just got the Food Saver Master Chef Kit… which I don't know how I've lived so long without one. It's fantastic! I got the type that has the accessory so you can zap the air out of a wine bottle. Keeps the wine perfect for at least 3 days. That's how long a bottle of wine lasts me (sometimes – hic). It also has a Marinate Mode, which will marinate food in minutes instead of hours. Haven't used it yet, but looking forward to it. Anyway, back to the subject of corn. I will be freezing lots of corn this summer thanks to my Food Saver. Which turns out is also a money saver, too. I like that!!
The recipe I'm sharing with you today has 2 ears of fresh corn in it. It's a super simple recipe, that tastes better than what you would get at a fine restaurant. How do I know this? Because my husband ordered something similar to this at a fine restaurant, and the taste doesn't even come close to this! Definitely one of my new favorite ways to have corn and to showcase the beautiful scallops.
Serves 2
INGREDIENTS
10 Scallops
2 pieces of Bacon, cooked and chopped
2 ears of fresh Corn, removed from the cob
2 Tbsp Butter, salted
1 Tbsp Flour
1/4 cup Half & Half
2 Scallions, sliced thin
2 Tbsp fresh Cilantro, chopped
Salt and Pepper, to taste
Spinach Leaves, optional as garnish
Fresh sprig of Cilantro, optional as garnish
METHOD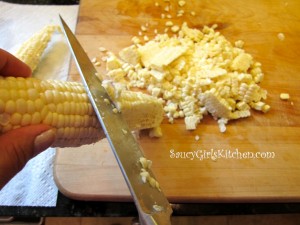 Rinse the scallops, pat dry and set aside.
Cook your bacon in a medium frying pan, and save the pan and bacon grease to cook the scallops (last step).
Allow bacon to cool before chopping, and set aside.
Remove the corn from the cob (uncooked) and set aside.
In a medium saucepan melt the butter over low heat.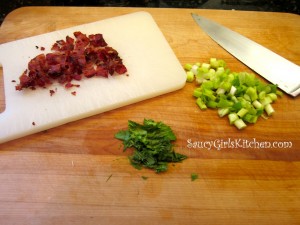 Whisk in the flour and then quickly whisk in the half and half, a little at a time so that no clumps form.
Stir in the bacon, corn, scallions and cilantro.
Taste and season with salt and pepper, as desired.
Allow to simmer for a few minutes, while you cook the scallops.
Heat the frying pan you used for the bacon, to medium high heat.
Place the scallops into the hot frying pan and cook for about 3 minutes per side.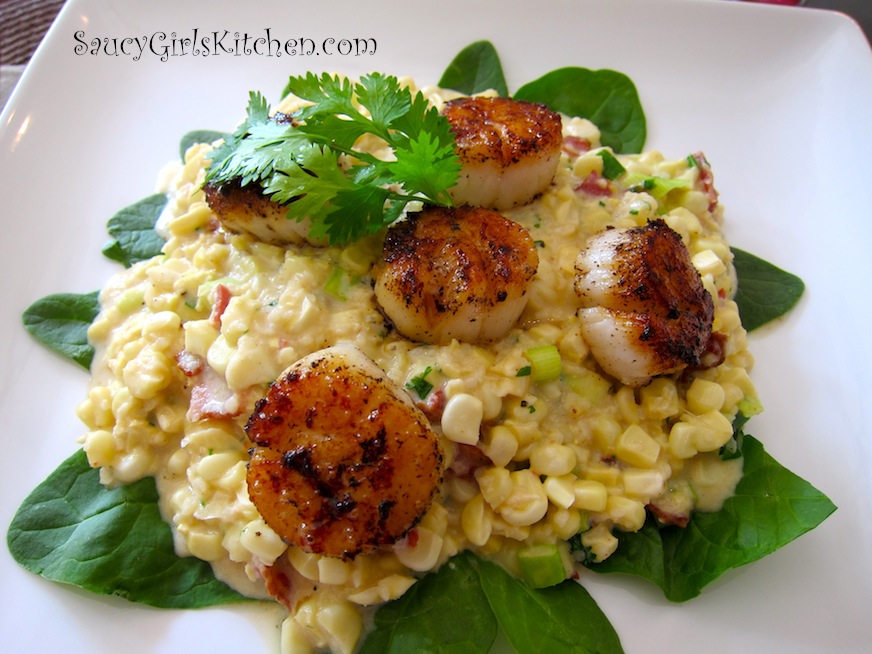 To plate:
If desired, place some spinach leaves in a round, so that they will stick out under the corn mixture.
Divide the corn mixture onto 2 serving plates (placing it in the center of the spinach leaves, if used).
Place 5 scallops atop of the corn on each plate.
Garnish with a sprig of fresh Cilantro.
Enjoy!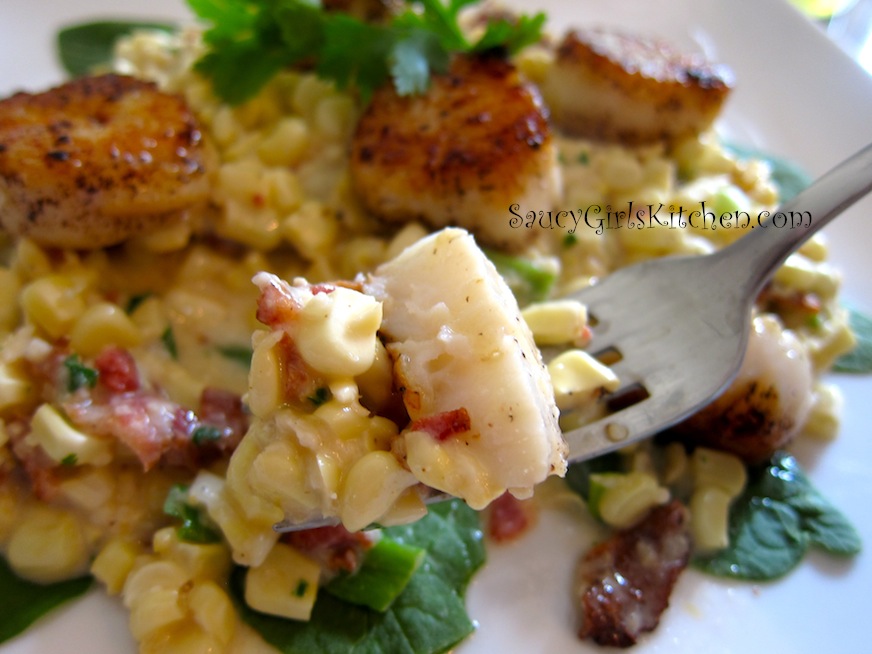 For more great seafood recipes, check out Carrie's Experimental Kitchen Seafood Frenzy Friday #57.

Print entire post