Do you remember that commercial about beef… saying "Where's the beef?" Around here we're saying "Where's the beet?" Yep, that's right! These beet burgers were delicious and now I can't wait to make them again.
Thank you to the Neighborhood Food Blog for the initial inspiration to make a beet burger! Your picture looked so good that it inspired me to come up with my own version of beet burgers using the flavors that I love best.
I used Chilies in Adobe Sauce, which imparted a wonderful smoky flavor. If you're not familiar with these chilies, you can usually find them in the Hispanic section of your supermarket or at a Hispanic market. If you can't find these chilies, you could substitute some smoked paprika to give a smoky flavor to your burgers.
Since this is the first time I've made beet burgers , I experimented a bit. I did end up adding an egg to bind them together. I think one of the potential problems with these burgers would be that they fall apart while cooking (and eating), so the egg and corn meal really did help.
I dressed our burgers with cheese, lettuce from the garden, cucumbers in sour cream, and chopped onions. They were absolutely delicious and I'm already craving these beet burgers again!!
INGREDIENTS
3 Beets, roasted and peeled
3 cups Brown Rice, cooked
¼ cup Raisins
1 can Black Beans, drained
7 Garlic Cloves
1/2 Onion
2 Chilies in Adobe Sauce (found in the Mexican section)
2 Tbsp Corn Meal
1 Egg
2 Tbsp Parsley, minced
Salt & Pepper, to taste
Olive oil, for frying
Whole Wheat buns, or buns of your choice
Condiments, of your choice
METHOD
To roast the beets:
Wash the beets and cut off both ends.
You don't have to peel them because the peel will come off very easy after they are roasted.
Place some tin foil on a pan, place your beets on the foil.
Put a little olive oil and salt on the beets.
Cover tightly with the foil and place in a 400 degree oven for 40 minutes, or until beets are fork tender.
Remove beets from oven and allow to cool.
You can wipe the skins off the beets using a paper towel.
Place the roasted beets, brown rice, raisins, black bens, garlic, onion and chilies in the food processor.
Pulse until everything is incorporated but still crumbly (you don't want it smooth).
Add in the corn meal, parsley, salt and pepper.
Taste and adjust seasoning, if desired.
Now add in the egg (cause you don't want to taste it with the raw egg in it).
Mix until combined.
Refrigerate for about 30 minutes and it will be easier to form the patties… but if you're in a hurry you can skip this step.
Form patties.
Place a little oil of your choice into a cast iron pan.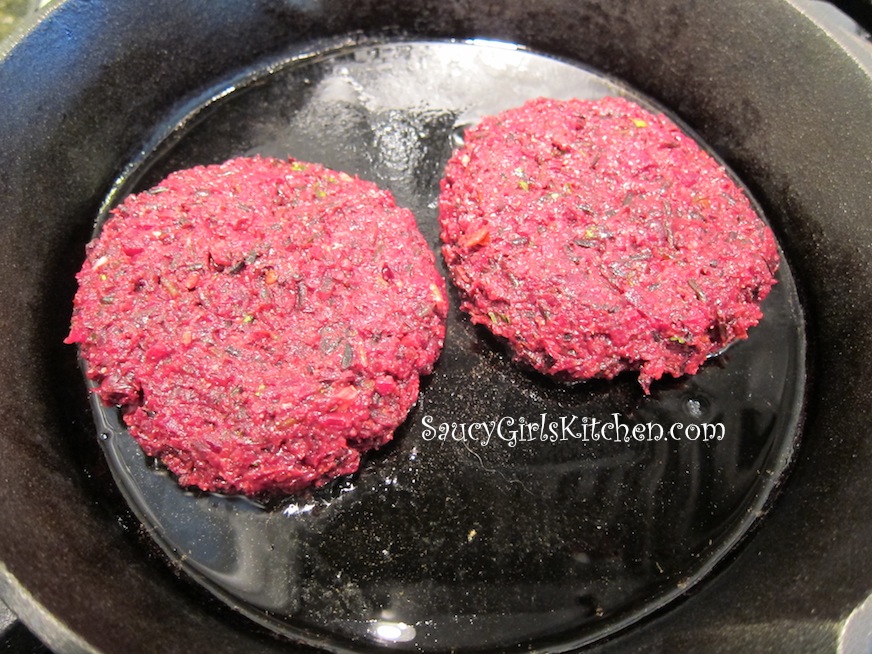 Fry beet burgers over medium heat for about 12 to 15 minutes, or until crispy.
Serve on the bun of your choice, with whatever condiments and toppings sound yummy to you.
Enjoy!!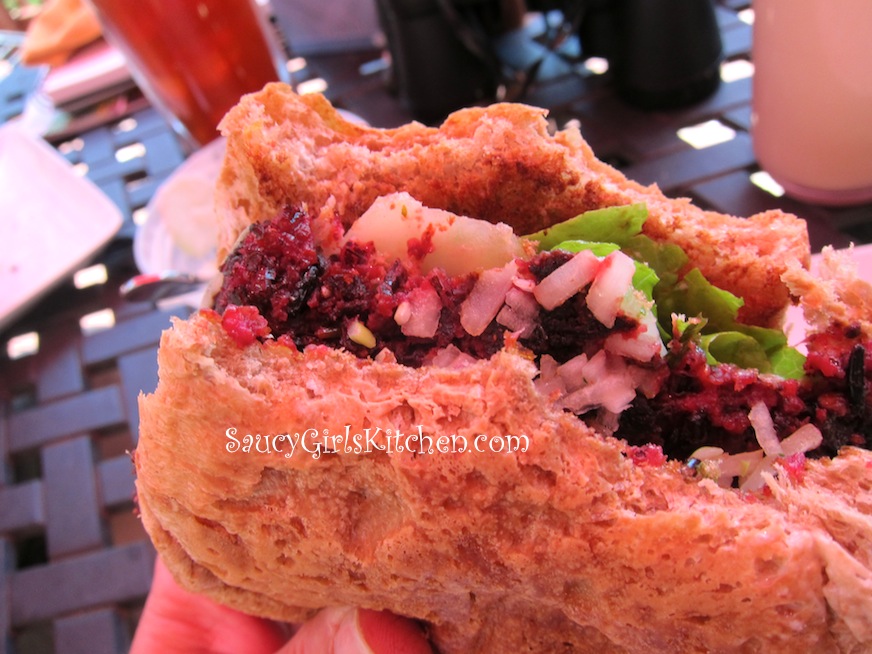 Print entire post