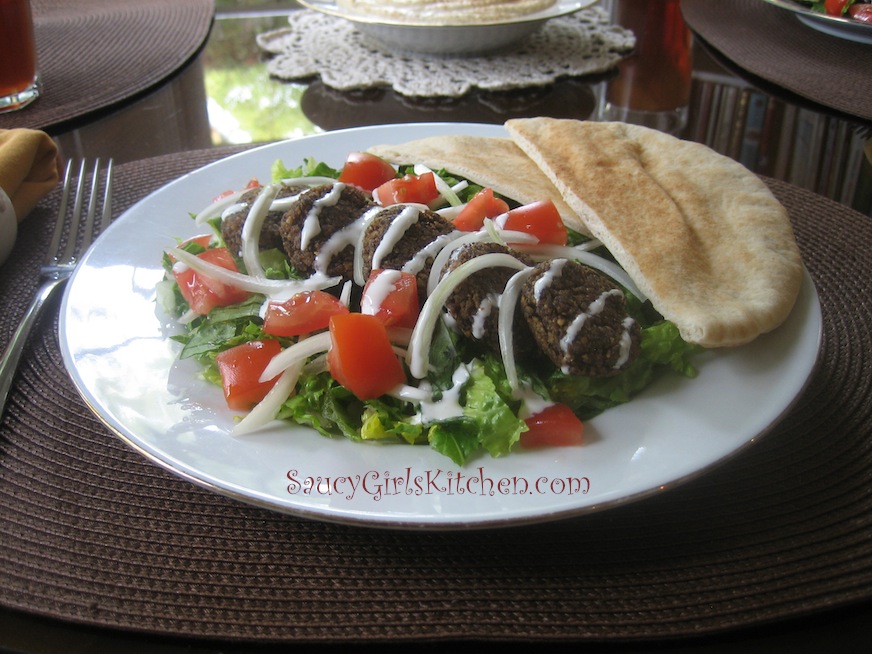 I love all foods, especially Middle Eastern. Sometimes I get a really strong craving for Falafel that must be answered. The flavors that are combined in these Falafels are so delicious. I really like the crispy outside and the flavorful soft inside. I made them with garbanzo beans/chickpeas, but you can also make them with Fava Beans.
For my recipe I fried the Falafel. Yes, you can bake them – but they are no where near as good. I've tried and the enjoyment level went way down. On the upside of healthy, they are a great alternative to meat, as the garbanzo beans are a great source of protein, (providing 7 grams of protein per 1/2 cup).
Serving the falafel with Tahini Sauce is a must for me, along with a side salad and fresh warm pita bread. I usually pop the pita open and put a little bit of everything inside and top it with a generous drizzle of Tahini Sauce.
INGREDIENTS
1 cup dry Garbanzo Beans, soaked overnight
1 small Onion, coarsely chopped
¼ cup fresh Parsley, chopped
¼ cup fresh Cilantro, chopped
4 cloves Garlic
1 Tbsp Lemon Juice
½ tsp Baking Soda
½ tsp Baking Powder
1 Egg
2 Tbsp Flour
1 3/4 tsp Salt
1 tsp Cumin
1 tsp Ground Coriander
½ tsp Black Pepper
¼ tsp Cayenne Pepper
Vegetable oil for frying
METHOD
Place the garbanzo beans in a large bowl and cover with water, about 2 inches over the top of them.
Place in refrigerator for about 12 to 18 hours.
The garbanzo beans will more than double in size and you will end up with about 2 to 3 cups of beans.
Drain the beans of any excess water and place them into your food processor.
Add in the onion, parsley, cilantro, garlic, lemon juice, baking soda and baking powder.
Pulse the ingredients until you get a rough moist texture (you do not want it smooth).
Place in a large bowl and mix in the egg, flour, salt, cumin, coriander, black pepper, and cayenne pepper.
Heat about 1½ inches of vegetable oil in a medium frying pan, on medium low heat.
Wet your hands and form falafel mixture into little balls or patties.
Fry in small batches, until nicely browned on all sides, turning as necessary.
Remove from frying pan and drain on a paper towel.
I served mine with fresh Tahini Sauce (recipe below), lettuce, tomato, sliced onion and warm pita bread.
Enjoy!
Tahini Sauce
INGREDIENTS
1 cup Tahini (sesame seed paste)
1 Lemon, juiced
2 Garlic Cloves, minced
Pinch Salt
Pinch Paprika
½ to 3/4 cup Water
METHOD
Place Tahini, lemon juice, garlic, salt and paprika in a medium bowl.
Whisk in the water, a little at a time, until you have reached the consistence similar to cream.
Taste and adjust seasoning, if desired.
Serve with falafels.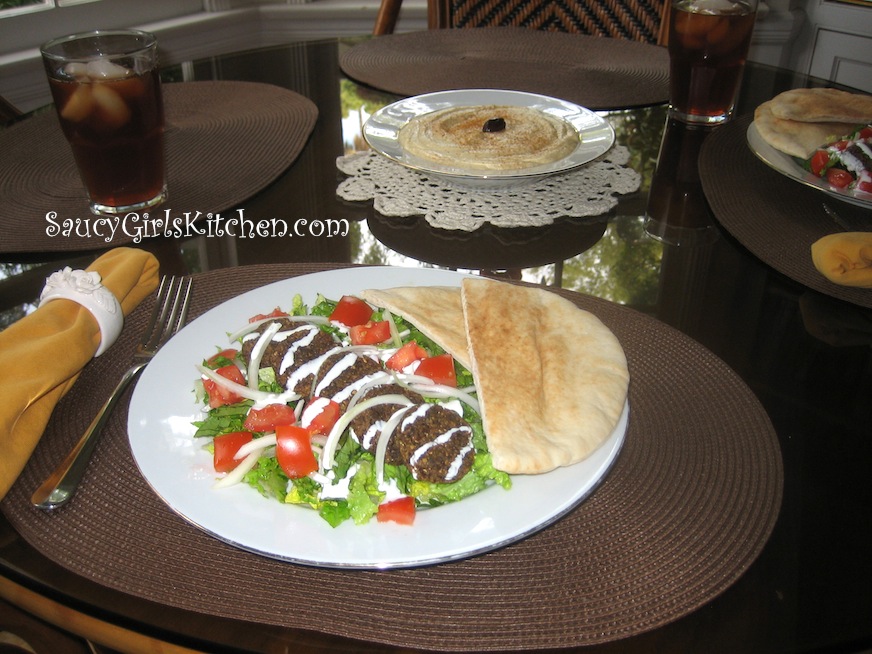 In case you're wondering… that's a bowl of fresh Hummus in the center of the table. I'll post a recipe for that soon.  


Print entire post