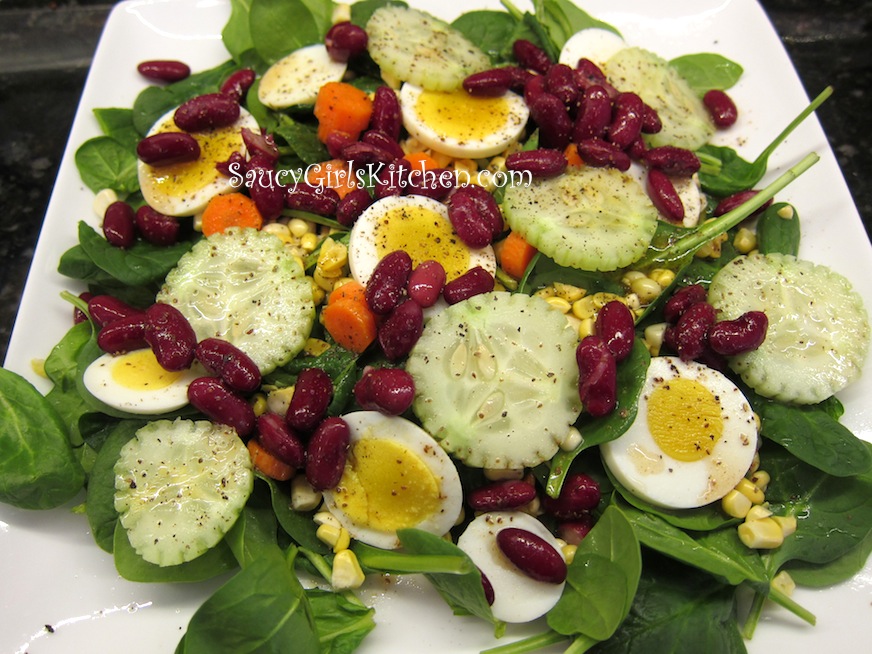 A really good salad is hard to beat. I didn't share a recipe for the salad above, but the ingredients are: spinach, hard-boiled egg, cucumber, sliced carrots, kidney beans, and fresh uncooked corn. My focus today is on the salad dressing.
I have never been a fan of bottled salad dressings. I'm sure there may be some good ones available, but it's so easy to make your own, fresh, at home! My #1 favorite salad dressing is actually just extra virgin olive oil, lemon, sea salt and pepper. I love the clean flavor. However, this Sweet & Sour Celery Seed Salad Dressing is right up there with all my favorites like Homemade Blue Cheese Dressing, and Sesame Dressing. I think what I like most about this salad dressing is the flavor of the celery seeds. The flavor is so prominent that I felt I had to put them in the title of the dressing. I'm a big lover of celery seeds and use them whenever I can; in my egg salad, potato salad, deviled eggs, soups, etc. They are so flavorful. Are you familiar with celery seeds? If not, I hope you'll get some and give my salad dressing a try.  😉
Makes 2 cups
INGREDIENTS
1/4 cup to 3/4 cup of Sugar (Honey or Agave work, too)
1 Tbsp Celery Seed
1 tsp Paprika
1 tsp Dry Mustard
1/2 tsp Salt
1/2 cup Apple Cider Vinegar
1 cup Olive Oil

METHOD
In a large bowl mix together the sugar, celery seed, paprika, dry mustard, and salt.
Add in the apple cider vinegar and still until the sugar is dissolved.
Using a whisk add the olive oil a little at a time, whisking continuously until it emulsifies.
Delicious served over spinach salad, or any fresh green salad.
NOTES:
I have listed the sugar as 1/4 cup to 3/4 cup, depending upon how sweet or tart you like your dressing. You can start with less sugar, and add more as desired.
Refrigerate dressing – lasts up to 3 weeks.

Print entire post