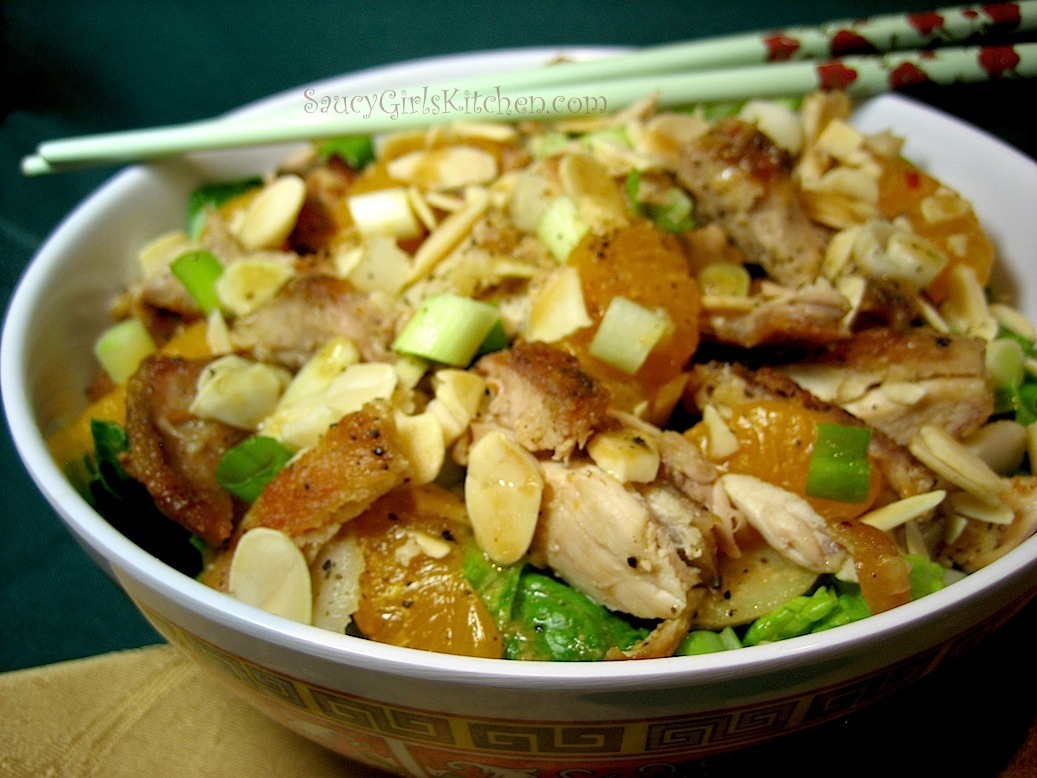 I love the delicious refreshing flavors of this salad… soy sauce, honey, Mandarin oranges and almonds. What's not to love! Plus, using leftover chicken makes this salad come together in minutes.
Serves 2
INGREDIENTS
For Asian Sesame Salad Dressing:
1/4 cup Rice Wine Vinegar
2 Tbsp Soy Sauce (I use low sodium)
1 Tbsp Honey
1 tsp Sesame Oil
2 cloves Garlic, minced
1 tsp Ginger, minced
For Salad:
2 Chicken Breasts, sliced or diced (I used leftover Rotisserie chicken)
1 head Romaine Lettuce, cut small
3 or 4 Scallions, diced
1 small can Water Chestnuts, drained
1 small can Mandarin Oranges, drained
For Garnish:
sprinkling of Black Sesame Seeds, toasted
1/4 cup Almonds, slivered
METHOD
Whisk all the ingredients for the salad dressing together in a small bowl.
Set aside.
In a large bowl place the chicken, lettuce, scallions, water chestnuts and mandarin oranges.
Pour salad dressing over salad and toss to coat.
Divide the salad into two portions and top with some black sesame seeds and slivered almonds.
Serve immediately.
TIP: When I buy fresh ginger I store it in the freezer in a ziplock freezer bag. It lasts a long time. Plus, when it's frozen it's super easy to grate the whole ginger for recipes… you don't even need to peel it!

Print entire post