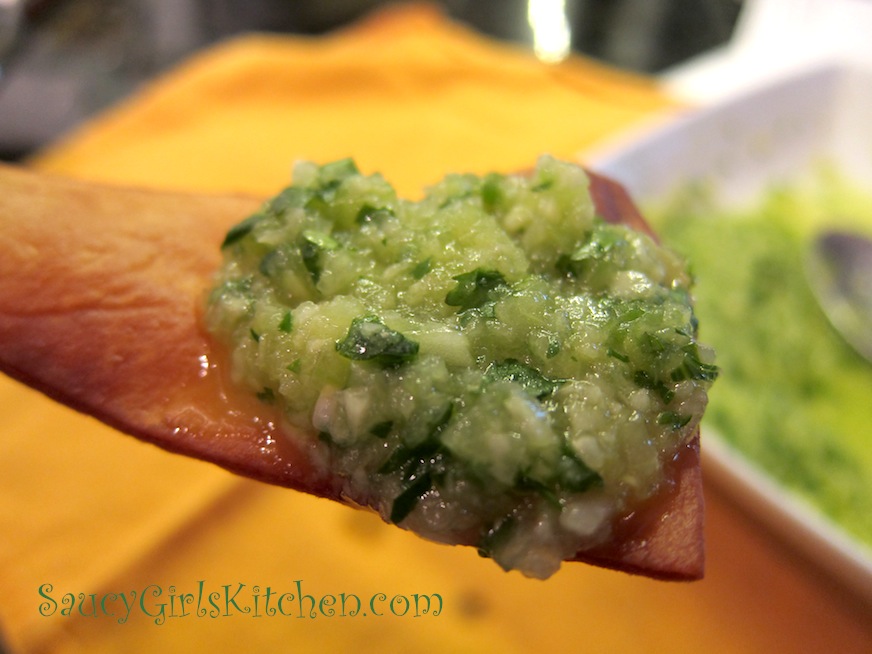 This is so good. Words cannot describe the taste sensation that these ingredients combined, create. I tried something similar at the deli counter of Whole Foods last summer. However, the last time I went to Whole Foods they didn't have it… so, of course, I was determined to re-create it.  At Whole Foods it was being sampled with tortilla chips, which is how I served it today, on top of crispy flour tortilla chips that I fried up at home.
But seriously, you can totally skip the chips. I love the clean, fresh flavors so much that I prefer to just eat it like a Gazpacho, nice and chilled. YUM!
INGREDIENTS
1 large Cucumber, peeled and rough chopped
1/2 of a fresh Pineapple, rough chopped
1 cup Pineapple juice
1 Green Onion, rough chopped
1 Jalapeno, seeded and rough chopped
1/4 cup fresh Cilantro leaves
2 Tbsp Olive Oil
Juice of 1/2 a Lime
a few pinches of Sea Salt
METHOD
Place all the ingredients in the blender/food processor.
Pulse until blended, but still chunky.
Taste and season with more salt, if needed.
Best served chilled.
Enjoy!

Print entire post