I've been selected to compete in "The Solo Sweetest Sixteen" being held by Solo Foods. I've been using Solo products for years, so it's really an honor to have been selected!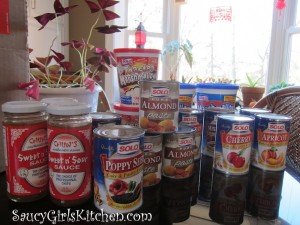 I was so excited to get the box full of delicious Solo Foods products. I spent five days testing out different ways to use the products. My husband sure was happy being my "taste tester". I made a delicious Almond Cheesecake using Solo Foods Almond Paste, topped with Solo Foods Apricot filling. It was delicious. Then I realized that they already had a recipe for Almond Cheesecake on their website. So, I kept experimenting and trying out different flavor combinations. It was fun!
Finally, I came up with the Chocolate Almond Bundt Cakes. They were so good, especially once I filled them with some Almond Cream. Now we're talking some serious deliciousness. That's what I ended up submitting for the contest.
The contest winner will be based upon the number of votes received via the internet. There are 15 of us in the contest and the competition is stiff. I would sure appreciate your vote. It's easy… nothing to subscribe to… no steps to go through. Just go to the page, find my entry (as pictured above), click and vote.
This contest is over and I'm the lucky winner!
Check it out:  http://www.sweetest16.com/
And here's the recipe if you want to make them at home…
Mini Chocolate Almond Bundt Cakes with Almond Cream
INGREDIENTS
For Cakes:
4 squares of Dark Semi-Sweet Chocolate
1 stick Butter, softened
1/3 cup of Sugar
1 – 8 oz. can of Solo Pure Almond Paste
1/2 cup Cake Flour
3 Eggs, separated
a pinch of Salt
For Almond Cream:
4 oz. Solo Pure Almond Paste
1 cup Heavy Cream
For Chocolate Ganache:
10 oz. Semi-Sweet Dark Chocolate (good quality)
1 ½ cups Heavy Cream
METHOD
Preheat oven to 350 degrees.
Butter and flour the mini Bundt pan (or cupcake tin) and set aside.
Place chocolate in a small saucepan over low heat until melted.
Remove from heat and allow to cool.
In the bowl of your electric mixer, cream the butter, sugar and almond paste until it is smooth and the almond paste is completely blended.
Beat in the egg yolks until mixture is fluffy.
Mix in the chocolate.
Sift in the flour and stir until totally incorporated.
In a separate bowl, beat the egg whites and salt until soft peaks are formed.
Gently fold half of the egg whites into the batter.
Add the rest of the egg whites, and fold into the batter just until combined.
Fill mini Bundt tin 3/4 of the way.
Bake for about 20 to 25 minutes.
While the cakes are baking you can make the Almond Cream by combining the almond paste and heavy cream in the food processor.
Blend on high until it is completely creamy and whipped.
Refrigerate until ready to pipe into the cakes.
Once the cakes are done baking, remove from oven and allow to cool for about 15 minutes before removing from pan.
Using a butter knife, gently run it around the edge of the pan to loosen the cakes.
To remove the mini cakes, place a cooling rack on top of the Bundt pan and flip the entire pan over.
Cakes should remove easily.
While allowing the cakes to cool you can prepare the Chocolate Ganache.
Melt chocolate and cream over low heat.
Whisk to blend.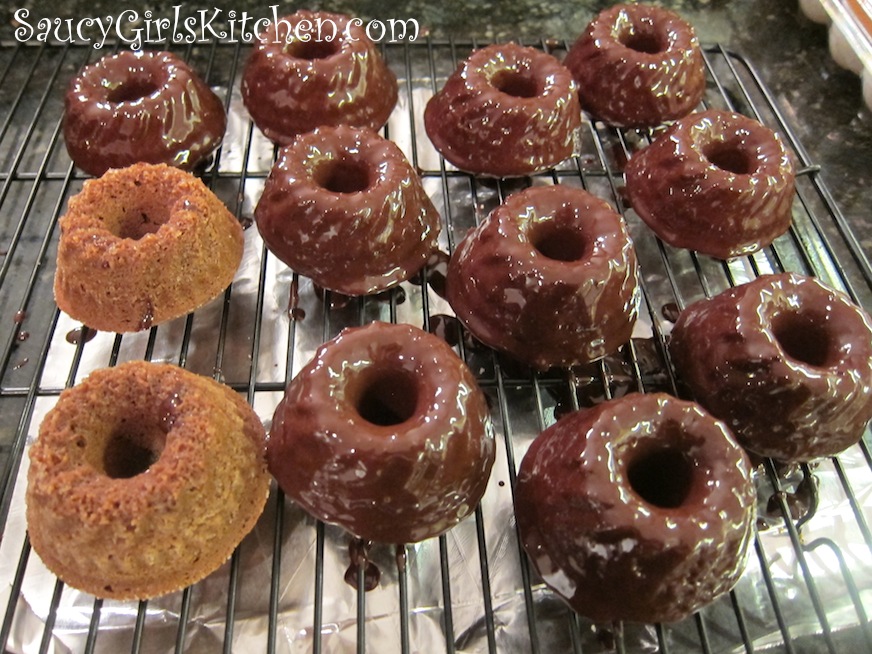 Allow to cool a bit before icing cakes.
Place a piece of waxed paper or paper towel under the cooling rack, for easier clean up.
Dip a mini Bundt cake into the chocolate ganache, being sure to completely coat it and place on cooling rack to dry.
If you'd prefer to pour the chocolate on each cake, that works.
Continue until they have all been coated.
Once the chocolate ganache has set, you can pipe the almond cream into the center of each cake.
Garnish the top with a cherry.
Enjoy!
Note: These little cakes will keep for a week in the refrigerator.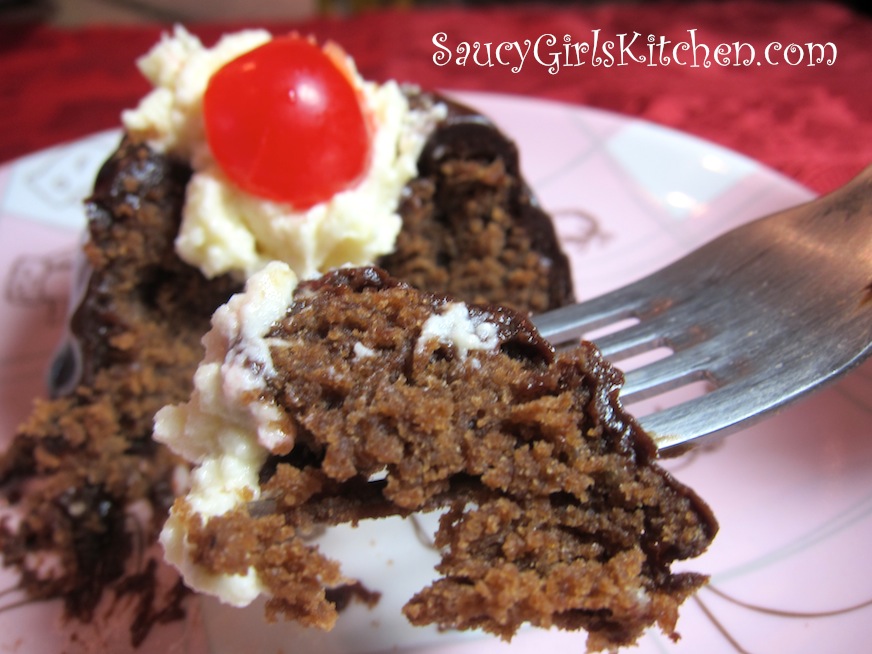 Print entire post