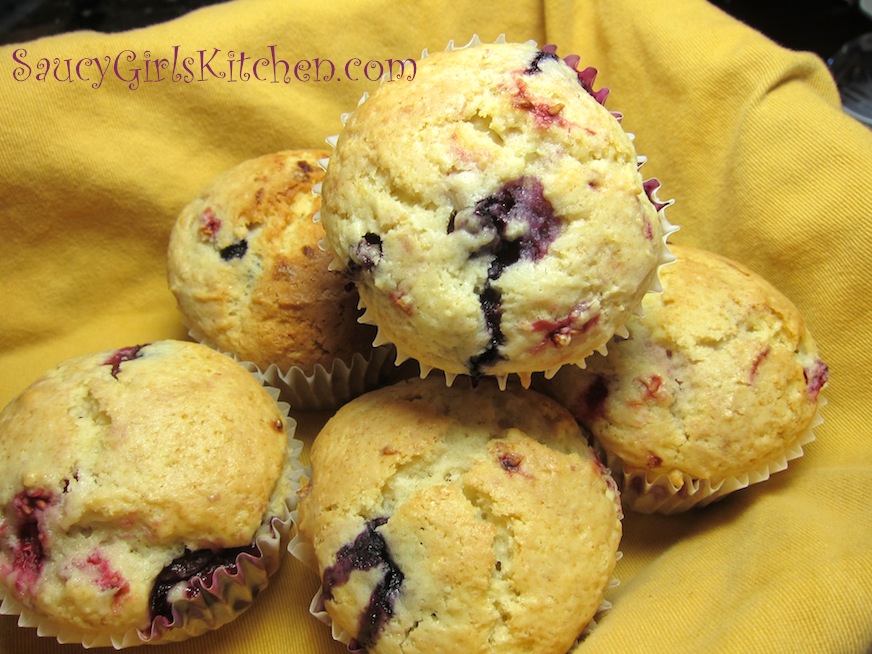 Over the Thanksgiving holiday my family was here visiting. We had seven people in the house instead of just Billy and me. It was nice and I especially enjoyed cooking for everyone.
Making some muffins in the morning using fresh berries was a great starter and an easy way to keep everyone happy while I prepared the bacon & eggs. The muffins are super easy to make and you can use whatever berries you'd like. I used blueberries and raspberries. The muffins bake quickly, while filling the house with an aroma that is nice to wake up to.
I was so happy with the way these muffins turned out I wanted to share my simple recipe with you.
INGREDIENTS
3 cups Flour
3 tsp Baking Powder
1 tsp Salt
6 Tbsp butter, softened
1 1/4 cups sugar
2 eggs
1 tsp Vanilla Extract
1 cup Buttermilk
2 cups of Berries (I used Blueberry & Raspberry)
METHOD
Preheat the oven to 375 degrees.
Place paper cups in muffin tins (or butter the tins) and set aside.
In a small bowl combine flour, baking powder, and salt; set aside.
In a large bowl cream together the butter and sugar until light and fluffy, about 2 minutes.
Add in the eggs and vanilla extract.
Continue to mix another minute or so.
Reduce the speed to low and add half the dry mixture.
Add half the buttermilk, continuing on low.
Add the remaining dry mixture and buttermilk.
Mix just until combined.
Fold the berries gently into the mixture by hand.
Place batter into muffin cups/tins, filling about 2/3 of the way.
Sprinkle tops lightly with sugar, if desired.
Bake until light golden, about 25 to 35 minutes (depending upon the size of the muffins you're making).
Enjoy!

Print entire post