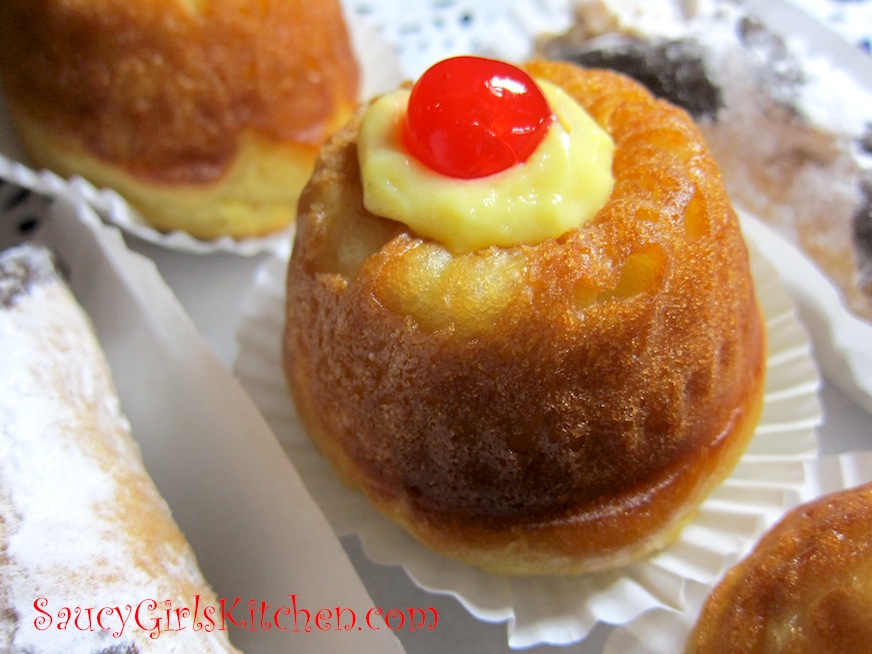 Rum Babas remind me of the times that I would go to New York with my family. Oh, the delicious pastries. My favorite now, and then, was a Rum Baba. I also love the donuts that were filled with Marshmallow cream. Yum!
When I lived in Los Angeles there was a great Italian store named Sorrento's that sold Rum Babas that were exactly as I remembered them. I was happy knowing I could just drive over and get a Baba anytime I wanted… then one day the store didn't carry the Babas anymore. Which really doesn't matter anyway, because I don't live in Los Angeles any longer. I'm in Tennessee now, and the chance of finding a Rum Baba out here is slim. So, I took matters into my own hands and made some Rum Baba's for the first time. I must say they were ridiculously delicious. The Italian pastry cream is so thick and decadent, it really takes the Baba to another level.
Before starting to make the actual Baba, I suggest making the Rum Syrup and Italian Pastry Cream first.
Rum Babas
INGREDIENTS
½ cup Milk
3 tsp Yeast
2 cups all purpose Flour
3 Eggs
2 tsp Sugar
Pinch of salt
1 stick of butter, melted and cooled
Cherries, for garnish
Rum Baba Syrup (recipe follows)
Italian Pastry Cream (recipe follows)
METHOD
Butter and flour a baba mold, cupcake tin, or a mini bundt pan (that's what I used) and set aside.
Warm the milk in a small saucepan.
Remove from heat and set aside.
In a mixing bowl combine the yeast and ½ cup of flour.
Stir in the warm milk.
Let rise until double in size, about 15 minutes.
Add in the eggs one at a time.
Add in the remaining flour, sugar, and salt.
When a dough begins to form, add in the butter.
Let rest for 10 minutes.
Preheat oven to 375 degrees.
Place the baba dough into the prepared pan and cover with plastic wrap or a clean thin kitchen towel.
Let rise in a warm place for about 30 minutes, or until it was risen to the top of the mold.
Bake for 25 to 30 minutes, or until the top of the babas is light golden brown.
Remove from oven and allow to cool before removing from mold.
Using a toothpick, poke holes all over the tops of your babas.
I put my babas in a large plastic container and then poured the rum syrup all over them.
I allowed them to sit in the syrup for about 20 minutes.
Remove from syrup and place on wire rack to let the excess syrup drain.
Transfer the babas to a serving platter.
Place the cool Italian pastry cream into the center of each baba.
Since I used the mini bundt pans I had a hole already there… however, you could just pipe the pastry cream into the center of your baba and leave a little coming out the top.
Top with a cherry.
Cover and refrigerate until ready to serve.
Really taste better the next day when they're completely cold.
Rum Baba Syrup
INGREDIENTS
3 cups Water
2 cups Sugar
4 tsp Lemon Zest
1 Vanilla Bean, split with seeds scraped
1/3 cup Dark Rum
METHOD
Add all the ingredients (except the rum) into a medium saucepan.
Bring to a boil over medium heat, stirring to be sure to dissolve the sugar.
Remove from heat and allow to cool for about 20 minutes.
Stir in the rum.
Italian Pastry Cream
INGREDIENTS
3 cups of Milk, whole
1 Vanilla Bean, split
6 Egg Yolks
¾ cup of Sugar
¼ cup Flour
pinch of Salt
METHOD
In a small saucepan heat up one cup of the milk and add the vanilla bean.
Bring to a boil and then remove from heat.
Allow vanilla bean to steep while you proceed with the recipe.
In a medium saucepan whisk together the egg yolks and sugar.
Add in the flour, salt, and remaining milk.
Whisk until completely combined, and mixture is free of lumps.
Pour the hot milk into the egg mixture, whisking continuously.
Place pan over medium heat and cook for about 5 minutes, stirring continuously, until custard thickens.
Set aside and allow to cool.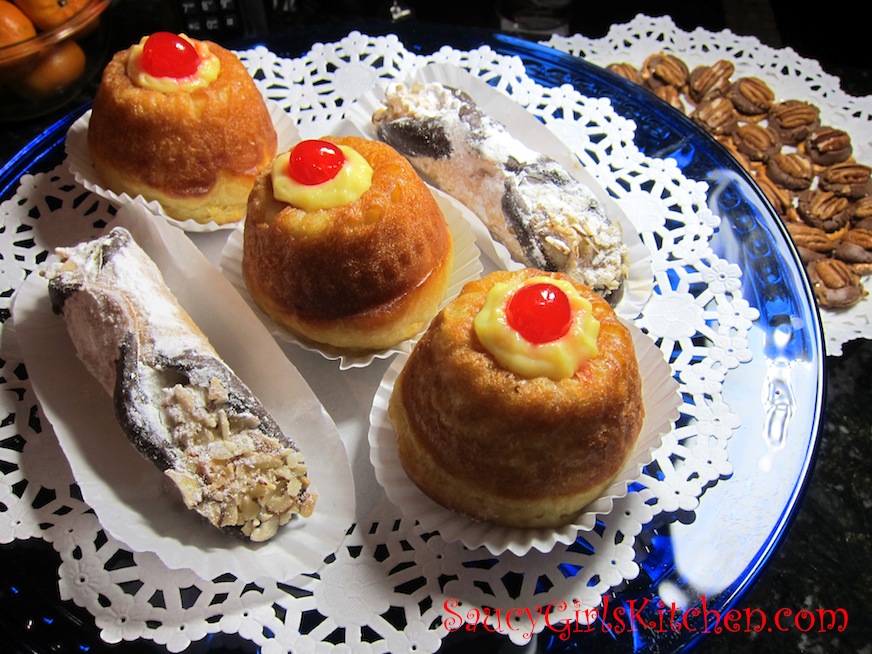 Print entire post