We moved to Tennessee about a year ago, leaving behind our beautiful home in Los Angeles. Below are four pictures of the kitchen that we had there, so you will understand why I miss that kitchen so much!!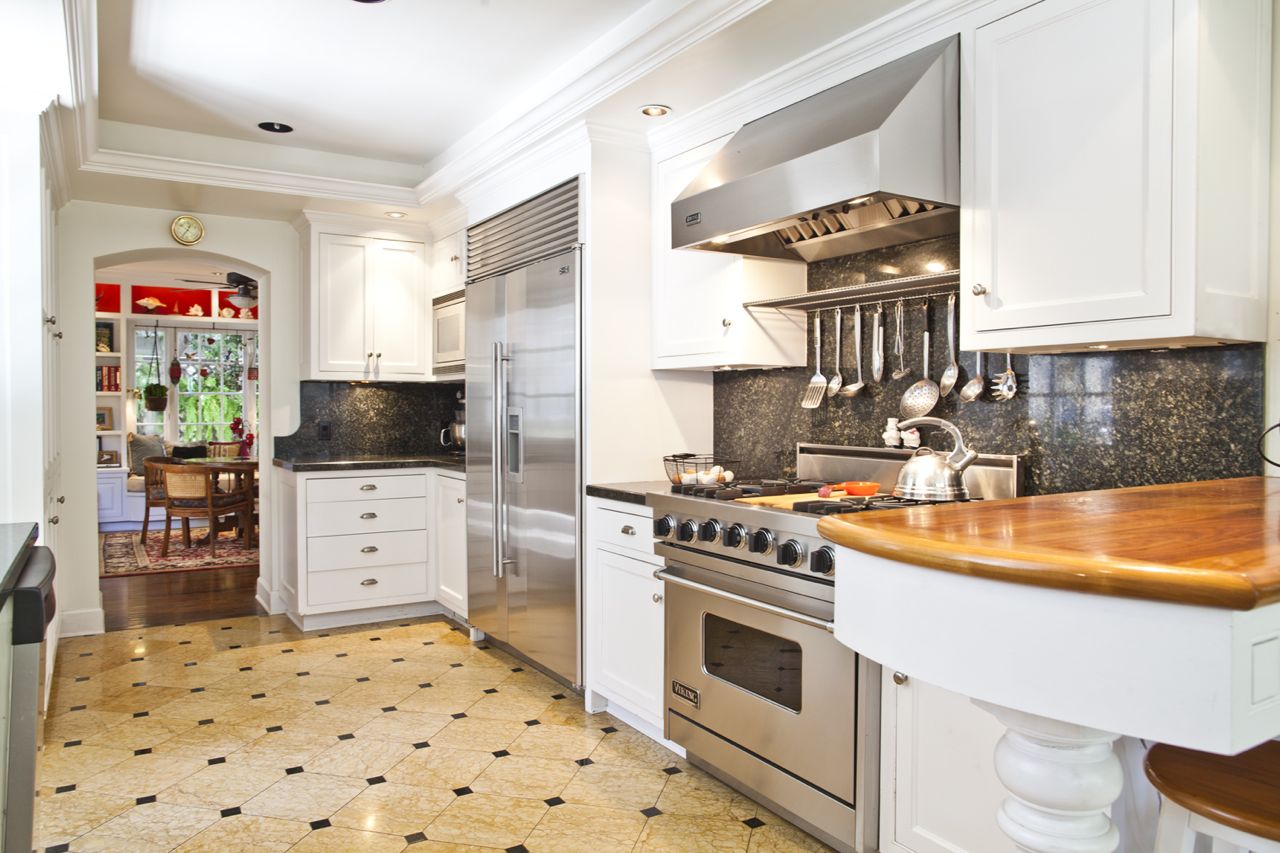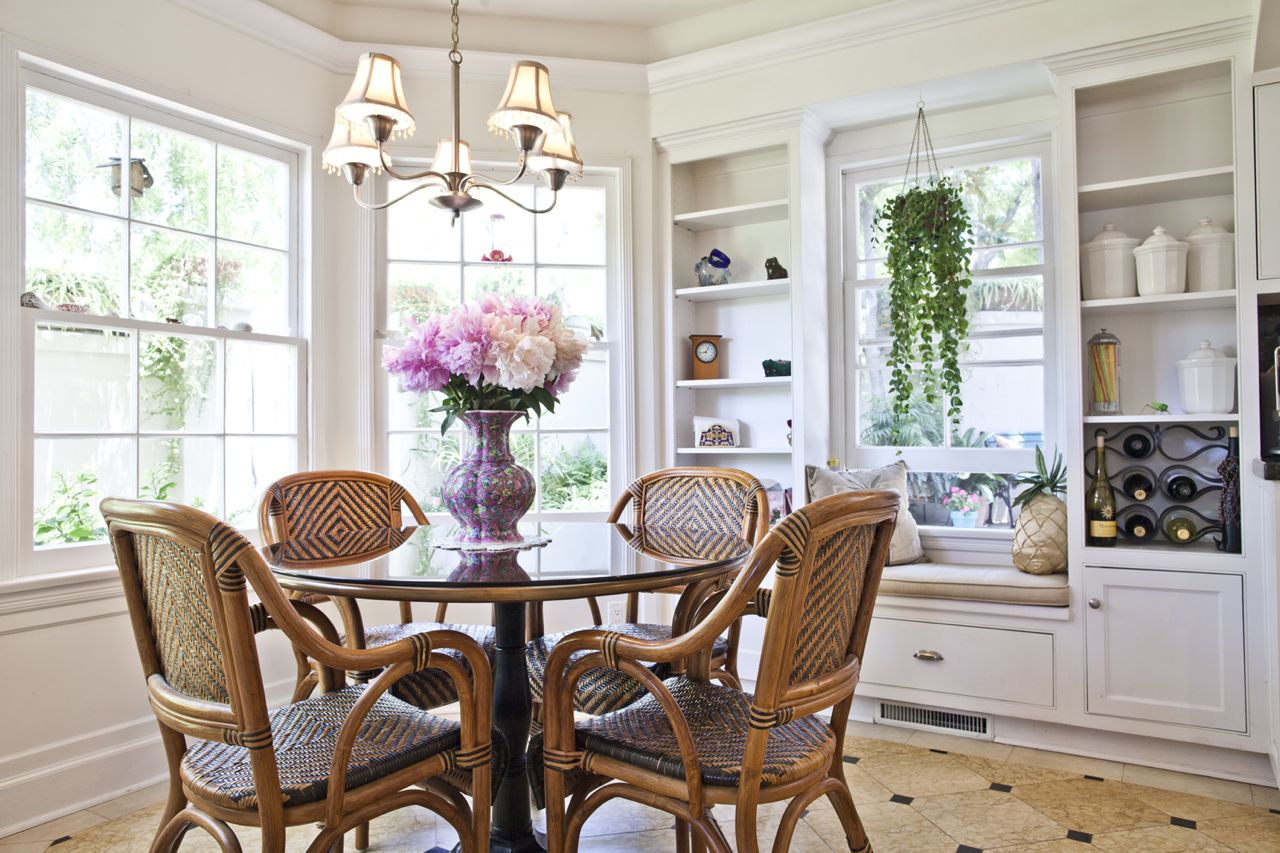 Our kitchen here in Tennessee is a good size, with a nice eating area. Since we've been living in our new house for a year we really got a good feel about what we wanted to change, what we could live with, and what we couldn't tolerate. For me it was hard to wait, because I'm very impulsive and would have changed the kitchen right away. My husband is more of a planner, and I'm more of a fly by the seat of my pants….
Well, the time has finally come for the Kitchen Remodel. It's a much dreaded time, and also a much anticipated time. We have a deadline ~ it must be completed a week before Thanskgiving. Family is coming to Tenneseee for Thanksgiving and we're gonna have a house full. Guess who plans on doing the cooking!  I have been assured by Jeanine Lasseter, the owner of Cabinets Plus Design that this deadline will be met.  

I'm going to share my kitchen remodel experience with you!
Below are some "before" pictures of our Tennessee kitchen. Don't get me wrong… I'm happy to have a big kitchen, with an eating area, and a place for my desk. No complaining here whatsoever. I'm very thankful.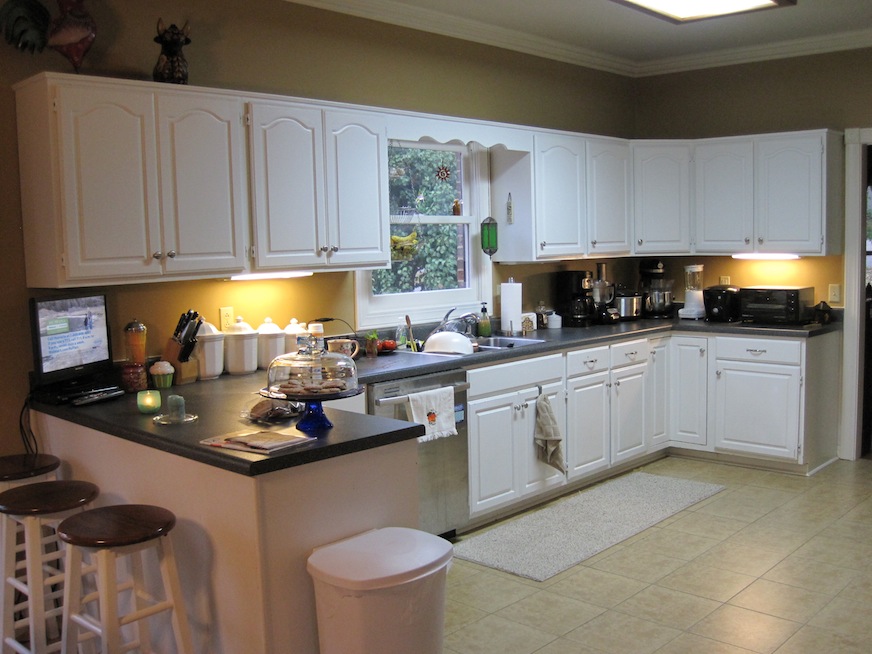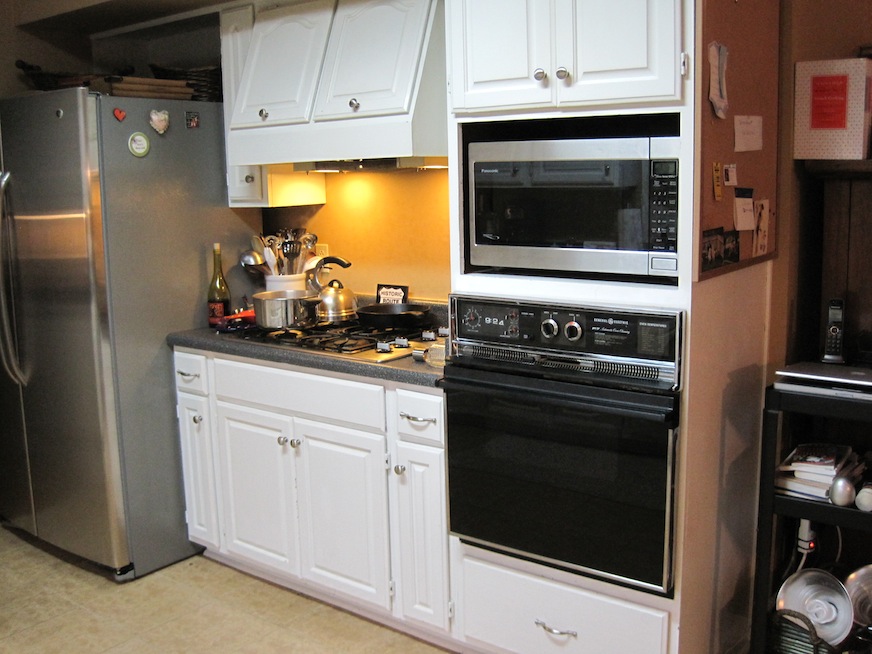 This 4 burner stove top has been challenging for the past year. Some of my bigger pots and pans don't fit on top well, at least not together. Hey, I'm happy it's GAS. When we were looking for a house to buy, I was amazed that most of the homes had electric ranges and small kitchens. I think this kitchen was the best one out of all the houses we looked at, and we looked at many.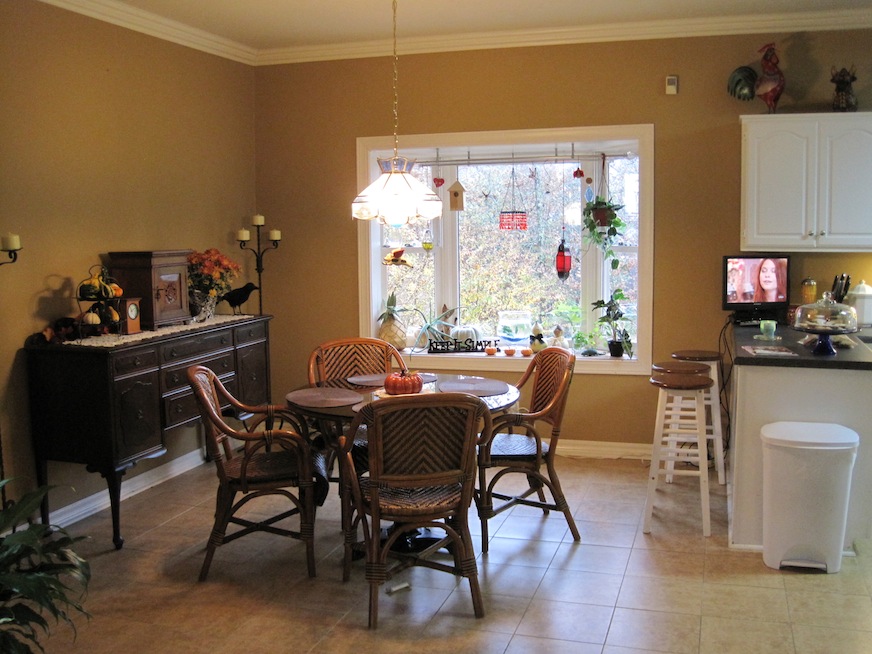 I especially love the big garden window off the eating area (above). We're having a garden window put in to replace the window that is above the kitchen sink (pictured previously). Waiting on Home Depot to do that. Should be installed by the end of October, but no matter when it's installed it will be no problem, because they do it from the outside.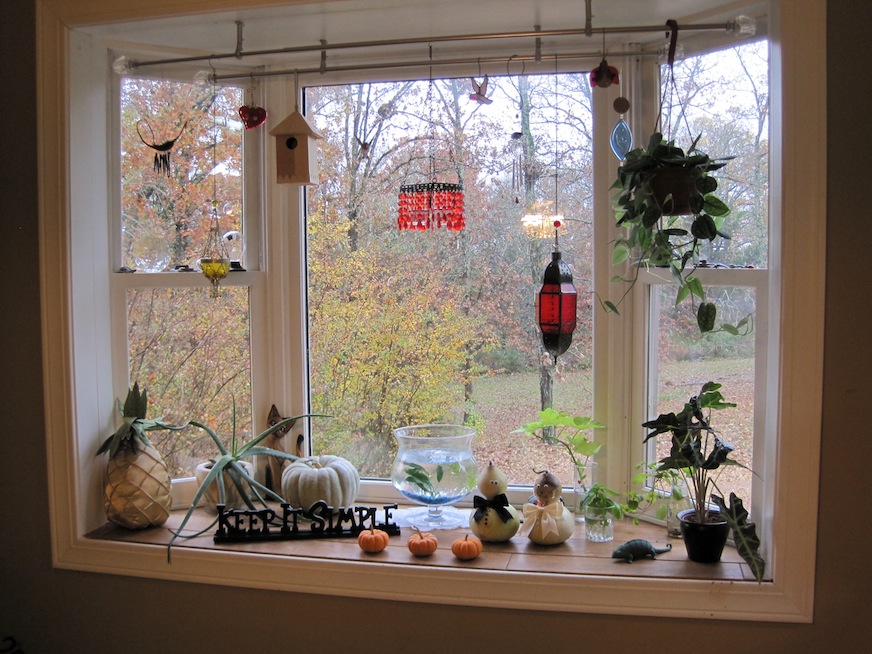 I always enjoy the beautiful view out this window.
Here we go… Week One!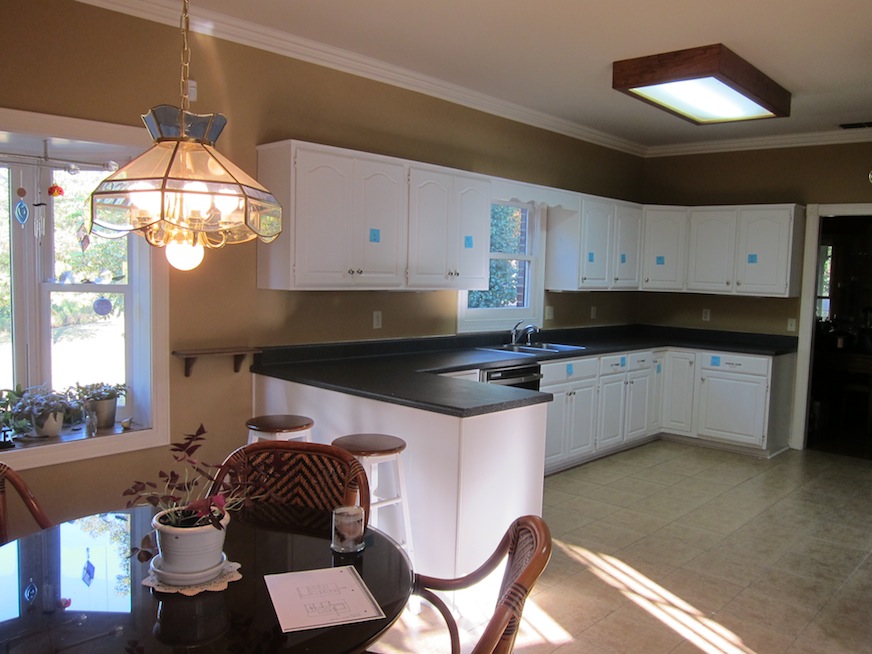 Cabinets are numbered and ready to be taken out and moved into the laundry room, which is going to be the pantry, too! But meanwhile, the laundry room is going to be my make-shift kitchen while the real kitchen is remodeled… more on this later. Our construction guy is Kyle Hunt of Trust Hunt Construction. And yes, we do trust him!!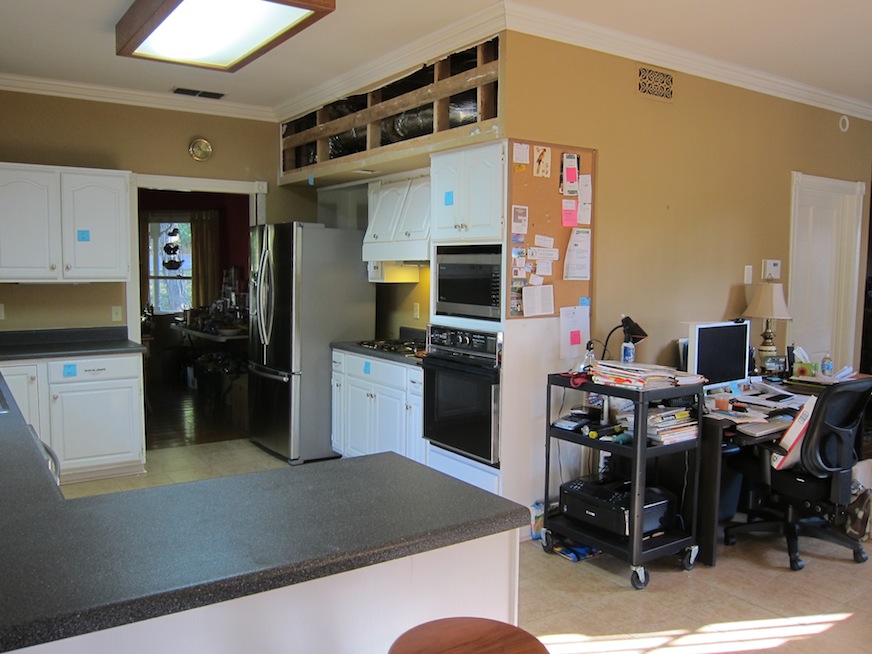 From this angle you can see the soffet above the stove has been opened. As we suspected, the soffet does not need to be that large. The soffet will be made thinner, to accomodate some upper cabinets.
We are not replacing the floor. However, we are going to have it re-grouted with a color that is more like the tile. We're hoping for a more seamless look.
Through the doorway you can see into the dining room. That is where I have put everything from the kitchen. You will see my OCD has kicked in, when you look how I've put everything in order. It's just so I can easily find whatever I need to cook with over the next few weeks. And no, I don't have OCD. My husband jokes around with me about it, and even though he may think I have it, he still doesn't hang the hand towel straight. 'sigh'
Off to the right is my messy, messy desk. I apologize, but after having to move everything from the kitchen into the dining room, things piled up on my desk. Truth be known, it has been quite messy for awhile. My plan is to keep the new desk, which is going to be built in, very clean with minimal clutter on top. The office is going to be paperless, yep, that's the plan.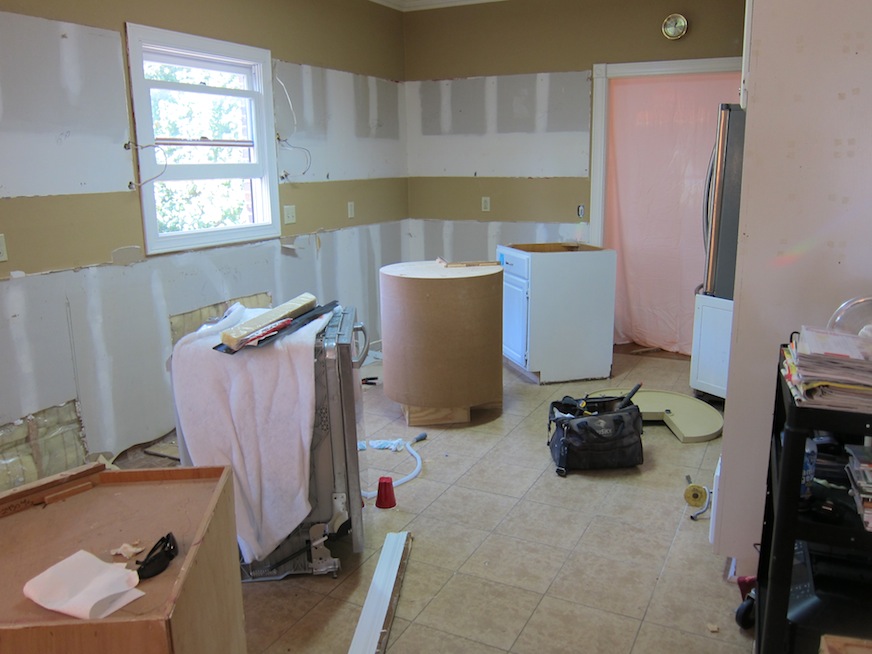 Below is the laundry room and the soon to be new pantry, too!
This laundry room is just crying out for more cabinets. There were 2 above the washer/dryer, but we've taken them down so we can put the cabinets from the kitchen into the room and have them all match.
As you can see, I've already started to set up the temporary kitchen in the laundry room.  I've got the toaster oven in there, the coffee maker and the microwave. Plus, our 2nd fridge is in there (and we're using our other fridge, as well). Plus, let's not forget that we have the BBQ grill outside. I'm all set… this is going to be a breeze!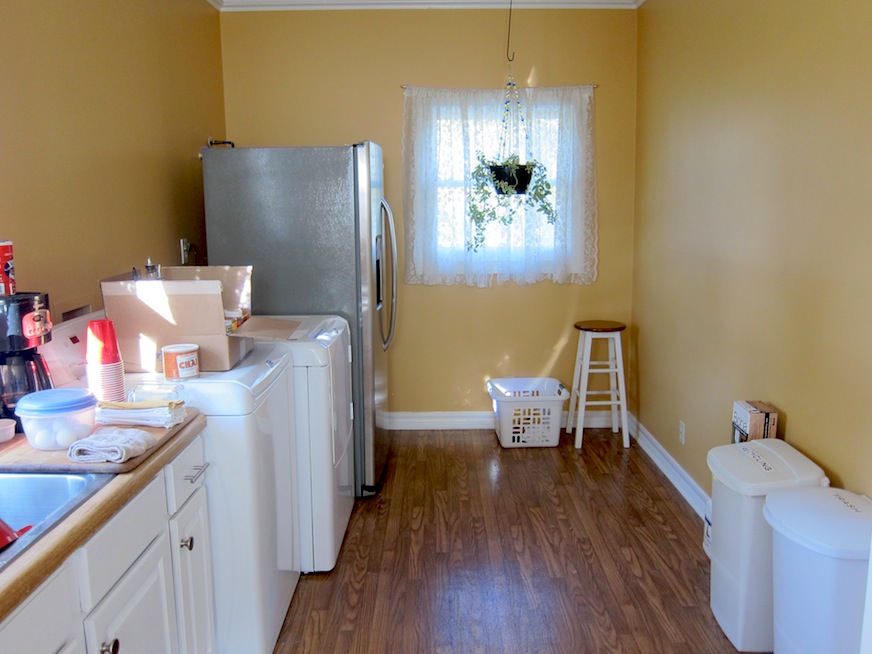 Check it out, there's plenty of room on the right for upper and lower cabinets. At the end, where the stool is now, we're going to put 2 upper cabinets only, so that we can have a horizontal pole under it to hang laundry as it comes out of the dryer.
I can't express how excited I am to have all this extra storage space. Can't wait for the cabinets to go in. It's going to be amazing!
Cabinets out of the kitchen ~ ~ and into the laundry/panty room.

Above is the laundry/pantry room with the cabinets installed. The end of the lower cabinet needs to be finished, the upper small cabinets still need their doors, and the countertop is just temporary. We're going to pick something out and replace all the countertops in this room, along with replacing the floor.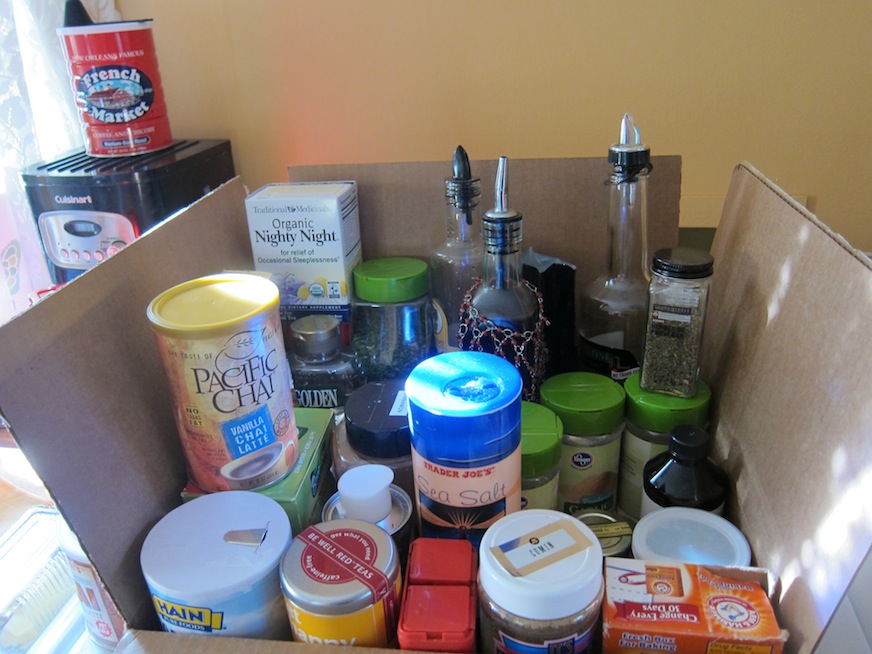 This is a box of essentials ~ items I use all the time. However, the way I put the kitchen items into the dining room, I have easy access to almost everything… see below.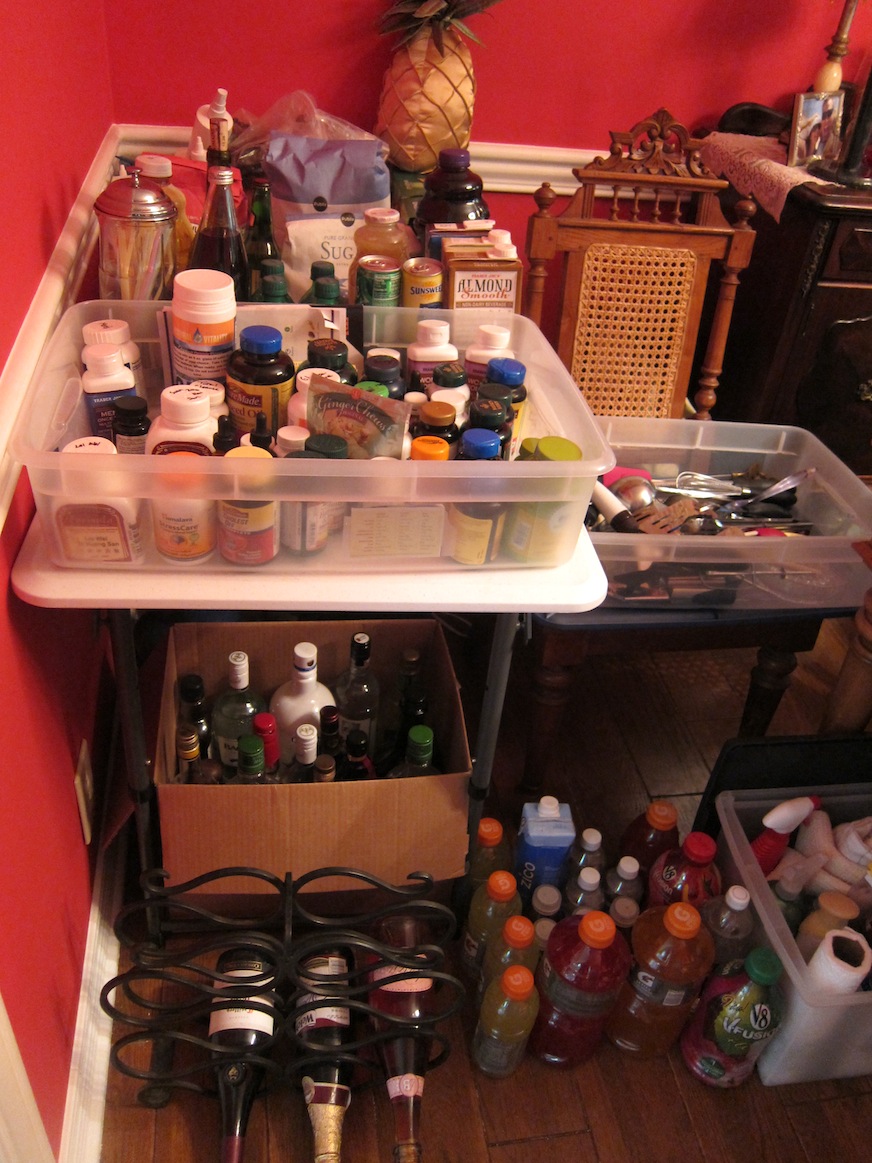 Vitamins on the top, and alcohol on the bottom. Two important entities. lol  Do you like our red dining room. We just had it painted. Love, love, love it!!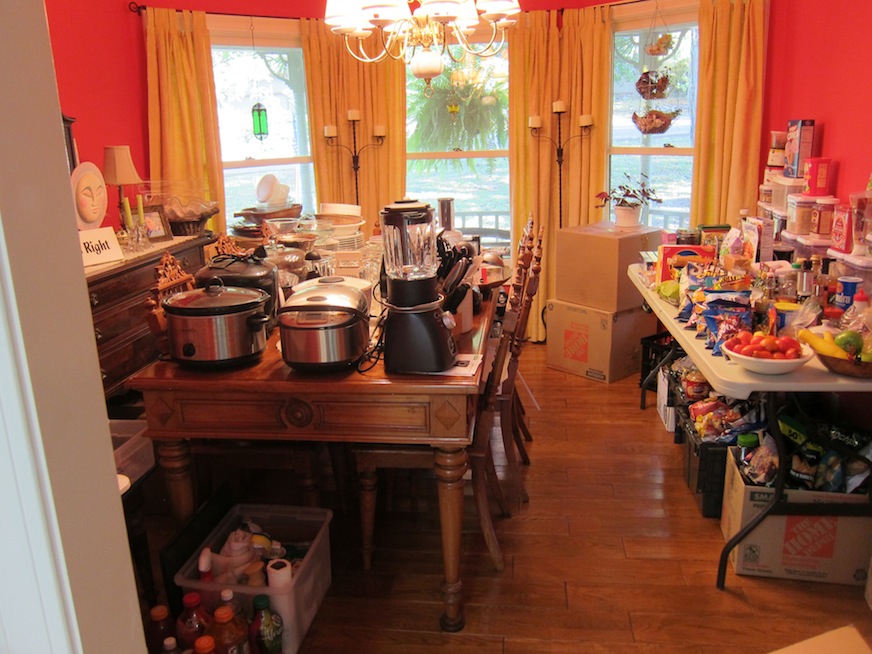 Here's the dining room loaded up with all the items from the kitchen. Notice the cookware on the tabletop to the left; crock pot, Cuisinart Food Processor, salad spinner, deep fryer, Zojirushi Rice Maker, Cuisinart Blend and Cook Soup Maker, etc. All things I will utilize while we don't have a stove or oven. The table on the right is covered in food items, as well as the boxes below.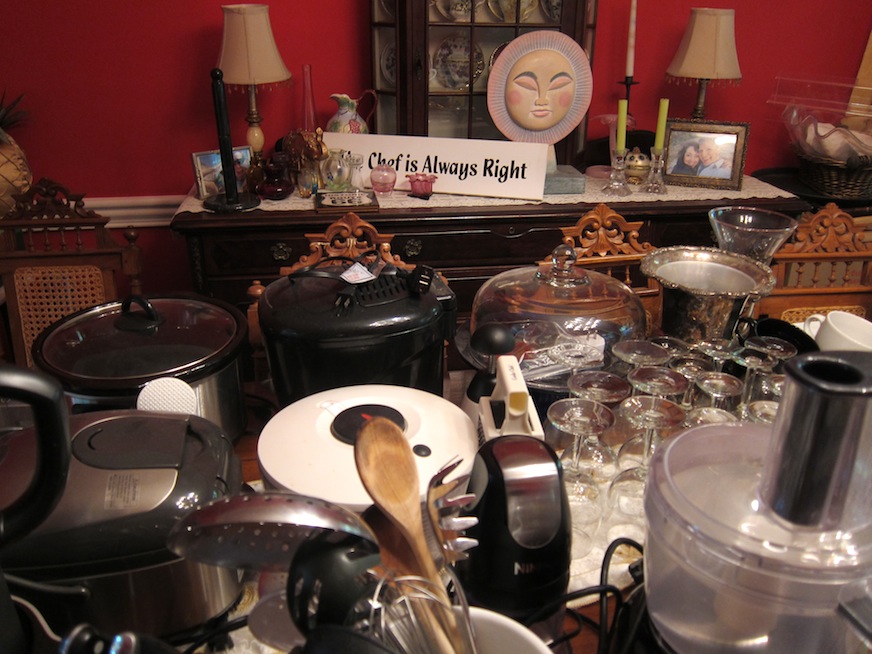 Here's another angle of the dining room table. I put this picture here so you could all see the sign on the back table. lol
Stay tuned, cause we're moving right along with Week Two!

Print entire post