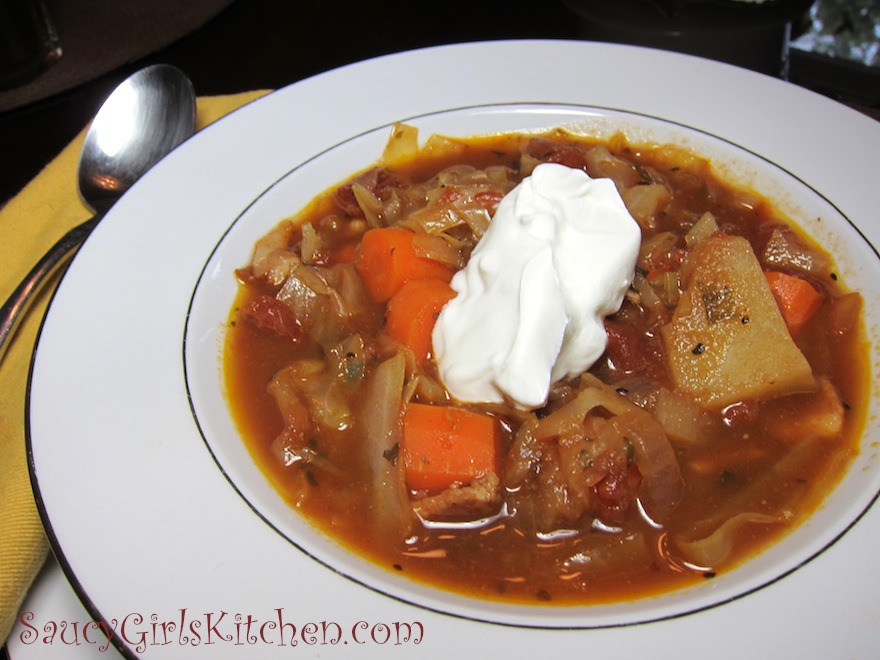 Fall is in the air and my food usually reflects that. It was a rainy day and I wanted something comforting and warm. This cabbage soup sure did the trick! I made it for lunch for my husband and myself. We each ended up having 2 bowls. It had a mild sweet & sour taste. It would be wonderful served with a rye bread or crusty sourdough… and we had ours with a dollop of sour cream on top.
INGREDIENTS
3 pieces of Bacon, cut into small pieces
1 Tbsp Butter or Olive Oil
1/3 Cabbage, cut into slivers
1/2 Red Onion, diced
16 oz. of diced Tomatoes, with their juice
1 cup Water
2 cups Beef Broth
2 Carrots, peeled and cut into 1 inch pieces
1 large Potato, peeled and cut into 1 inch pieces
1 Tbsp Brown Sugar
2 tsp Apple Cider Vinegar
1 tsp Granulated Garlic
1 tsp Onion Powder
1 tsp Paprika
1 tsp Parsley
1/2 tsp Marjoram
2 Bay Leaves
Salt & Pepper, to taste
Dollop of Sour Cream or Plain Yogurt, as garnish – if desired
METHOD
In a large saucepan cook the bacon until cooked through.
Add in 1 Tbsp of butter or olive oil and add the red onion and cabbage into the pot.
Cook for about 3 minutes, until veggies start to soften.
Add in the rest of the ingredients, except the salt and pepper.
Bring to a boil and reduce heat to medium-low.
Continue to cook soup for about 25 to 30 minutes.
Taste and season with salt and pepper, as needed.
Enjoy!

Print entire post