Oatmeal Cake… the name doesn't really do this cake justice! This cake is so moist and rich tasting. The topping of coconut and nuts just takes it to a whole different level of deliciousness. We had some last night with vanilla frozen yogurt. Then when I walked into the kitchen this morning to take some pics for this post, I ended up eating a piece for breakfast. After all, it is Oatmeal Cake.  

INGREDIENTS
1 1/2 cups boiling Water
1 cup quick Oats
1 stick of Butter
1 cup of White Sugar
1 cup of Brown Sugar
2 whole Eggs
1 tsp Vanilla
1 tsp Cinnamon
1 1/2 cups Flour
1 tsp Baking Soda
1/2 tsp Salt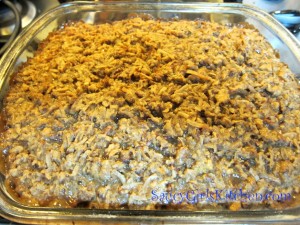 For Topping:
1 Tbsp Butter, melted
2/3 cup Brown Sugar
1 cup Coconut
1 cup Pecans or Walnuts, chopped
4 Tbsp Cream
2 Egg Yolks
METHOD
Preheat oven to 350 degrees.
Grease and flour the baking pan of your choice.
I used an 8 x 11 baking dish, but you could use a tube pan or loaf pan.
Pour boiling water over oatmeal and let set for 20 minutes.
Cream together butter and sugar.
Add eggs, vanilla and cinnamon.
Mix well and add oatmeal.
Add flour, sifted with soda and salt.
Pour into pan of your choice.
Bake for 30 minutes.
Remove from oven and spread topping over the cake; return to oven for 10 minutes.
Enjoy!

Print entire post