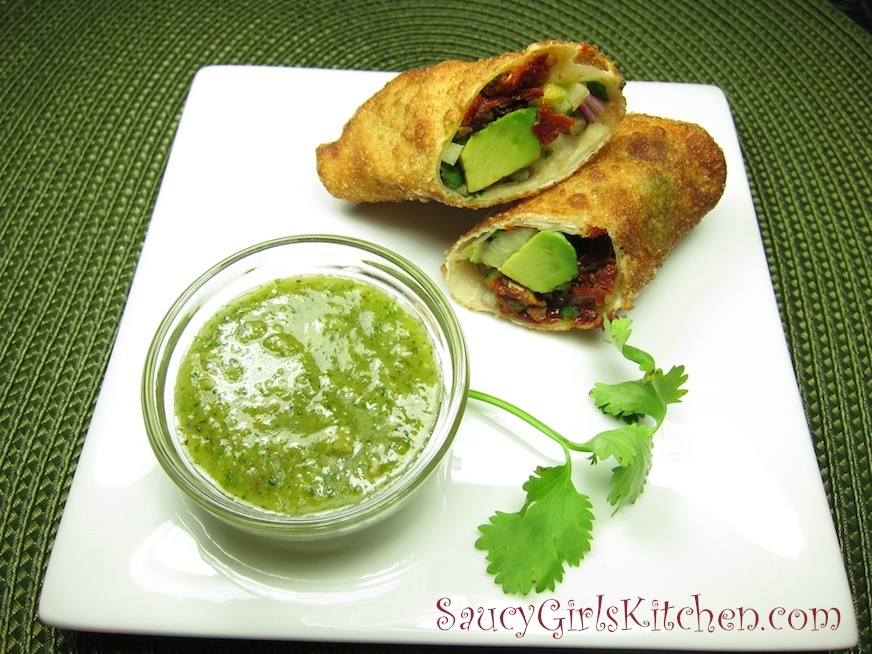 You may want to double this recipe… these are delicious and they go fast!
I had these egg rolls at The Cheesecake Factory and fell in love with the Cilantro Sauce. It's so creamy and delicious. I just had to find a way to duplicate the recipe!  The sauce is my favorite part (being the Saucy Girl)… but the deliciousness of the avocado inside an egg roll is fantastic. Hope you'll give my recipe a try. You won't be disappointed!
This recipe makes 4 egg rolls.
INGREDIENTS
For Dipping Sauce:
1 Tbsp White Vinegar
2 tsp Balsamic Vinegar
1/2 tsp Tamarind Pulp
1/3 cup Honey
pinch of Turmeric
1/2 cup Cashews, chopped
2/3 cup fresh Cilantro
2 cloves of Garlic
2 Scallions
2 Tbsp Sugar
1 tsp black pepper
1 tsp ground cumin
1/4 cup olive oil
For Egg Rolls:
1 large Avocado, diced
2 Tbsp Sun-dried Tomatoes, chopped
1 Tbsp Red Onion, finely chopped
1 tsp fresh Cilantro, chopped
pinch of Salt
4 Egg Roll Wrappers
1 Egg, beaten (or equivalent vegetarian substitute)
vegetable oil for deep frying
METHOD
For Dipping Sauce:
In a microwave safe bowl combine vinegars, tamarind and honey. Stir until completely blended. Microwave for 1 minute.
In a blender add the vinegar mixture with all the other ingredients… except the oil. Puree. Pour mixture into a bowl and stir in the olive oil. Cover and refrigerate until ready to serve.
For Egg Rolls:
In a small bowl combine the avocado, tomatoes, onion, cilantro and salt. Divide evenly among the 4 egg roll wrappers, placing filling on the center. Fold one corner of the egg roll wrapper 1/4 of the way over the filling. Brush the remaining corners and edges with the beaten egg. Roll up the right and left sides and then fold the top corner over all and press gently to seal.
Once you have filled all 4 egg rolls, deep fry them in 375 degree oil for about 4 minutes, or until golden brown. Remove from oil and drain on paper towels.
To serve: Slice the egg rolls diagonally in half and serve with the Cilantro Dipping Sauce on the side.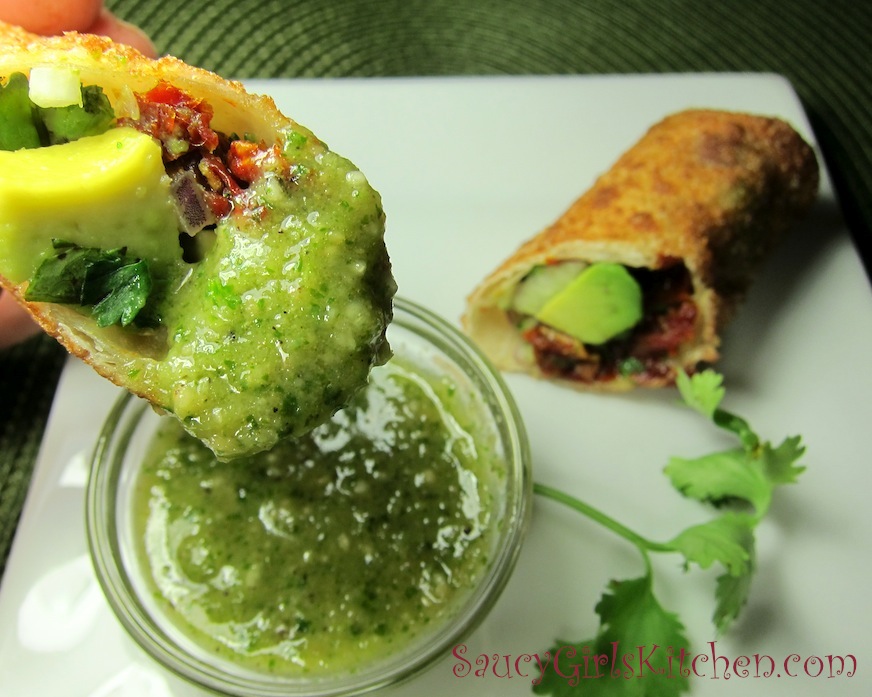 Print entire post