Fresh, warm, blueberry pie… do I need to say anything more? Probably not, but I do want to point out that I only made 2 individual pies. Why? Because if an entire pie was made, an entire pie would end up being eaten. Once again… do I need to say anything more?  

INGREDIENTS
1 Pie Crust (store bought is fine)
For Crumb Topping:
1/2 cup Dry Oats
1/4 cup Brown Sugar
3 to 4 Tbsp Butter
1/2 tsp Cinnamon
For Filling:
2 cups of fresh Blueberries
2 Tbsp Sugar
1 Tbsp flour
METHOD
Prepare pie crust and place into 2 mini pie pans.
Set aside.
Preheat oven to 350 degrees.
For Crumb Topping:
Combine the oats, brown sugar, butter and cinnamon in a small bowl.
Mix until crumbly and you are able to form lumps when squeezed with hands.
Set aside.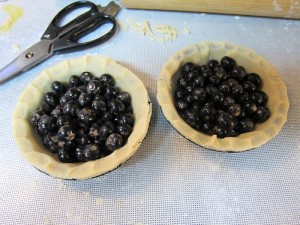 For Filling:
In a small bowl mix together the blueberries, sugar and flour.
Pour evenly into the 2 pie pans.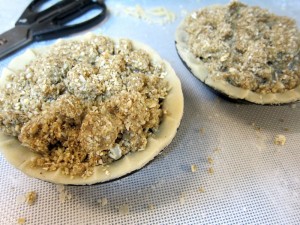 Sprinkle crumb topping over the tops of both pies.
Place pies on a baking sheet (covered with foil makes easy clean-up if blueberries bubble over).
Bake for about 20 minutes.
Enjoy!

Print entire post