I whipped up this Asparagus Soup last week and for days I couldn't stop thinking about the rich delicate flavor. I couldn't wait to make it again, so I could share it with you all.
The secret to the flavor of this soup is the freshly ground nutmeg. I wouldn't advise skimping in this area. If you don't have whole nutmeg, I really suggest that you buy some. The flavor just can't be beat and it's not expensive. Plus, the jar will last a long time. If you don't have it you can always use the ground nutmeg, but as far as my palate is concerned there's a dramatic difference. I dunno, maybe I've turned into a food snob?
I also made a simple Roasted Yellow Pepper Coulis to swirl into the soup. I thought it would make a better picture than just a bowl of green soup. If I hadn't made the Coulis I would have probably put a little dollop of creme fraiche or sour cream in the center.
To make the coulis I roasted the pepper on the stovetop until it got dark and charred. Then put it in the oven with some olive oil drizzled on it. Cook for about 20 minutes or until soft. Then into the food processor with a little olive oil, salt, pepper, tiny bit of water to thin it out. I love the pure taste of it without any herbs.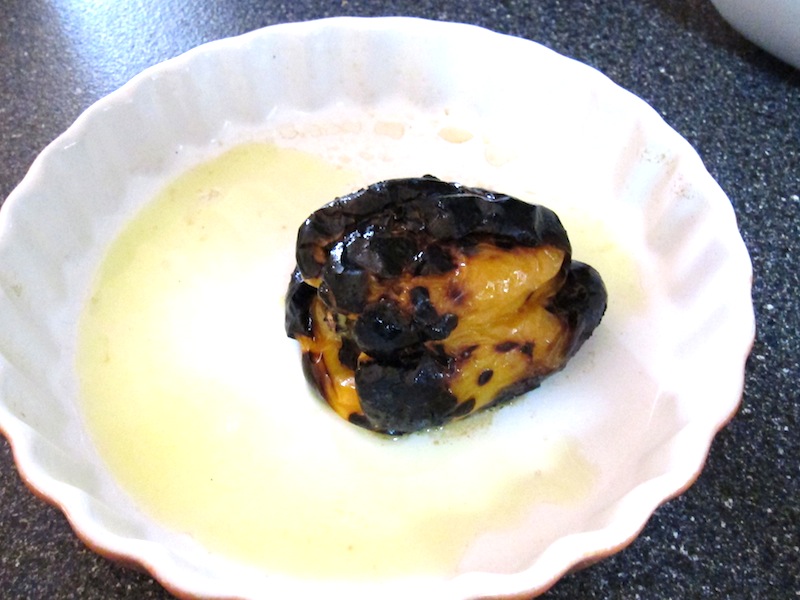 The recipe is super, super simple. Honestly, you can prepare it in just 15 minutes. Now this is my idea of healthy fast food!
This recipe serves 2.
INGREDIENTS
1 lb Asparagus
3 cups Vegetable Broth
1 cup Water
tsp Granulated Garlic
tsp Onion Powder
fresh Grated Nutmeg
Salt and Pepper, to taste
1 Tbsp butter, if desired
METHOD
Wash and cut asparagus into one inch pieces.
Place in a medium saucepan along with the vegetable broth and water.
Bring to a boil, cover and simmer until asparagus is tender.
Place asparagus and some of the broth into the blender or food processor and process until smooth.
Pour back into saucepan and add garlic, onion powder, and fresh grated nutmeg.
Taste and season with salt and pepper, if desired.
For extra added richness and flavor, stir in a tablespoon of butter.
Enjoy!