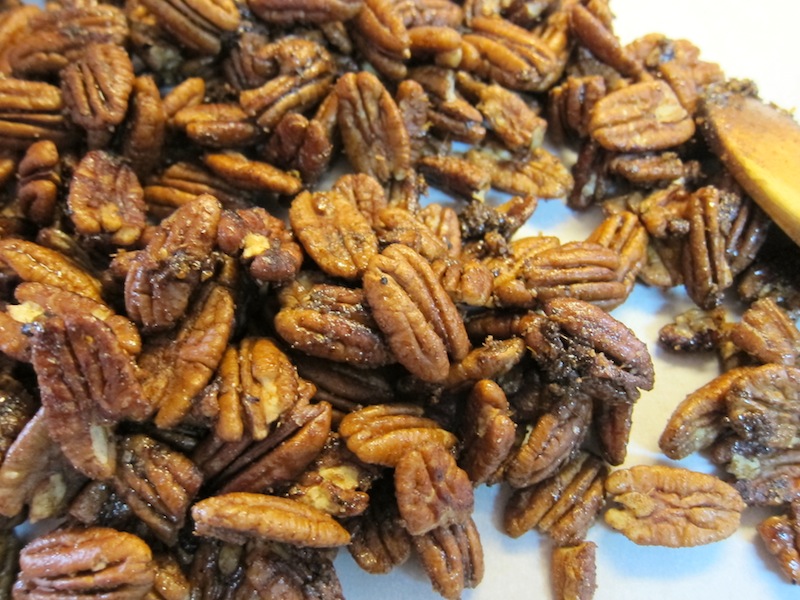 Here's one of those recipes where I'll bet you can't eat just one. These are deliciously addicting! I used only pecans this time, but next time I'm going to use mixed nuts.
INGREDIENTS
1 tsp Kosher salt
1/2 tsp Cayenne Pepper
1/2 tsp Ground Cumin
1/2 tsp Cinnamon
1/2 tsp Orange Zest
1 lb. Pecans (halves)
1 to 2 Tbsp Olive Oil (or 2 to 3 Tbsp Butter)
1/3 cup Brown Sugar
2 Tbsp water
METHOD
Line a baking sheet with parchment paper, waxed paper or like me, use a silpat and set aside.
In a small bowl mix the salt, cayenne pepper, cumin, cinnamon and orange zest. Set aside.
Add the nuts to a large frying pan.
Cook over medium heat for about 5 minutes until they start to toast, stirring constantly.
Drizzle or spray the olive oil over the nuts until they have a light coating (I used my Misto sprayer).
Add the spices and stir.
Add the brown sugar and water.
Stir until combined and the mixture thickens.
Keep stirring for about 2 minutes until all the nuts are coated.
Transfer the nuts to the baking sheet.
Separate them and allow them to cool completely.
These nuts will store well in an airtight container for 2 weeks… but ours were consumed way before that!
Enjoy!
Note: I used an Olive Oil that was not from the first cold press. I think the lighter the olive oil flavor the better.

Print entire post