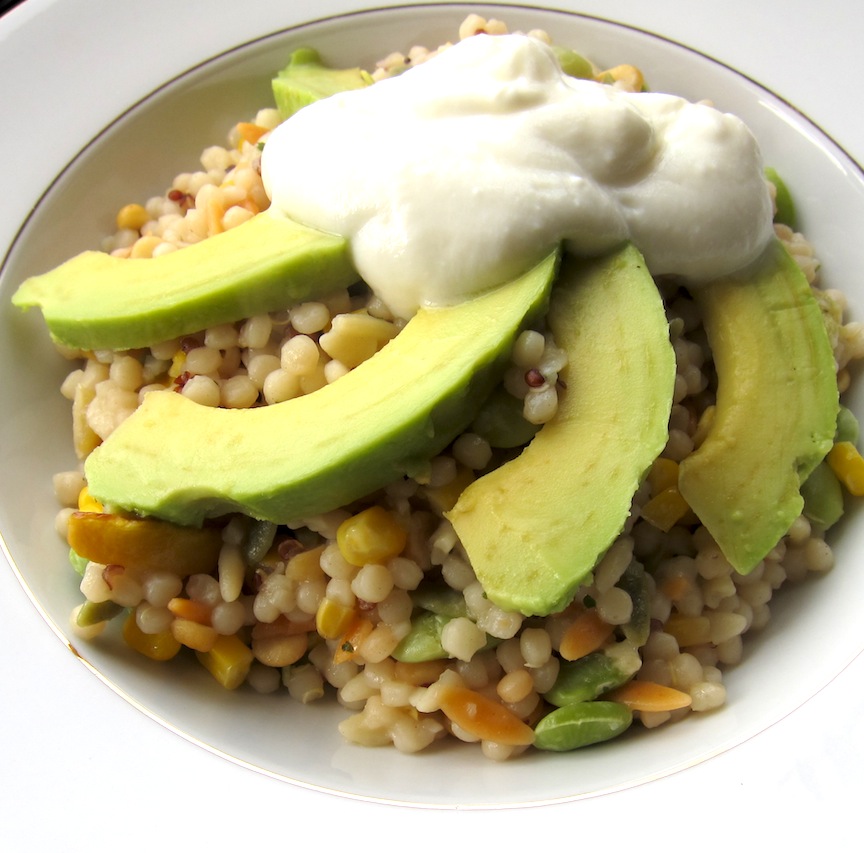 Quinoa (pronounced Keen Wah) is considered to be a whole grain, but it is actually a seed.  If you haven't tried Quinoa you really should. It is prepared much like rice and has a nutty, creamy flavor.  It's very high in protein and fiber. Quinoa also has no gluten, so it's perfect for anyone who must follow a gluten-free diet.
I bought a package of Trader Joe's Harvest Grain Blends that was a mix of Baby Garbanzo Beans, Israeli Couscous, Orzo and Red Quinoa. It was so delicious! I loved the different textures. The Orzo gets nice a soft while the Baby Garbanzo beans had a denser texture.
I hope you'll give my recipe below a try. I really enjoyed it with the added corn and lima beans, but you can add any veggies you'd like, or none at all!
This recipe serves 4.
INGREDIENTS
1 package of Trader Joe's Harvest Grain Blend
Vegetable or Chicken Broth (instead of water)
Olive oil (instead of butter)
Corn
Lima Beans
Salt and Pepper, to taste
Avocado, garnish
Fat Free Greek Yogurt
METHOD
Cook Quinoa according to package directions.
I substituted vegetable broth and olive oil for the water and butter.
When the Quinoa was almost ready I added the corn and lima beans, so it would all be nice and hot.
Taste and season with salt and pepper, if desired.
Delicious topped with fresh avocado and a dollop of fat free Greek Yogurt.

Print entire post