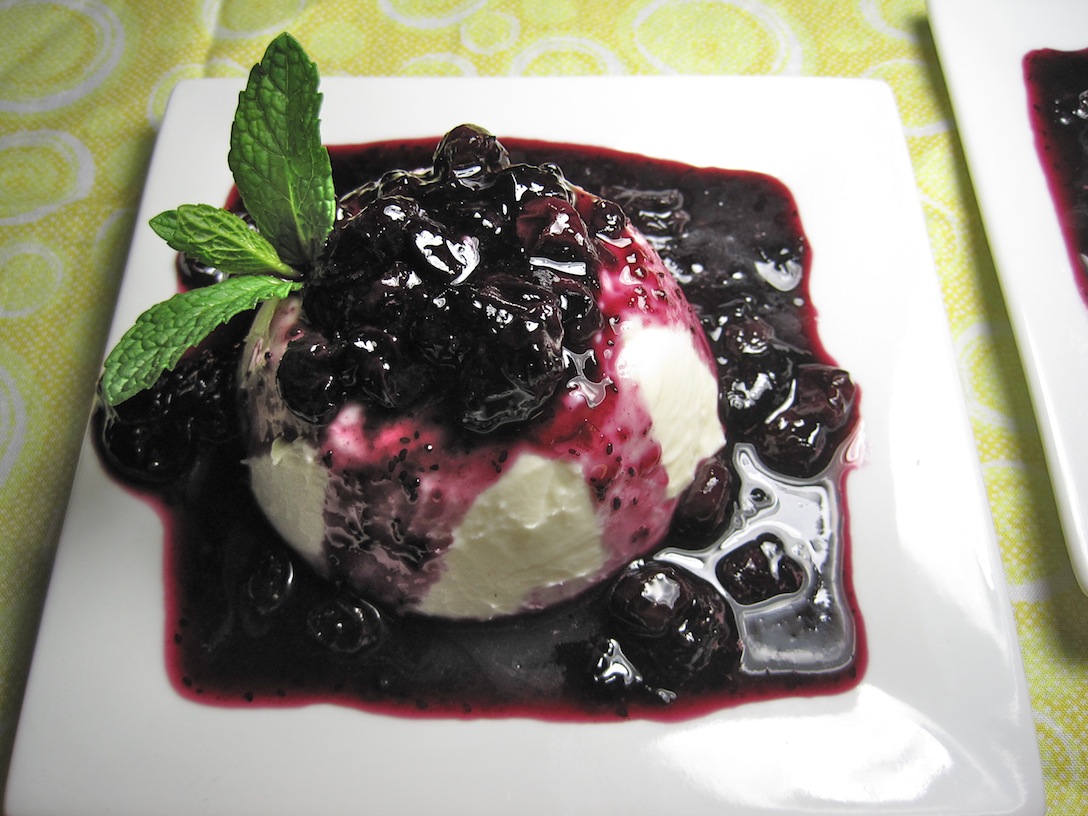 Panna Cotta (it means cooked cream), is a traditional Italian dessert that is a smooth, creamy custard. So delicious and yes, it's super simple to make. Since gelatin is used as the thickener, they set in a few hours.
This recipe makes 8 servings, which was great because I got to experiment with different sauces/toppings. I made a delicious passionfruit/mango sauce and finished it off with fresh raspberries, blackberries & blueberries. For the second round of dessert I made the fresh blueberry sauce you see pictured above. I loved the dramatic look of the color contrast and the flavor was incredible!
I used heavy cream for this recipe, but next time I'm going to use Buttermilk. I really enjoy the flavor of buttermilk and I think it will work beautifully in Panna Cotta. You could use evaporated milk, soy milk, almond milk, etc., because the gelatin is going to set whatever you choose.  

This recipes serves 8.
INGREDIENTS
2 cups Heavy Cream
2 cups Milk (I used 2%)
1/4 cup Sugar
1 Vanilla Bean, split
1 tsp Vanilla Extract
6 Tbsp cold water
2 packages of unflavored gelatin (I used Knox)
For Blueberry Sauce:
1 cup Blueberries
1/4 cup Sugar
1 tsp Lemon Juice
Water, as needed to thin out the sauce
METHOD
Prepare 8 ramekins by lightly greasing them with a light oil that will impart no flavor, if you plan to unmold them.
If you are going to serve them in wine glasses or something that you will not be unmolding, no oil is necessary.
Place heavy cream, milk, sugar and vanilla bean in a medium saucepan over low heat.
Stir and heat until it's hot and the sugar is dissolved (don't boil).
Turn off heat.
Meanwhile, place the 6 tablespoons of water in a small bowl and sprinkle in the gelatin.
Allow the gelatin to sit for a minute or two, while you scrape the vanilla out of the bean and put in the cream mixture.
Discard the bean.
Stir the gelatin into the hot cream mixture until completely dissolved.
Add the vanilla extract.
Pour into the ramekins/serving dishes.
Chill them until they're set, which is about 2 hours.
Blueberry Sauce:
Prepare the blueberry topping by placing the blueberries and sugar in a small saucepan over medium heat.
Stir until the sugar has dissolved and the blueberries are hot and popped.
Remove from heat and add in the lemon juice.
Add water, if needed, to attain the proper consistency.
Allow topping to cool completely before topping the Panna Cotta.
Enjoy!

Print entire post