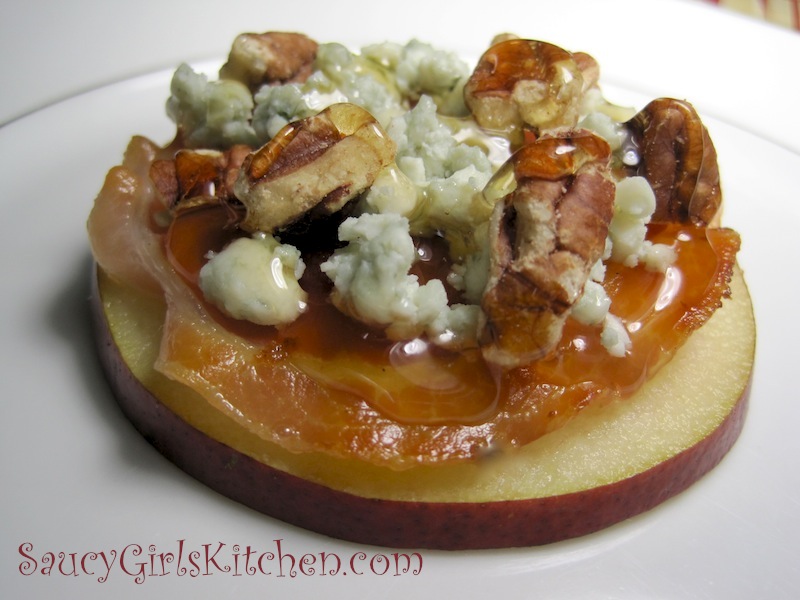 OMG, these are so delicious! They are wonderful appetizers for a party, but please don't wait for a party to try them. Make them for yourself. You deserve this tasty treat!!
For the recipe below I didn't use any amounts/measurements. Just cook enough pancetta rounds for pear rounds, and vice versa… or you may have to eat the remaining pieces (like I did).

For the pears, be sure to select a pear that is firm and crisp, such as a Bosc or Forelle.
The Boar's Head Pancetta comes in perfect rounds for this recipe. I absolutely love the Boar's Head Pancetta and use it all the time instead of regular bacon. It's seriously delicious. I requested it be sliced "medium" and that worked out perfectly.
INGREDIENTS
Pancetta (I always use Boar's Head)
Pears
Blue Cheese
Pecans, toasted
Honey
METHOD
Preheat oven to 350 degrees.
Place pancetta rounds on a baking sheet, in a single layer.
Bake in the oven for about 15 minutes.
Remove from oven and place on paper towels to cool.
Core pears and slice into rounds.
Place pears on serving plate.
Top each pear slice with a round of pancetta.
Place some crumbled blue cheese on each pancetta round.
Sprinkle a few pecan pieces on top.
Drizzle with honey and serve.
Enjoy!

Print entire post