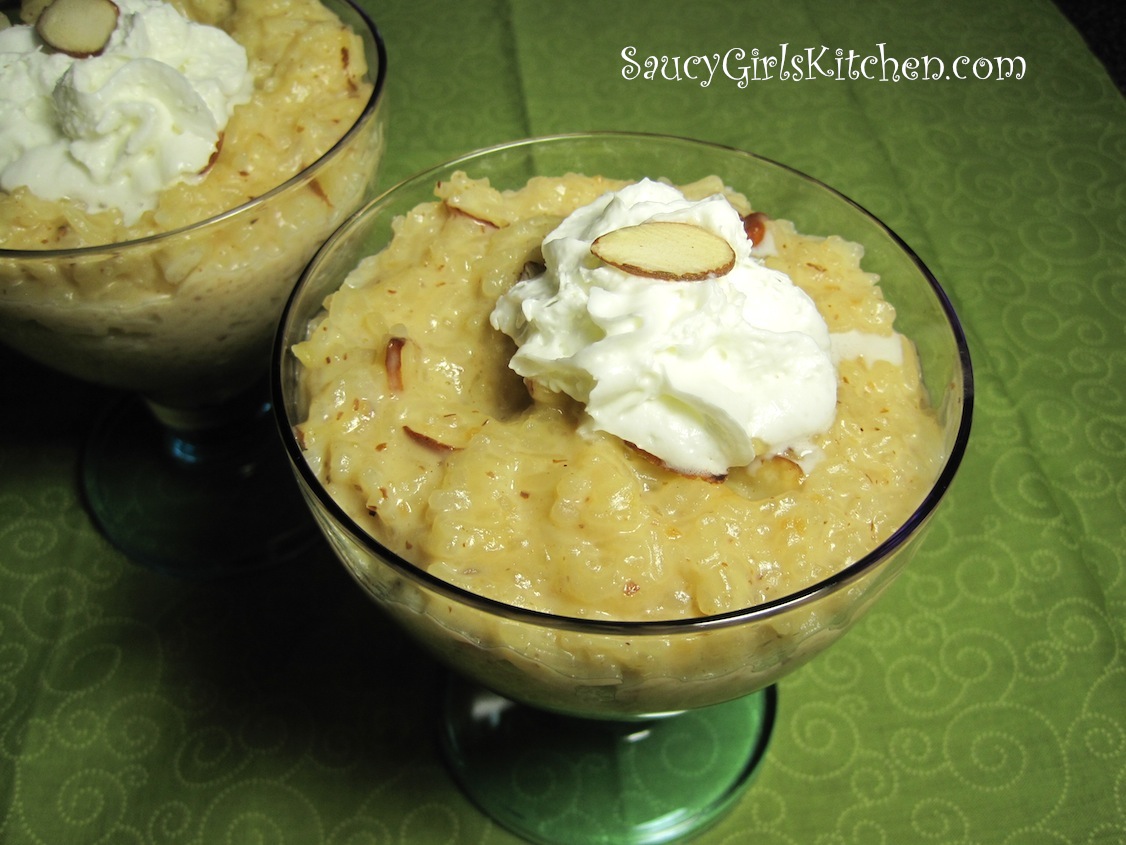 So rich, creamy and delicious. I love the flavor of almond and this Almond Rice Pudding may be my new favorite thing.
It was seriously difficult to stop eating it once I had perfected the recipe.  After I portioned 4 servings, there was a little left in the pot (imagine that – lol). I had no problem eating it right out of the pot, while it was warm…. Yummy!!
I used lowfat milk in my recipe (2%), but you can make it richer by using whole milk, or evaporated milk.  Or you always have the option of using soy milk, rice milk, almond milk, etc.
This recipe makes 4 servings.
INGREDIENTS
1 1/2 cups of milk (I used 2%)
2 egg yolks
2 cups leftover white rice
1/3 cup brown sugar
6 oz. (half a can) of Solo Almond Cake & Pastry filling
2 Tbsp unsalted butter
1 tsp pure Almond extract
1/4 cup Sherry
3 Kraft caramels
1/2 cup slivered almonds
Whipped cream and slivered almonds, for garnish
METHOD
Whisk milk and egg yolks in a cold medium saucepan.
Add the rice and brown sugar.
Cook over medium heat, stirring to be sure the rice is not sticking to itself.
Once the milk is steamy add the almond filling, butter, almond extract, sherry, Kraft Caramels and slivered almonds.
Allow to simmer on low for 10 minutes, stirring often.
Be sure to keep an eye on it because you don't want it to scorch!
Once the caramels are melted and the pudding has a creamy texture, taste it.
Adjust it to your palate, if you think it needs more sugar go ahead and add a little.
Add more milk if you want it thinner.
Remove from heat and divide among 4 serving dishes.
Serve warm with whipped cream, if desired.
Or refrigerate until ready to serve.

Print entire post