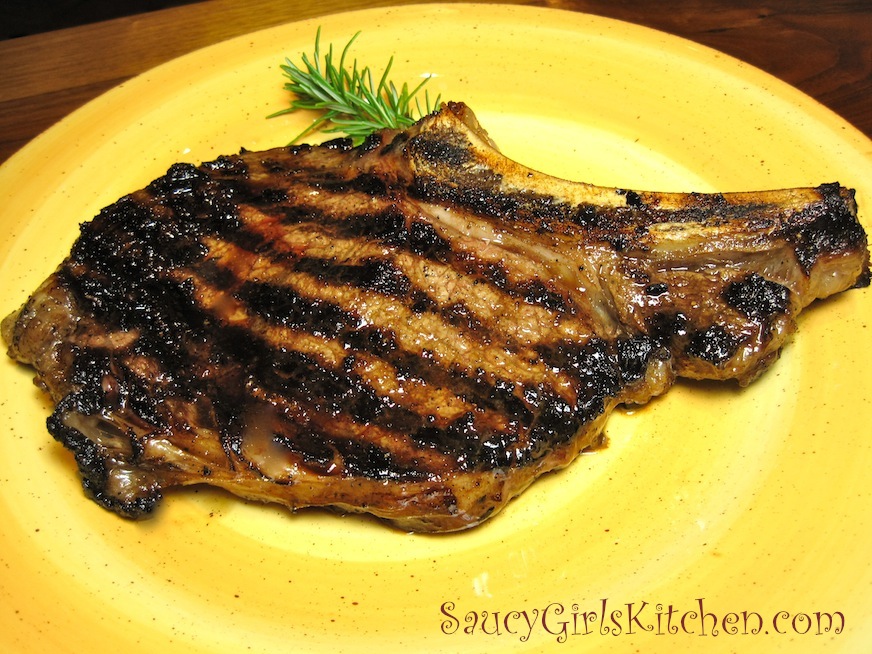 I made a tasty marinade using Good Seasons Italian All Natural Salad Dressing Mix. I used one of their .7 oz packages and to that I added 1/3 cup red wine vinegar, 1/2 cup water, 1 tablespoon of olive oil and 1/2 teaspoon of Liquid Smoke. I let the ribeye steaks marinade for about 8 hours. Before grilling the steaks dab them with paper towels to dry them off. This will insure that you get great grill marks. I grilled the steaks on our indoor grill. I sprayed a little olive oil on the grill first and preheated it to medium heat. Seriously, they tasted like they had been grilled outdoors. The addition of just that little bit of Liquid Smoke in the marinade really makes all the difference.
If you don't have an indoor grill/griddle it's really great to have. We use ours all the time and love it! It's Chef's Design 20-inch Double Burner Reversible Grill/Griddle.
The key to making nice grill marks on the steak is to be sure that it is dry and any excess marinade is removed. Have your grill preheated. Don't move the steak around, just let it cook in the position that you put it on the grill until it is ready to turn over, about 6 minutes for medium-well!
Don't forget to let your steaks rest for about 5 minutes before cutting into them. That is just about the right amount of time to get that salad tossed!
Our steaks were so tender and delicious. We had it with a side salad and it was the perfect dinner!

Print entire post